Over 56,000 people have signed a petition calling on Iain Duncan Smith to resign after his department fabricated quotes to promote its benefit sanctions regime.
The DWP admitted last week that it made up positive comments from supposed "benefit claimants" for a leaflet branded "propaganda" by campaigners.
The petition, started less than a week ago, accuses Mr Duncan Smith of "lying" to the British public over the use of the "fantasy" case studies.
The revelation was controversial because the sanctions system has been criticised for causing extreme hardship and being operated in an unfair and arbitrary way. The leaflet contained no suggestion that the stories were not real.
Groups ranging from the charity Mencap to Labour leadership candidate Jeremy Corbyn, to the Chartered Institute for Public Relations lined up to condemn the Department.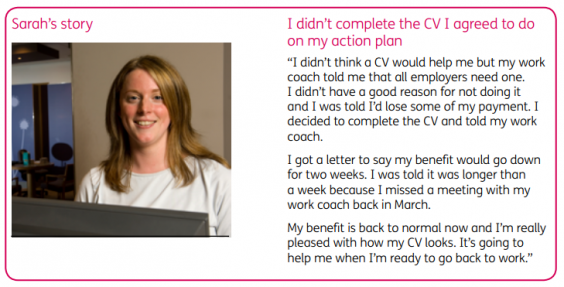 People backing the petition argue that the sanctions regime is, far from the picture painted by the invented quotes, "driving people to suicide".
"People are resorting to stealing food in order to not starve. Sanctions do not encourage people to get jobs," the petition reads.
"Sanctions are known to be given to people for extremely minor reasons such as being five minutes late for an appointment.
"If someone has a heart-attack or has to attend a family members' funeral and misses an appointment - they could be sanctioned and lose their benefits."
The authors of the charter call on Mr Duncan Smith to resign, branding him "ultimately responsible for the actions of those in his department".
But Mr Duncan Smith today appeared on television to dismiss calls to resign, saying he had "at no stage" seen the leaflet.
"This is the sort of stuff that goes on in the operations department the whole time. Of course they got that one wrong, but there are lots and lots of things that they do every day," he told Sky News.
What does five more years of the Tories mean for Britain?
What does five more years of the Tories mean for Britain?
1/8 Welfare payments will be slashed

One of the most controversial parts of the Conservative manifesto was to cut benefits for the working age poor by £12 bn over the next three years. But during the campaign they only said where £2 bn of these savings would come from. That leaves £10 bn still to find. Some experts think the only way they can close that gap is by means testing child benefit – with millions of families losing out

Getty

2/8 There will be tax cuts for those in work and those who die

The Tories will increase the threshold at which the 40p rate of tax becomes payable to £50,000 by 2020. They haven't said so but it is also likely that at some point in the next five years they will abolish that 45p rate of tax altogether for the highest earners. They also want to increase the effective inheritance tax threshold for married couples and civil partners to £1m

Getty

3/8 There will be an in/out EU referendum in 2017

The next two years are going to be dominated by the prospect of a referendum on Britain's membership of the EU. First off David Cameron has the daunting task of negotiating a deal with other EU leaders an acceptable deal that he can sell to his party so he can go into the referendum campaigning for a 'yes' vote. This may be unachievable and it is possible that the Tories may end up arguing to leave. Opinion polls show Britain is divided on EU membership, one poll this year showed 51% said they would opt to leave compared to 49% who would vote to stay in

Getty

4/8 There will be more privatisation of the NHS

Having won the election the Tories now have a mandate to go further and faster reforming the NHS. In order to make cost savings there is likely to be greater private involvement in running services, while some smaller hospitals may lose services they currently provide like A&E and maternity units

Getty

5/8 There will be many more free schools – and traditional state schools will become a thing of the past

The Tories plans to create 500 new free schools and make 3,000 state schools become academies. They will also carry on reforming the Department of Education and remove more powers from local authorities over how schools are run

Getty

6/8 On shore wind farms will be a thing of the past and fracking will be the future

Government spending on renewable energy is under real threat now the Lib Dems are no longer in power with the Tories. Subsidies are likely to be slashed for off-shore wind farm and other green energy supplies. Meanwhile there will be generous tax break for fracking as ministers try and incentivise the industry to drill for onshore oil and gas

Getty

7/8 There maybe more free childcare – but not necessarily

In the campaign the Tories pledged to double the amount of free early education for three- and four-year-olds from 15 hours a week to 30. The extra hours would only be offered to working families where parents are employed for at least eight hours a week. However they have not said where the money will come from to fund the pledge

Getty

8/8 Workers' rights could be reduced

The Tories want to slash business regulation, merge regulator and cut costs. The Lib Dems stopped them from reducing the employment rights of workers in power – but these are now under threat

Getty
"What was essentially meant to be an example of advice … ended up going out as a quote – which was quite peculiar and quite wrong."
A Department for Work and Pensions spokesman told the Independent at the time of the revelations:
"The case studies were used for illustrative purposes to help people understand how the benefit system works. They're based on conversations our staff have had with claimants. They have now been removed to avoid confusion."
Reuse content