The Government is to invest nearly £2bn to create the country's first "cyber force" to combat online threats from states and terror groups, the Chancellor George Osborne will announce today.
The new National Cyber Centre will be based at GCHQ, and the money – to be spent over next five years – is expected to create hundreds of new jobs dedicated to tackling cyber attacks against the UK. While the majority of the work will be directed at state-sponsored online attacks, Mr Osborne will warn that groups like Isis are also developing increasingly sophisticated cyber capabilities.
He will say that while Isis has not yet been able to use "cyber warfare to kill people by attacking infrastructure, we know they want it [that capability], and are doing their best to build it.
"If our electricity supply, or our air traffic control, or our hospitals were successfully attacked online, the impact could be measured not just in terms of economic damage but of lives lost."
He will say: "When we talk about tackling Isis, that means tackling their cyber threat as well as guns, bombs and knives."
David Cameron has also announced that an extra £1bn from Britain's international aid budget will be diverted to helping war-torn countries  the Government fears will provide havens for terrorist groups.
The amount of aid money spent on supporting broken and fragile states – including Afghanistan, Iraq, Lebanon and Somalia – is to be boosted from around £4.9bn a year to more than £6bn.
The Prime Minister said the cash would be used to stabilise "broken states" struggling with terrorism or dealing with large numbers of refugees.
Terror plots foiled by British security since 7/7 attack
Terror plots foiled by British security since 7/7 attack
1/10 'Poppy terror plot'

Nadir Ali Sayed, 21, his cousin Yousaf Shah Syed, 19, and Haseeb Hamayoon, 27, were charged with terrorism offences over an alleged plot to behead a member of public. The trio were arrested in London and High Wycombe, Buckinghamshire on 6 November - three days before Remembrance Sunday

2/10 Heathrow airport arrests

A 19-year-old from Coventry man was arrested at London's Heathrow airport on suspicion of preparing for acts of terrorism in November 2014

3/10 Extradition of Abu Hamza

Radical muslim cleric Abu Hamza was used as an example of the kind of people the Home Office has extradited

Getty

4/10 South East Counter Terrorism Unit arrests

Six people were arrested on suspicion of terrorism offences after a series of dawn raids in the south of England in October 2014. Three men and three women were detained separately in two properties in Portsmouth, one in Farnborough and one in Greenwich following an operation by the South East Counter Terrorism Unit. Counter-terror officers said they had disrupted what was believed to be the early stages of what could have turned into a "significant plot"

5/10 Law student arrest

A law student who was the subject of a controversial secret trial was convicted for possessing a bomb-making manual, it can now be reported. Erol Incedal, 26, is said to have kept the manual on a memory card adhesive-taped to the inside of his iPhone cover. He now faces a retrial starting on 23 February next year after jurors failed to agree whether he was plotting a terrorist attack

PA

6/10 October 2014 arrests

Three men were arrested in central London on 13 October as part of an investigation into Islamist-related terrorism. The arrests come nearly a week after five men were arrested in dawn raids that Whitehall officials said "may have foiled the early stages" of a plan to attack the UK

Peter Macdiarmid/Getty Images

7/10 Anjem Choudary arrest

Anjem Choudary, the radical activist and co-founder of the banned al-Muhajiroun group, was arrested in September 2014 as efforts intensify to disrupt the ideological backers of young British Muslims travelling to fight in foreign conflicts. Mr Choudary was among nine men held on suspicion of supporting a banned terrorist group and encouraging terrorism. The arrests came shortly after Mr Choudary fired off a series of angry tweets after David Cameron called on MPs to back air strikes against Islamic State militants in Syria

Oli Scarff/Getty Images

8/10 North West Counter Terrorism Unit funds seizing

Police seize £250,000 of cash intended to fund Isis at Manchester Airport and north-west ports. Using powers under the Terrorism Act, the money was confiscated by officers from the North West Counter Terrorism Unit

Getty Images

9/10 Tarik Hassane arrest

A medical student who was offered a place at a London university has been named among four men who are being questioned by counter-terror police after a series of raids across the capital. Tarik Hassane, 21, is believed to have been Tasered when he was arrested on suspicion of being involved in a "significant" Islamist terror plot on 7 October

10/10 Abu Qatada removed from UK

Radical preacher Abu Qatada will not be returning to the UK after being cleared of terror charges in Jordan

Reuters
"This will make our aid spending an even more fundamental part of our strategy to keep this country safe and it will help to maintain Britain's position as No 1 in the world for soft power."
Delivering the Lord Mayor's Banquet speech in London, he said: "It may be called soft power but whether it's saving the lives of refugees by stopping them from having to make the perilous journey across the Mediterranean, helping the Lebanese build defences [against Isis], or using our expertise to help countries establish the building blocks of democracy, justice and the rule of law, that soft power packs a real punch."
In the House of Commons Home Secretary Theresa May called on other European leaders to take stronger action to stamp out the supply of the assault rifles across the continent. Ms May told MPs that British firearms laws were among the toughest in the world and the guns used on Friday night were not easily available in this country.
She said it was crucial to reduce the number of weapons being brought into the EU, and disclosed that she would raise the issue at a meeting of European interior ministers on Friday. "In the UK we have seen tough legislation work, and so we want to see action taken to make a difference to the availability of firearms in Europe, particularly assault rifles," she told the Commons.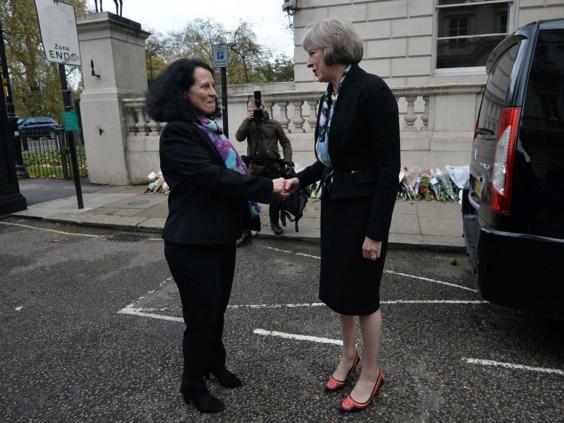 Ms May warned that the degree of co-ordination and planning in the Paris attacks left little doubt that the terrorist rate is evolving, and confirmed that the police presence at key locations had been stepped up since Friday and border checks at ports intensified.
The Prime Minister also delivered a bleak warning of the scale of the terrorist threat as he revealed that the security services had prevented seven attacks in the past year. The previous running total was six, indicating one had been foiled in recent weeks. Mr Cameron warned that an atrocity "could happen here" and said the Paris atrocities meant "you have to go right back to the drawing board". He suggested he was sympathetic to accelerating the introduction of new powers for the security services to monitor emails and website visits. He said that "we should look at the timetable" of the planned Investigatory Powers Bill, which is expected to become law late next year. However, Ms May promised that the new powers would receive "proper scrutiny" in Parliament ahead of their introduction.
Reuse content