Nigel Farage has strengthened his grip over Ukip following the purging of two senior members of his team.
Suzanne Evans, the party's deputy chairman who wrote the party's election manifesto has stood down from her paid development brief. She denied she has been involved in a plot to undermine Mr Farage.
Earlier, MEP Patrick O'Flynn stood down as the party's economics spokesman after a public spat over Mr Farage's continuing leadership.
It is though Ms Evans' role will be taken up by the former Tory MP Mark Reckless.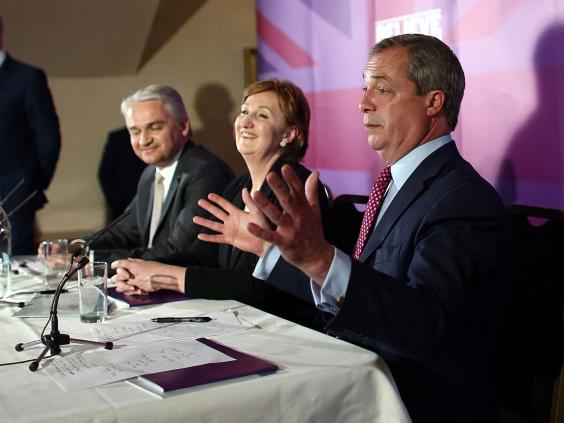 Mr O'Flynn had written comments in The Times newspaper that had been interpreted as critical of Mr Farage and had himself been subject to negative briefings by the leader's close advisors.
"I would like to express to colleagues my sincere regret at going public with my frustrations about the turn of events following polling day. And more than that, I would like to apologise directly to Nigel for the phrase 'snarling, thin-skinned and aggressive'," he said in a resignation statement.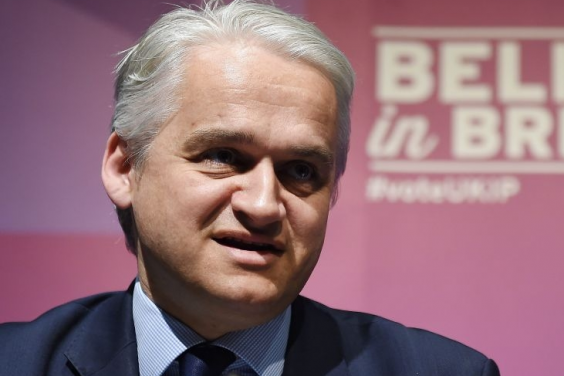 "This was a fragment of a wider passage about perceptions and is not what I think of him. Nonetheless, I should have known better than anyone what use would be made of phrases that were both unfair and unkind."
Mr O'Flynn had described a group of close advisors around Mr Farage as "wrong 'uns", while in apparent retaliation a source close to Mr Farage had accused the economic spokesperson of having "personal problems".
The MEP described his own contribution to the debate about the party's future as "unhelpful" and said he would take part in the campaign for Britain to leave the EU.
Ukip's rising stars
Ukip's rising stars
1/7 Suzanne Evans

A Tory defector who has only been in the party for a year. She was rapidly appointed national communities spokesman. A former BBC reporter who now runs a PR agency, she has won plaudits within the party for her confidence in front of the camera.

2/7 Steven Woolfe

A barrister from Manchester whose father was mixed-race and mother was white. He was invited to become financial services spokesman before he had even joined Ukip. Now an MEP, his ethnicity and northern upbringing are in strong contrast to the Ukip stereotype.

3/7 Margot Parker

A local businesswoman who impressed Ukip's hierarchy with her spirited campaign in the Corby and East Northants by-election 18 months ago. She was elected as an MEP for the East Midlands last week. She has a no-nonsense style which party chiefs believe will be persuasive on the national stage.

4/7 Patrick O'Flynn

A former Daily Express journalist who became Ukip's director of communications and was a strategist behind the Euro-elections campaign. An experienced performer on television who is close to Mr Farage. With his media background he could become a culture spokesman.

Rex

5/7 Amjid Bashir

A restaurateur of Pakistani lineage who is one three Ukip MEPs representing Yorkshire and the Humber and currently speaks for the party on small business. After his election he said: "Here I am... of Asian birth, of Asian parentage, Muslim, and I have been selected by this so-called racist party. It disproves that completely."

Rex

6/7 Louise Bours

Until her combative appearance alongside Piers Morgan and Joey Barton on Question Time last Thursday, she was one of Ukip's lesser-known faces. The new MEP for the north-west is a former actress whose full name is Louise van de Bours. Her northern credentials could come in handy in wooing Labour-leaning voters.

7/7 Paul Nuttall

Long serving activist from Merseyside who became Ukip's chairman in 2008 and deputy leader two years later. He is a key weapon in the party's attempts to broaden its appeal to working-class voters in the North of England.

PA
"I am proud of what we achieved in the general election and am only sorry to have succumbed, as Roger [Helmer] put it with such impressive understatement, to public remarks that were 'unhelpful'. I think it appropriate to stand down as economics spokesman, which I have done," he said.
"I hope in the months ahead to be of use to the great campaign to persuade the British people to leave the EU, which is after all what brought me into politics in the first place."
Mr Farage stepped down as leader, as pledged, after he lost the race to become the MP for Thanet South.
But after presenting his resignation to Ukip's national executive he was apparently rebuffed and told to remain as leader.
Rivals to the party leader appeared to make attempts to destabilise the leader and a minor civil war erupted in the party, lasting a number of days.
Ukip achieved a record vote share in the general election last week but ended up with fewer MPs than it went into the contest with.
Mr Farage failed to win his target constituency of Thanet South after a hard-fought contest, with only Douglas Carswell, a former Conservative defector, retaining his seat.
Reuse content