Six out of ten voters think the Government has failed to get a grip on the flooding crisis, a poll for The Independent on Sunday reveals today.
The ComRes survey also shows that 48 per cent of people think the floods have made them more convinced that man-made climate change is happening, as opposed to the 30 per cent who disagree. Just a quarter of people think David Cameron and his ministers have got a grip on the situation. The Prime Minister chaired the latest meeting of the Government's emergency committee, Cobra, last night after travelling to Chertsey in Surrey to see the latest efforts to combat the flooding.
The poll suggests that, with the nation in a state of crisis and the army on the streets, voters are withdrawing support for marginal groups such as Ukip and backing the mainstream political parties – suggesting that people are looking for stability in a time of uncertainty. Labour are up two points to 37 per cent, while the Conservatives are also up two points, to 32 per cent. Ukip are down four points but remain in double figures, on 15 per cent. The Lib Dems are up one to 9 per cent.
Labour has now had a two-year uninterrupted poll lead, which can be seen as a historically significant landmark. According to ComRes, no party since 1970 has ever had a completely uninterrupted lead in the polls for two years without going on to form a government at the following election.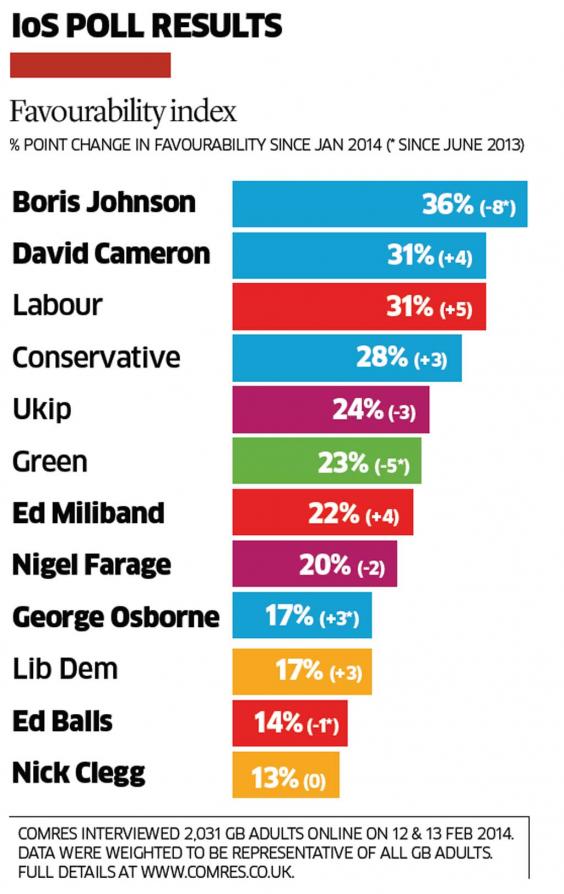 There is a reversal of fortune for Ukip, which, despite coming second in last week's Wythenshawe and Sale East by-election, is no longer the most favoured contender in the monthly survey. Nigel Farage's party is now the third most favoured, on 24 per cent, behind Labour (31 per cent) and the Conservatives (28 per cent). Boris Johnson is regarded the most favourably by voters, with a 36 per cent score, while 31 per cent view Mr Cameron favourably, compared with 22 per cent for Ed Miliband and 20 per cent for Mr Farage.
Reuse content