The Conservatives are heading for another humiliating defeat at Ukip's hands in the crucial Rochester and Strood by-election, according to a survey by ComRes.
It shows that Nigel Farage's party has opened a 13-point lead over the Tories ahead of the contest on 20 November, which was triggered by Mark Reckless', the former Tory MP for the Kent constituency, defection to Ukip. He looks set to become Ukip's second elected MP.
The findings are a huge setback for David Cameron, who is desperate to avoid a second by-election disaster following Douglas Carswell's victory in Clacton this month. Rochester and Strood is seen as the most important by-election for many years. If the Tories lose, some of their MPs may try to oust Mr Cameron by forcing a party leadership contest. But Cameron allies doubt his critics would split the party six months before a general election.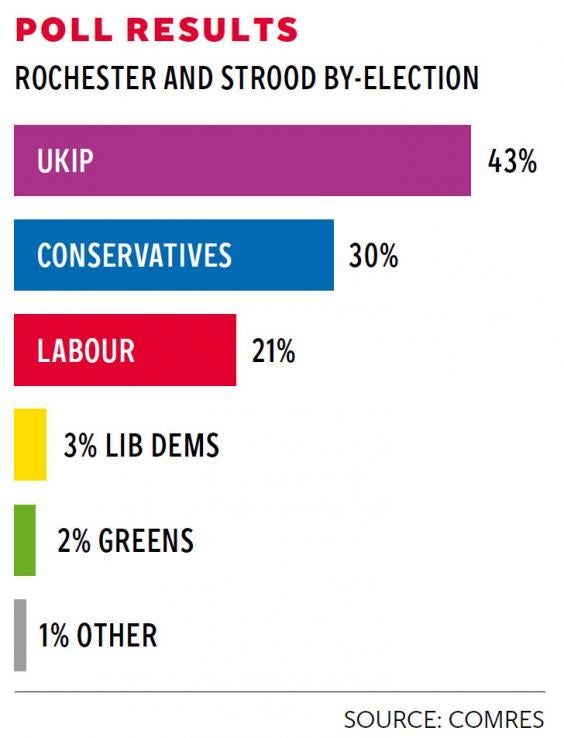 The ComRes survey of 1,500 adults in Rochester and Strood, commissioned by Ukip, puts the party on 43 per cent, the Tories on 30 per cent, Labour on 21 per cent, the Liberal Democrats on three per cent, the Greens on two per cent and others on one per cent. Ukip's 13-point advantage is four points higher than the previous poll in the constituency and suggests the Tories' decision to "throw the kitchen sink" at the by-election is not working.
Mr Cameron has ordered Tory MPs to make at least three visits and ministers are flocking to the area. But ComRes found that 66 per cent of local people believe the Tories "are coming across as desperate" by sending so many politicians there.
The findings suggest the Tories will struggle to halt Ukip's bandwagon. Mr Cameron's main hope may be to woo the still sizeable Labour vote, as the Tories did during the Newark by-election in June, when they saw off Ukip by appealing to Labour and Lib Dem supporters. That might require a change of tone by the Prime Minister, who has ramped up his anti-EU rhetoric in the past week by promising measures to curb migration from other EU member states.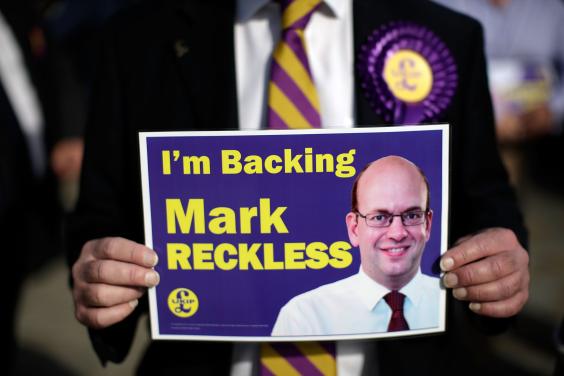 Although one in five local people (19 per cent) says they might change their mind before polling day, current Ukip supporters are the least likely group to do so. Some 88 per cent of them  are "very" or "fairly" sure they will back Ukip. But one in four Labour supporters may change their mind.
A majority of voters (53 per cent) believe Mr Reckless "did the principled thing" by leaving the Tories and joining Ukip. Some 50 per cent believe he is being unfairly attacked by his former Tory colleagues, while 40 per cent do not. However, 52 per cent think that Mr Reckless "cost the taxpayer a lot of money unnecessarily" by forcing the by-election.
Six out of 10 people (62 per cent) agree that the contest is "a good opportunity" to show how unhappy they are with the Government.
Boris Johnson is more popular than Mr Cameron, who is in turn regarded favourably by more people than Mr Reckless and Mr Farage.
In pictures: The rise of Ukip
In pictures: The rise of Ukip
1/8 1993: Alan Sked forms Ukip

History professor Alan Sked had been active in anti-EU politics for a while beore he founded Ukip in 1993. He resigned from the party after the 1997 election, concerned that it was attracting far-right members, and has been critical of Ukip since. Picture: Reuters

Reuters

2/8 2005: Kilroy defects

Former TV presenter Robert Kilroy-Silk founded Veritas in 2005, after a failed bid to become leader, and took many of Ukip's elected members with him. But the party slowly lost its popularity and didn't put forward any candidates in the last election. Picture: REUTERS/Kieran Doherty REUTERS KD/RUS

3/8 2010: Farage becomes leader, again

Farage had led Ukip from 2006 until 2009, when he stood down to fight against the Speaker, John Bercow, for his Buckingham seat. He failed to win the election and returned to lead the party in November 2010. Picture: REUTERS/Kieran Doherty

REUTERS/Kieran Doherty

4/8 2010: Ukip fights for election

Nigel Farage was injured in a plane crash on polling day in the 2010 general election, but his party increased its success in the votes. It fielded 572 candidates and took 3.1% of the vote, though failed to win any seats. REUTERS/Darren Staples

REUTERS/Darren Staples

5/8 2013: Eastleigh gains

Ukip's candidate Diane James got the highest ever number of votes for any candidate from the party, but was beaten by the Liberal Democrats. The surge in support gave Ukip confidence ahead of local and European elections later in the year. Picture: Reuters

6/8 2013: Bloom kicked out

Godfrey Bloom, who served as an Ukip MEP from 2004 to 2014, had the whip withdrawn in 2013 after sexist comments and an attack on a journalist. He sat as an independent MEP until 2014, when he ended his term in office. Picture: REUTERS/Luke MacGregor

7/8 2014: European election success

Ukip got a higher proportion of the vote than any other party in 2014's European elections, adding 11 new MEPs and taking its total to 24. REUTERS/Luke MacGregor

8/8 2014: Carswell defects

Douglas Carswell defected from Ukip at the end of August, and was followed by Mark Reckless at the end of September, who resigned from the Tories amid rumours of many more defections to come. Picture: REUTERS/Toby Melville
Patrick O'Flynn, a Ukip MEP and the party's economic spokesman, said: "These results are a huge boost to our campaign and will further raise the morale of our 'people's army' of volunteers that is working to get Mark Reckless re-elected in Rochester and Strood. It is particularly good to know that the prospect of having hundreds of Tory MPs descending upon them is not one that the voters are regarding in a positive light and one can hardly blame them for that."
The poll findings underline the frenetic campaigning in the seat. Some 86 per cent of people say they have already been contacted by the Tories about the contest, and 71 per cent by Ukip. But only 30 per cent recall contact by Labour.
ComRes interviewed 1,500 adults in the Rochester and Strood constituency by telephone between October 17-21. Data were weighted to be representative of the constituency.
Reuse content