Former Shadow Cabinet minister Rachel Reeves has warned that Britain could "explode" into rioting if immigration is not curbed after Brexit. 
The former Shadow Work and Pensions Secretary warned that there were "bubbling tensions" over immigration that could spill over into violence if the deal agreed with the rest of the EU did not include an end to freedom of movement. 
Speaking at a fringe event at the Labour Party Conference in Liverpool on Tuesday afternoon, the Leeds West MP said the party must listen to voters' concerns. 
She said: "We have got to get this right because there are bubbling tensions in this country that I just think could explode.
"You had those riots in 2011... If riots started again in Leeds and bits of my constituency - it's like a tinderbox."
Ms Reeves, who left the Shadow Cabinet last year when Jeremy Corbyn was first elected leader, rejected dismissed "Red Ukip" slurs over her call for an end to mass immigration.
She was one of several moderate Labour MPs who campaigned for Britain to remain in the EU but said it should accept immigration controls now the public had decided to leave. 
In an essay for a collection released by the Fabian Society, she wrote: "Immigration controls and ending free movement has to be a red line post-Brexit – otherwise we we will be holding the voters in contempt.
"Subject to that, we need the greatest possible access that we can get to the single market without free movement."
It came before Shadow Home Secretary Andy Burnham used his speech on Wednesday morning to warn the party must "face up fully" to the fact that millions of its supporters had "voted for change on immigration". 
What experts have said about Brexit
What experts have said about Brexit
1/11 Chancellor of the Exchequer Philip Hammond

The Chancellor claims London can still be a world financial hub despite Brexit "One of Britain's great strengths is the ability to offer and aggregate all of the services the global financial services industry needs" "This has not changed as a result of the EU referendum and I will do everything I can to ensure the City of London retains its position as the world's leading international financial centre."

Reuters

2/11 Yanis Varoufakis

Greece's former finance minister compared the UK relations with the EU bloc with a well-known song by the Eagles: "You can check out any time you like, as the Hotel California song says, but you can't really leave. The proof is Theresa May has not even dared to trigger Article 50. It's like Harrison Ford going into Indiana Jones' castle and the path behind him fragmenting. You can get in, but getting out is not at all clear"

Getty Images

3/11 Michael O'Leary

Ryanair boss says UK will be 'screwed' by EU in Brexit trade deals: "I have no faith in the politicians in London going on about how 'the world will want to trade with us'. The world will want to screw you – that's what happens in trade talks," he said. "They have no interest in giving the UK a deal on trade"

Getty

4/11 Tim Martin

JD Wetherspoon's chairman has said claims that the UK would see serious economic consequences from a Brexit vote were "lurid" and wrong: "We were told it would be Armageddon from the OECD, from the IMF, David Cameron, the chancellor and President Obama who were predicting locusts in the fields and tidal waves in the North Sea"

PA

5/11 Mark Carney

Governor of Bank of England is 'serene' about Bank of England's Brexit stance: "I am absolutely serene about the … judgments made both by the MPC and the FPC"

Reuters

6/11 Christine Lagarde

IMF chief urges quick Brexit to reduce economic uncertainty: "We want to see clarity sooner rather than later because we think that a lack of clarity feeds uncertainty, which itself undermines investment appetites and decision making"

Getty Images

7/11 Inga Beale

Lloyd's chief executive says Brexit is a major issue: "Clearly the UK's referendum on its EU membership is a major issue for us to deal with and we are now focusing our attention on having in place the plans that will ensure Lloyd's continues trading across Europe"

EPA

8/11 Colm Kelleher

President of US bank Morgan Stanley says City of London 'will suffer' as result of the EU referendum: "I do believe, and I said prior to the referendum, that the City of London will suffer as result of Brexit. The issue is how much"

9/11 Richard Branson

Virgin founder believes we've lost a THIRD of our value because of Brexit and cancelled a deal worth 3,000 jobs: We're not any worse than anybody else, but I suspect we've lost a third of our value which is dreadful for people in the workplace.' He continued: "We were about to do a very big deal, we cancelled that deal, that would have involved 3,000 jobs, and that's happening all over the country"

Getty Images

10/11 Barack Obama

US President believes Britain was wrong to vote to leave the EU: "It is absolutely true that I believed pre-Brexit vote and continue to believe post-Brexit vote that the world benefited enormously from the United Kingdom's participation in the EU. We are fully supportive of a process that is as little disruptive as possible so that people around the world can continue to benefit from economic growth"

Getty Images

11/11 Kristin Forbes

American economist and an external member of the Monetary Policy Committee of the Bank of England argues that the economy had been "less stormy than many expected" following the shock referendum result: "For now…the economy is experiencing some chop, but no tsunami. The adverse winds could quickly pick up – and merit a stronger policy response. But recently they have shifted to a more favourable direction"

Getty
A YouGov poll published last week found just 48 per cent of Labour voters who supported Brexit would continue to support the party.
Nine per cent said they would now support the Conservatives and eight per cent would vote Ukip, with a quarter unsure what to do next. 
But the party leadership remain defiant - with Mr Corbyn announcing new policies to limit the impact of immigration without reducing numbers. 
In a round of TV interviews, the recently re-elected Labour leader said he had been talking to several socialist parties around Europe about the need for what he called "co-terminosity" - the harmonisation of wages and conditions - which would reduce the incentive for low-skilled workers from Eastern European countries such as Poland or Bulgaria to come to the UK.
He is also due to announce the reintroduction the Migrant Impact Fund launched by Gordon Brown in 2008 to help local communities respond to pressures on public services such as schools, health and housing, which was abolished by the Coalition Government in 2010.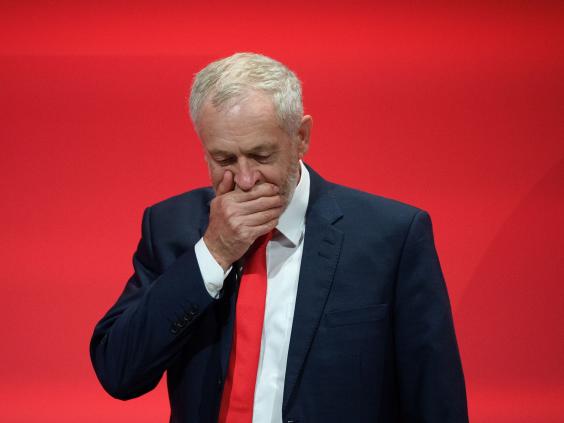 He said in his speech to the conference on Wednesday afternoon: "A Labour government will not offer false promises. 
"We will not sow division or fan the flames of fear. We will instead tackle the real issues of immigration - and make the real changes that are needed.
"Labour will reinstate the Migrant Impact Fund, abolished by the Tory government. That will give extra support to areas of high migration. 
"We will use the visa levy for its intended purpose. And we will add a citizenship application fee levy to boost the fund."
Additional reporting by PA
Reuse content