Britain and other rich countries are failing to do their fair share in giving sanctuary to Syrian refugees, with just 1.39 per cent having been resettled by wealthy nations, according to a new report by Oxfam.
This comes ahead of a high level meeting being held by the United Nations in Geneva tomorrow to discuss a refugee crisis which has seen almost five million people flee Syria.
Twenty-eight of the world's richest nations have pledged to take in 129,966 people between them. But this is less than a third of what they should be committing to; and just 67,000 people have been resettled to date, states the report.
Campaigners are demanding that Britain and other wealthy countries should take in more refugees, with the UN High Commissioner for Refugees having estimated that almost half a million are very vulnerable and in urgent need of being resettled.
Just three countries, Canada, Germany, and Norway, have made pledges exceeding their 'fair share', something which is calculated according to the size of their economy.  But 25 out of the 28 countries are falling far short in the number they have promised to take in.
Refugee crisis - in pictures
Refugee crisis - in pictures
1/27

A child looks through the fence at the Moria detention camp for migrants and refugees at the island of Lesbos on May 24, 2016.

AFP/Getty Images

2/27

Ahmad Zarour, 32, from Syria, reacts after his rescue by MOAS (Migrant Offshore Aid Station) while attempting to reach the Greek island of Agathonisi, Dodecanese, southeastern Agean Sea

3/27

Syrian migrants holding life vests gather onto a pebble beach in the Yesil liman district of Canakkale, northwestern Turkey, after being stopped by Turkish police in their attempt to reach the Greek island of Lesbos on 29 January 2016.

Getty Images

4/27

Refugees flash the 'V for victory' sign during a demonstration as they block the Greek-Macedonian border

5/27

Migrants have been braving sub zero temperatures as they cross the border from Macedonia into Serbia.

6/27

A sinking boat is seen behind a Turkish gendarme off the coast of Canakkale's Bademli district on January 30, 2016. At least 33 migrants drowned on January 30 when their boat sank in the Aegean Sea while trying to cross from Turkey to Greece.

Getty Images

7/27

A general view of a shelter for migrants inside a hangar of the former Tempelhof airport in Berlin, Germany

8/27

Refugees protest behind a fence against restrictions limiting passage at the Greek-Macedonian border, near Gevgelija. Since last week, Macedonia has restricted passage to northern Europe to only Syrians, Iraqis and Afghans who are considered war refugees. All other nationalities are deemed economic migrants and told to turn back. Macedonia has finished building a fence on its frontier with Greece becoming the latest country in Europe to build a border barrier aimed at checking the flow of refugees

9/27

A father and his child wait after being caught by Turkish gendarme on 27 January 2016 at Canakkale's Kucukkuyu district

10/27

Migrants make hand signals as they arrive into the southern Spanish port of Malaga on 27 January, 2016 after an inflatable boat carrying 55 Africans, seven of them women and six chidren, was rescued by the Spanish coast guard off the Spanish coast.

11/27

A refugee holds two children as dozens arrive on an overcrowded boat on the Greek island of Lesbos

12/27

A child, covered by emergency blankets, reacts as she arrives, with other refugees and migrants, on the Greek island of Lesbos, At least five migrants including three children, died after four boats sank between Turkey and Greece, as rescue workers searched the sea for dozens more, the Greek coastguard said

13/27

Migrants wait under outside the Moria registration camp on the Lesbos. Over 400,000 people have landed on Greek islands from neighbouring Turkey since the beginning of the year

14/27

The bodies of Christian refugees are buried separately from Muslim refugees at the Agios Panteleimonas cemetery in Mytilene, Lesbos

15/27

Macedonian police officers control a crowd of refugees as they prepare to enter a camp after crossing the Greek border into Macedonia near Gevgelija

Getty Images

16/27

A refugee tries to force the entry to a camp as Macedonian police officers control a crowd after crossing the Greek border into Macedonia near Gevgelija

Getty Images

17/27

Refugees are seen aboard a Turkish fishing boat as they arrive on the Greek island of Lesbos after crossing a part of the Aegean Sea from the Turkish coast to Lesbos

Reuters

18/27

An elderly woman sings a lullaby to baby on a beach after arriving with other refugees on the Greek island of Lesbos after crossing the Aegean sea from Turkey

Getty Images

19/27

A man collapses as refugees make land from an overloaded rubber dinghy after crossing the Aegean see from Turkey, at the island of Lesbos

EPA

20/27

A girl reacts as refugees arrive by boat on the Greek island of Lesbos after crossing the Aegean sea from Turkey

Getty Images

21/27

Refugees make a show of hands as they queue after crossing the Greek border into Macedonia near Gevgelija

Getty Images

22/27

People help a wheelchair user board a train with others, heading towards Serbia, at the transit camp for refugees near the southern Macedonian town of Gevgelija

AP

23/27

Refugees board a train, after crossing the Greek-Macedonian border, near Gevgelija. Macedonia is a key transit country in the Balkans migration route into the EU, with thousands of asylum seekers - many of them from Syria, Afghanistan, Iraq and Somalia - entering the country every day

Getty Images

24/27

An aerial picture shows the "New Jungle" refugee camp where some 3,500 people live while they attempt to enter Britain, near the port of Calais, northern France

Getty Images

25/27

A Syrian girl reacts as she helped by a volunteer upon her arrival from Turkey on the Greek island of Lesbos, after having crossed the Aegean Sea

EPA

26/27

Refugees arrive by boat on the Greek island of Lesbos after crossing the Aegean sea from Turkey

Getty Images

27/27

Beds ready for use for migrants and refugees are prepared at a processing center on January 27, 2016 in Passau, Germany. The flow of migrants arriving in Passau has dropped to between 500 and 1,000 per day, down significantly from last November, when in the same region up to 6,000 migrants were arriving daily.
By the end of this year, Britain will have taken in just 5,571 people – just 22 per cent of the 25,067 it has pledged to rehome.
The UK ranks 13th out of 28 countries in terms of failing to resettle the number of people it has promised to take in. Some countries have performed even worse. Take Japan, Russia, and South Korea. Between them they have pledged to resettle more than 100,000 people yet they have yet to take in a single Syrian refugee, according to Oxfam's analysis.
"To date the response to calls of increased resettlement of vulnerable refugees has been disappointing, and the conference is an opportunity for states to mark a change of course," says the report.
Campaigners are demanding that rich countries take in 10 per cent of Syrian refugees, some 481,000 people, by the end of this year.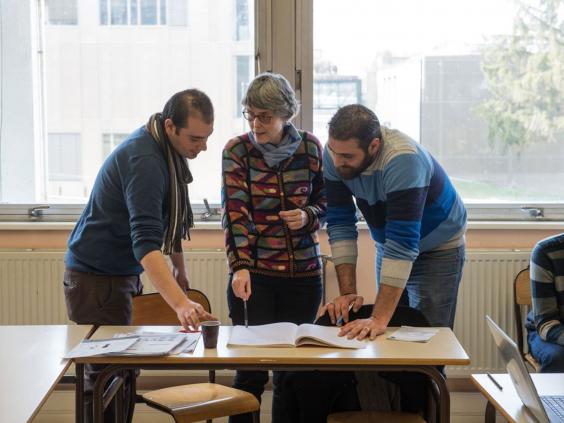 Mark Goldring, chief executive of Oxfam GB said:  "It's shocking that while people continue to flee Syria most countries have failed to provide a safe home for the most vulnerable."
He added: "Lebanon, Jordan and Turkey are struggling to cope with almost five million Syrian refugees. Rich nations should be doing more to share the responsibility and offer refuge to some of the most vulnerable women and children affected by this crisis." 
Ariane Rummery, spokeswoman for UNHCR, said: "Refugee flows are a global responsibility, not just for those countries neighboring war zones. The Syria crisis is so vast. We simply need more countries to share the load by taking a greater share of refugees from what has become the biggest displacement crisis of a generation."
"Our conference on Wednesday aims to rally an increase over the next 3 years In the number of places for Syrian refugees to travel to third countries through humanitarian admission and other pathways."
Richard Harrington, minister with responsibility for Syrian refugees, said:
"The United Kingdom has been at the forefront of the international response to the humanitarian crisis in Syria.
"We have pledged £2.3 billion in humanitarian aid to Syria and neighbouring countries, making us the second largest donor to the Syria crisis. And we are providing nearly £55 million in response to the Mediterranean migration crisis, which includes life-saving humanitarian assistance within Europe.
"In total, we have granted asylum or other forms of leave to over 5,500 Syrian nationals and dependents through normal asylum procedures since the crisis began in 2011. Additionally, more than 1,000 people have already been resettled as part of our commitment to take in 20,000 Syrian refugees under our Syrian Vulnerable Persons Scheme."