The former Conservative Deputy Mayor of London, Richard Barnes, has defected to Ukip.
Described as Boris Johnson's one-time "right-hand man at City Hall", he announced he was leaving David Cameron's party on Tuesday, the Evening Standard reported.
He told the newspaper that the Tories, Labour and Lib Dems did not "speak the language of normal people".
The move comes as a new blow to the Prime Minister following the defection of MPs Mark Reckless and Douglas Carswell.
Mr Johnson was preparing to speak at the Conservative Party conference as the news broke, where leaders were hoping he would be able to inject positivity into delegates ahead of next year's general election.
Mr Barnes said he favoured Ukip policies on the EU, immigration, HS2 and Heathrow expansion.
"There seems to be a detachment from ordinary people's lives in the Westminster Village," he told the Evening Standard.
"The parties just don't seem to relate and talk the language of normal people."
The politician, who is gay, also dismissed claims that Ukip is a homophobic party. Nigel Farage's party has been linked to a series of scandals; in January a Ukip councillor said that severe flooding and storms could be blamed on the Government's decision to legalise gay marriage.
He said: "I'll stand my ground against any prat. They are in all the parties. I don't think they become homophobic the moment they join Ukip."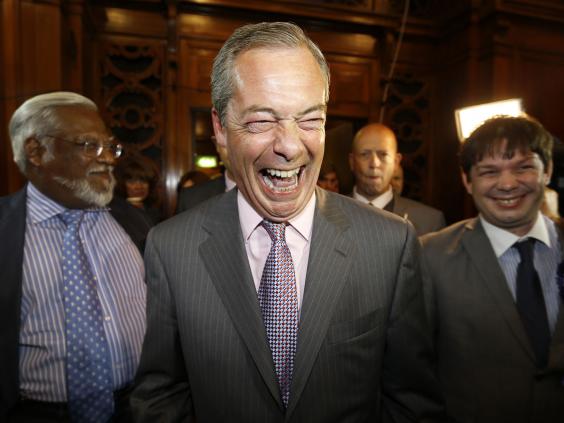 Mr Barnes said he wanted the UK to pull out of the EU and return to a free trade agreement with the continent, claiming that the Prime Minister's plan to renegotiate a better deal with Europe was "unrealistic".
He served as Deputy Mayor between 2008 and 2012 but lost his seat for Ealing and Hillingdon the London Assembly elections that year to a previously unknown GP from Southall, who was running for Labour.
In September last year, naked photos showing a man's lower body in front of a mirror appeared on his Facebook page.
In pictures: The rise of Ukip
In pictures: The rise of Ukip
1/8 1993: Alan Sked forms Ukip

History professor Alan Sked had been active in anti-EU politics for a while beore he founded Ukip in 1993. He resigned from the party after the 1997 election, concerned that it was attracting far-right members, and has been critical of Ukip since. Picture: Reuters

Reuters

2/8 2005: Kilroy defects

Former TV presenter Robert Kilroy-Silk founded Veritas in 2005, after a failed bid to become leader, and took many of Ukip's elected members with him. But the party slowly lost its popularity and didn't put forward any candidates in the last election. Picture: REUTERS/Kieran Doherty REUTERS KD/RUS

3/8 2010: Farage becomes leader, again

Farage had led Ukip from 2006 until 2009, when he stood down to fight against the Speaker, John Bercow, for his Buckingham seat. He failed to win the election and returned to lead the party in November 2010. Picture: REUTERS/Kieran Doherty

REUTERS/Kieran Doherty

4/8 2010: Ukip fights for election

Nigel Farage was injured in a plane crash on polling day in the 2010 general election, but his party increased its success in the votes. It fielded 572 candidates and took 3.1% of the vote, though failed to win any seats. REUTERS/Darren Staples

REUTERS/Darren Staples

5/8 2013: Eastleigh gains

Ukip's candidate Diane James got the highest ever number of votes for any candidate from the party, but was beaten by the Liberal Democrats. The surge in support gave Ukip confidence ahead of local and European elections later in the year. Picture: Reuters

6/8 2013: Bloom kicked out

Godfrey Bloom, who served as an Ukip MEP from 2004 to 2014, had the whip withdrawn in 2013 after sexist comments and an attack on a journalist. He sat as an independent MEP until 2014, when he ended his term in office. Picture: REUTERS/Luke MacGregor

7/8 2014: European election success

Ukip got a higher proportion of the vote than any other party in 2014's European elections, adding 11 new MEPs and taking its total to 24. REUTERS/Luke MacGregor

8/8 2014: Carswell defects

Douglas Carswell defected from Ukip at the end of August, and was followed by Mark Reckless at the end of September, who resigned from the Tories amid rumours of many more defections to come. Picture: REUTERS/Toby Melville
As the images spread, he blamed the incident on being "hacked", adding: "I'm a 65-year-old gay man on his own… It's not the sort of thing I do. Do you really think I would be that f****** stupid after 30 years in politics?"
Mr Farage had hinted several times that more Tory defectors may join his party, saying there were "many other people out there that are making up that calculation now".
Last night Mr Johnson risked outraging Ukip supporters with a jibe that would-be defectors were people who might inflict "barely credible" injuries on themselves by "vacuum cleaner abuse".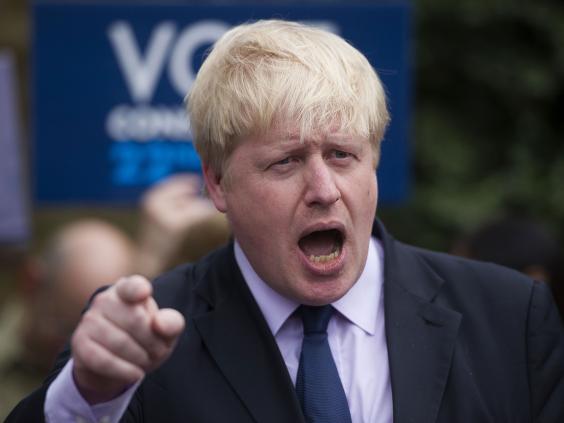 He said: "If you do not handle your vacuum cleaner correctly, you may end up inhaling the hamster - the budgerigar through the bars of the cage.
"And I have read that there are some people - probably the type who are thinking of defecting to Ukip - who present themselves at A&E with barely credible injuries sustained through vacuum cleaner abuse."
Mr Cameron admitted he is fighting a war on two fronts against Labour and Ukip but warned the defectors they were making a Labour Government more likely, and saying goodbye to the in/out EU referendum he has promised in 2017.