The Government has rejected calls by two parliamentary committees for it to stop the sale of British bombs to Saudi Arabia's armed forces in Yemen.
Saudi forces have been widely accused of committing war crimes during the campaign in the country, where reports on the ground suggest they have blown up international hospitals, funerals, schools, and weddings.
Despite the reported incidents and the worsening humanitarian situation in the country since the bombardment began, the UK has signed off £3.3 billion in arms sales to the country since the start of the offensive.
The country has been overtaken by famine with 370,000 children suffering from severe malnutrition and 1.5 million are going hungry overall, according to Unicef figures released in October. Saudi led-coalition air strikes are reported to have hit food factories processing products including potatoes and sugar.
Two committees of MPs, the International Development and Business Committee, which sit on a parliamentary 'super committee' called the Committee on Arms Export Control (CAEC), released a joint report calling for the suspension of arms sales until a UN investigation had been conducted into the alleged atrocities.
A third constituent committee of CAEC, the Foreign Affairs Committee, did not endorse the report, and said it would be better for the British courts to decide the legality of the sales – with a legal challenge launched by Campaign Against the Arms Trade set to be heard in the coming months.
The Government however rejected the call for the suspension of sales.
"We disagree with this recommendation. The Government is confident in its robust case-by-case assessment and is satisfied that extant licences for Saudi Arabia are compliant with the UK's export licensing criteria," the Government said in an official response.
"We continue to assess export licence applications for Saudi Arabia on a case-by-case basis against the Consolidated EU and National Arms Export licensingCriteria, taking account of all relevant factors at the time of the application. 
"The key test for our continued arms exports is whether there is a clear risk that those exports might be used in a commission of a serious violation of International Humanitarian Law (IHL). 
"A licence will not be issued for any country, including Saudi Arabia, if to do so would be inconsistent with any provision of the mandatory Criteria, including where we assess there is a clear risk that the items might be used in the commission of a serious violation of IHL."
The response was issued jointly Dr Liam Fox, Boris Johnson, Sir Michael Fallon, and Priti Patel.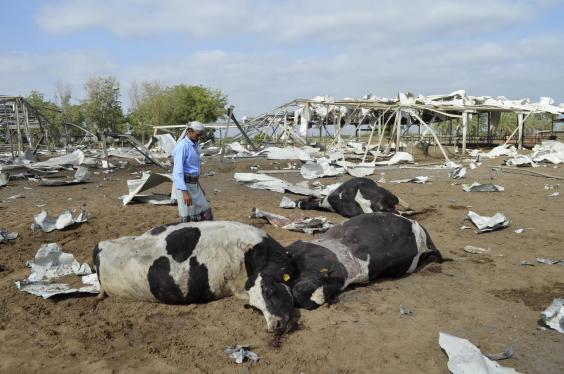 The Government has repeatedly said that Saudi Arabia is best placed to investigate its own alleged war crimes. The autocracy has absolved itself of any wrongdoing.
The committees had recommended that "the UK suspend licences for arms exports to Saudi Arabia, capable of being used in Yemen, pending the results of an independent, United Nations-led inquiry into reports of violations of IHL, and issue no further licences. 
"In addition, the UK Government should investigate whether any licences so far issued have led to the transfer of weapons which have been used in breach of IHL".
10 examples of Saudi Arabia's human rights abuses
10 examples of Saudi Arabia's human rights abuses
1/10

In October 2014, three lawyers, Dr Abdulrahman al-Subaihi, Bander al-Nogaithan and Abdulrahman al-Rumaih , were sentenced to up to eight years in prison for using Twitter to criticize the Ministry of Justice.

AFP/Getty Images

2/10

In March 2015, Yemen's Sunni President Abd-Rabbu Mansour Hadi was forced into exile after a Shia-led insurgency. A Saudi Arabia-led coalition has responded with air strikes in order to reinstate Mr Hadi. It has since been accused of committing war crimes in the country.

Getty Images

3/10

Women who supported the Women2Drive campaign, launched in 2011 to challenge the ban on women driving vehicles, faced harassment and intimidation by the authorities. The government warned that women drivers would face arrest.

Getty Images

4/10

Members of the Kingdom's Shia minority, most of whom live in the oil-rich Eastern Province, continue to face discrimination that limits their access to government services and employment. Activists have received death sentences or long prison terms for their alleged participation in protests in 2011 and 2012.

Getty Images

5/10

All public gatherings are prohibited under an order issued by the Interior Ministry in 2011. Those defy the ban face arrest, prosecution and imprisonment on charges such as "inciting people against the authorities".

Getty Images

6/10

In March 2014, the Interior Ministry stated that authorities had deported over 370,000 foreign migrants and that 18,000 others were in detention. Thousands of workers were returned to Somalia and other states where they were at risk of human rights abuses, with large numbers also returned to Yemen, in order to open more jobs to Saudi Arabians. Many migrants reported that prior to their deportation they had been packed into overcrowded makeshift detention facilities where they received little food and water and were abused by guards.

Getty Images

7/10

The Saudi Arabian authorities continue to deny access to independent human rights organisations like Amnesty International, and they have been known to take punitive action, including through the courts, against activists and family members of victims who contact Amnesty.

Getty Images

8/10

Raif Badawi was sentenced to 1000 lashes and 10 years in prison for using his liberal blog to criticise Saudi Arabia's clerics. He has already received 50 lashes, which have reportedly left him in poor health.

Carsten Koall/Getty Images

9/10

Dawood al-Marhoon was arrested aged 17 for participating in an anti-government protest. After refusing to spy on his fellow protestors, he was tortured and forced to sign a blank document that would later contain his 'confession'. At Dawood's trial, the prosecution requested death by crucifixion while refusing him a lawyer.

Getty Images

10/10

Ali Mohammed al-Nimr was arrested in 2012 aged either 16 or 17 for participating in protests during the Arab spring. His sentence includes beheading and crucifixion. The international community has spoken out against the punishment and has called on Saudi Arabia to stop. He is the nephew of a prominent government dissident.

Getty
Andrew Smith of Campaign Against the Arms Trade told The Independent: "The government is in denial about the devastating impact of the Saudi-led bombardment and its own complicity in it. This is a very weak response and makes clear that arms company profits are still being prioritised over the human rights and lives of Yemeni people.
"The evidence from the UN and others has been overwhelming, yet the government has refused to act.  Johnson, May and their colleagues could stop the arms sales right now, but instead they are offering uncritical military and political support while helping arms companies like BAE to sell even more weapons."
Saudi Arabia is intervening in Yemen in the side of the internationally-recognised Government, which no longer controls the country's capital. It is ostensibly attacking Iranian-backed Houthi rebels, though large numbers of civilians casualties have been reported.
Reuse content