The Prime Minister has rejected a call for the UK to stop selling weapons to Saudi Arabia – following the US's decision to restrict arms sales to the autocracy.
The US yesterday announced it would stop a shipment of precision-guided munitions to the country following evidence of "systematic, endemic problems in Saudi Arabia's targeting". 
There are reports of the country's forces hitting schools, hospitals and wedding parties as it intervenes against Houthi rebels on behalf of Yemen's beleaguered internationally recognised government.
Despite the Americans' change of heart the UK has continued to supply similar weapons to Saudi Arabia, fuelling its campaign.
"Civilians have suffered grievously with the bombing of hospitals, of schools, of markets. The UN believes 60 per cent of civilian casualties are caused by air strikes," the SNP's Westminster group leader Angus Robertson asked at Prime Minister's Questions on Wednesday.
"In the last 24 hours the United States has stopped the supply of precision guided munitions to Saudi Arabia to bomb Yemen. When will the UK follow suit?"
Ms May said the UK's regime was "very strict". "As the right honourable gentleman knows we do have a very strict regime of export licences in relation to weapons here in the United Kingdom," she replied. "We exercise that very carefully and in recent years we have indeed refused export licences in relations to arms including to Yemen and Saudi Arabia."
Mr Robertson, however, hit back: "The US government has just said, and I quote, that 'systematic, endemic problems in Saudi Arabia's targeting' drove the US decision to halt a future weapons sale sale involving precision-guided munitions.
"The Saudis have UK-supplied precision guided Paveway IV missiles – they're made in Scotland. The UK has licenced £3.3bn worth of arms to Saudi Arabia since the beginning of the bombing campaign. What will it take for the UK to adopt an ethical foreign policy when it comes to Yemen."
Ms May said: "As the right honourable gentleman knows the intervention in Yemen is a UN-backed intervention. As I've said previously, where there are allegations international humanitarian law then we require those to be properly investigated.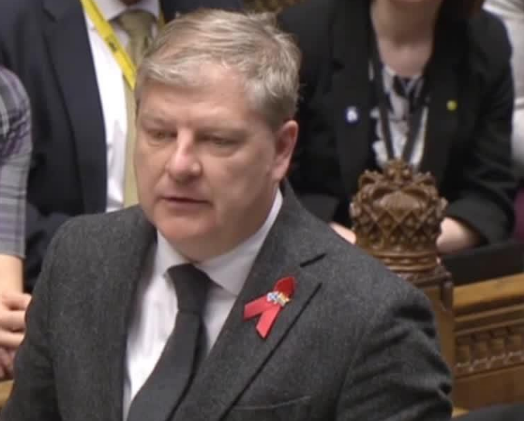 "We do have a relationship with Saudi Arabia – the security of the Gulf is important to us. I would remind the RHG that the intelligence and counter-terrorism links we have with Saudi Arabia has saved potentially hundreds of lives here in the UK."
Since Saudia Arabia's campaign started in March 2015 the UK has licensed around £3bn worth of arms including £2.2bn of so-called ML10 licence – aircraft and drones, £1.1bn ML4 licences, which include bombs and missiles, and £430,000 ML6 licences, which includes armoured vehicles and tanks.
10 examples of Saudi Arabia's human rights abuses
10 examples of Saudi Arabia's human rights abuses
1/10

In October 2014, three lawyers, Dr Abdulrahman al-Subaihi, Bander al-Nogaithan and Abdulrahman al-Rumaih , were sentenced to up to eight years in prison for using Twitter to criticize the Ministry of Justice.

AFP/Getty Images

2/10

In March 2015, Yemen's Sunni President Abd-Rabbu Mansour Hadi was forced into exile after a Shia-led insurgency. A Saudi Arabia-led coalition has responded with air strikes in order to reinstate Mr Hadi. It has since been accused of committing war crimes in the country.

Getty Images

3/10

Women who supported the Women2Drive campaign, launched in 2011 to challenge the ban on women driving vehicles, faced harassment and intimidation by the authorities. The government warned that women drivers would face arrest.

Getty Images

4/10

Members of the Kingdom's Shia minority, most of whom live in the oil-rich Eastern Province, continue to face discrimination that limits their access to government services and employment. Activists have received death sentences or long prison terms for their alleged participation in protests in 2011 and 2012.

Getty Images

5/10

All public gatherings are prohibited under an order issued by the Interior Ministry in 2011. Those defy the ban face arrest, prosecution and imprisonment on charges such as "inciting people against the authorities".

Getty Images

6/10

In March 2014, the Interior Ministry stated that authorities had deported over 370,000 foreign migrants and that 18,000 others were in detention. Thousands of workers were returned to Somalia and other states where they were at risk of human rights abuses, with large numbers also returned to Yemen, in order to open more jobs to Saudi Arabians. Many migrants reported that prior to their deportation they had been packed into overcrowded makeshift detention facilities where they received little food and water and were abused by guards.

Getty Images

7/10

The Saudi Arabian authorities continue to deny access to independent human rights organisations like Amnesty International, and they have been known to take punitive action, including through the courts, against activists and family members of victims who contact Amnesty.

Getty Images

8/10

Raif Badawi was sentenced to 1000 lashes and 10 years in prison for using his liberal blog to criticise Saudi Arabia's clerics. He has already received 50 lashes, which have reportedly left him in poor health.

Carsten Koall/Getty Images

9/10

Dawood al-Marhoon was arrested aged 17 for participating in an anti-government protest. After refusing to spy on his fellow protestors, he was tortured and forced to sign a blank document that would later contain his 'confession'. At Dawood's trial, the prosecution requested death by crucifixion while refusing him a lawyer.

Getty Images

10/10

Ali Mohammed al-Nimr was arrested in 2012 aged either 16 or 17 for participating in protests during the Arab spring. His sentence includes beheading and crucifixion. The international community has spoken out against the punishment and has called on Saudi Arabia to stop. He is the nephew of a prominent government dissident.

Getty
Andrew Smith of Campaign Against Arms Trade said: "Like the US, the UK has licensed billions of pounds worth of arms to Saudi forces. Like their US counterparts, UK arms companies have fuelled and profited from the destruction taking place.
"If even the US is questioning its support for Saudi Arabia, then why is the UK Government pulling out all stops to support them? Why are human rights regarded as less important than arms company profits?"
Reuse content