Over 100 Labour MPs have failed to back the party's own motion calling for an independent UN investigation into alleged Saudi Arabian war crimes in Yemen and the withdrawal of UK support for bombings in light of alleged atrocities.
The Labour front bench brought forward the motion condemning Saudi Arabian bombing of civilians, calling for an independent UN investigation, and for the British Government to take a step back from supporting the autocracy – but saw it defeated after critics of the leadership line refused to vote for it.
The UK continues to sell the country billions in weapons despite widespread reports of the bombing of hospitals, schools, weddings and food factories. The British Government has meanwhile repeatedly said that Saudi Arabia is best placed to investigate its own alleged atrocities. Saudi Arabia has absolved itself of any serious or deliberate wrongdoing.
A number of Labour MPs, mostly centrists, spoke critically of the Labour motion. It was rejected by Parliament by 283 votes to 193 with around 100 Labour MPs either not voting for it or abstaining.
Labour's John Woodcock said he supported the call for a UN investigation but did not support the part of the motion calling for the UK to withdraw its support for the Saudi-led force. He said this was "making it very hard for many of us to vote for" the motion.
"The coalition is precisely focused on training Saudis to be better able to be in compliance with international humanitarian law so that our interventions, if effective, will create fewer civilian casualties," he said.
"Can she explain why she has insisted, despite a number of us asking about this, keeping in the motion the fact that the UK should withdraw support for the coalition, making it very hard for many of us to vote for it?"
Labour MP Toby Perkins said he could not support with withdrawal of support from Saudi Arabia and that Britain had "significant economic interest in continuing to have positive relations with the Saudis".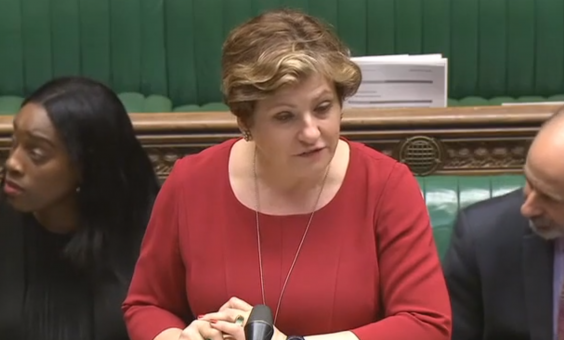 "It is true that our relationship with Saudi Arabia is not an easy one, but we do wield some influence and our security is enhanced by the relationship," he said.
"The kingdom of Saudi Arabia, once a secretive, suspicious and insular country, now sends its ministers here to be scrutinised by MPs in the Houses of Parliament. 
"Other Members have referred to our significant economic interest in continuing to have positive relations with the Saudis, and to the fact that they have been a useful ally for our own security in the past and today. 
"For years, the west has asked Saudi Arabia to take on more responsibility for what happens in the region, and it is now doing so. None of this means that we should ignore or underplay the significance of infractions of international humanitarian law, but we should think very carefully before isolating Saudi Arabia in the way that the motion suggests."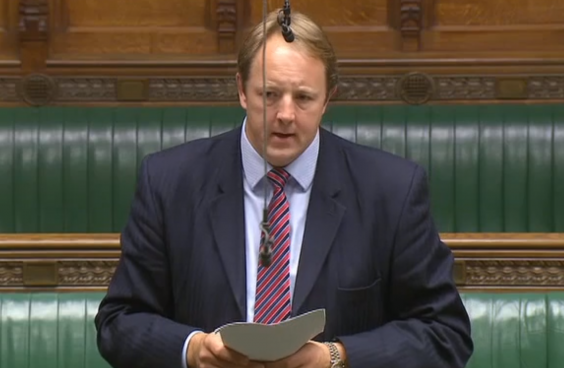 On the investigation of alleged atrocities by the Saudi-led force, Boris Johnson, the Foreign Secretary, said that "the Saudi Government have thus far approached the matter with the great seriousness it deserves".
He added: "The House should be in no doubt that we are monitoring the situation minutely and meticulously, and that we will continue to apply our established criteria for granting licences with fairness and rigour and in full accordance with UK law."
The shadow Foreign Secretary Emily Thronberry, who proposed the motion, said: "There must be an investigation into all the thousands of attacks on civilian sites, not just nine of them, and into all the thousands of civilian deaths, not just a few hundred of them. 
10 examples of Saudi Arabia's human rights abuses
10 examples of Saudi Arabia's human rights abuses
1/10

In October 2014, three lawyers, Dr Abdulrahman al-Subaihi, Bander al-Nogaithan and Abdulrahman al-Rumaih , were sentenced to up to eight years in prison for using Twitter to criticize the Ministry of Justice.

AFP/Getty Images

2/10

In March 2015, Yemen's Sunni President Abd-Rabbu Mansour Hadi was forced into exile after a Shia-led insurgency. A Saudi Arabia-led coalition has responded with air strikes in order to reinstate Mr Hadi. It has since been accused of committing war crimes in the country.

Getty Images

3/10

Women who supported the Women2Drive campaign, launched in 2011 to challenge the ban on women driving vehicles, faced harassment and intimidation by the authorities. The government warned that women drivers would face arrest.

Getty Images

4/10

Members of the Kingdom's Shia minority, most of whom live in the oil-rich Eastern Province, continue to face discrimination that limits their access to government services and employment. Activists have received death sentences or long prison terms for their alleged participation in protests in 2011 and 2012.

Getty Images

5/10

All public gatherings are prohibited under an order issued by the Interior Ministry in 2011. Those defy the ban face arrest, prosecution and imprisonment on charges such as "inciting people against the authorities".

Getty Images

6/10

In March 2014, the Interior Ministry stated that authorities had deported over 370,000 foreign migrants and that 18,000 others were in detention. Thousands of workers were returned to Somalia and other states where they were at risk of human rights abuses, with large numbers also returned to Yemen, in order to open more jobs to Saudi Arabians. Many migrants reported that prior to their deportation they had been packed into overcrowded makeshift detention facilities where they received little food and water and were abused by guards.

Getty Images

7/10

The Saudi Arabian authorities continue to deny access to independent human rights organisations like Amnesty International, and they have been known to take punitive action, including through the courts, against activists and family members of victims who contact Amnesty.

Getty Images

8/10

Raif Badawi was sentenced to 1000 lashes and 10 years in prison for using his liberal blog to criticise Saudi Arabia's clerics. He has already received 50 lashes, which have reportedly left him in poor health.

Carsten Koall/Getty Images

9/10

Dawood al-Marhoon was arrested aged 17 for participating in an anti-government protest. After refusing to spy on his fellow protestors, he was tortured and forced to sign a blank document that would later contain his 'confession'. At Dawood's trial, the prosecution requested death by crucifixion while refusing him a lawyer.

Getty Images

10/10

Ali Mohammed al-Nimr was arrested in 2012 aged either 16 or 17 for participating in protests during the Arab spring. His sentence includes beheading and crucifixion. The international community has spoken out against the punishment and has called on Saudi Arabia to stop. He is the nephew of a prominent government dissident.

Getty
"We need to know whether Yemen's agricultural sector has been deliberately targeted in breach of international humanitarian law. We need to know whether elements of the coalition air forces are routinely operating in a reckless and indiscriminate way. We need to know whether that deliberate error in Sana'a was a one-off or part of a more systemic problem. 
"Finally, from a UK perspective, if there have been violations of international humanitarian law, we need to know whether UK-manufactured weapons and planes have been used to commit those violations. 
"With all due respect to the individuals who make up Saudi's JIAT, its output to date – whether in terms of volume, speed or content – gives no confidence that it can carry out this type of comprehensive investigation, let alone an independent one."
In September Britain was accused by Human Rights Watch and other campaign groups of blocking an independent UN investigation into Saudi war crimes.
The Campaign Against the Arms Trade has won the right to legally challenge British arms sales to Saudi Arabia, with a judicial review expected early next year.
The motion proposed by Ms Thornberry read: "That this House supports efforts to bring about a cessation of hostilities and provide humanitarian relief in Yemen, and notes that the country is now on the brink of famine; condemns the reported bombings of civilian areas that have exacerbated this crisis; believes that a full independent UN-led investigation must be established into alleged violations of international humanitarian law in the conflict in Yemen; and calls on the Government to suspend its support for the Saudi Arabia-led coalition forces in Yemen until it has been determined whether they have been responsible for any such violations."
Saudi Arabia is intervening in Yemen against Houthi rebels, who control large parts of the country. They have the backing of the internationally recognised Yemeni government, which no longer controls the country's capital.
Reuse content