New Scottish Labour leader Jim Murphy appears to be failing to make an impact on voters, as the Scottish National Party lead by 28 points on 52 per cent compared to Labour's 24 per cent.
An Ipsos MORI poll, commissioned by STV, shows Labour would be humiliated in Scotland by the SNP if the general election were held today. Around 34 per cent of voters said they were satisfied with Murphy's performance.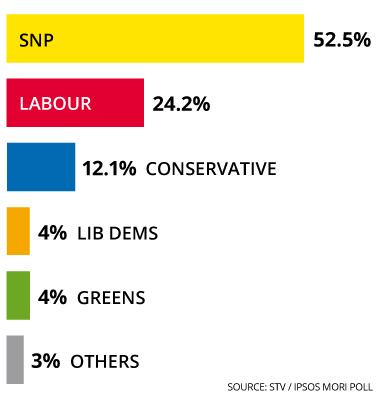 This would leave Labour with just four seats in Scotland compared to its current 40. The Lib Dems are polling at four per cent, which would mean that they would lose all of their MPs in Scotland: including chief secretary to the Treasury Danny Alexander.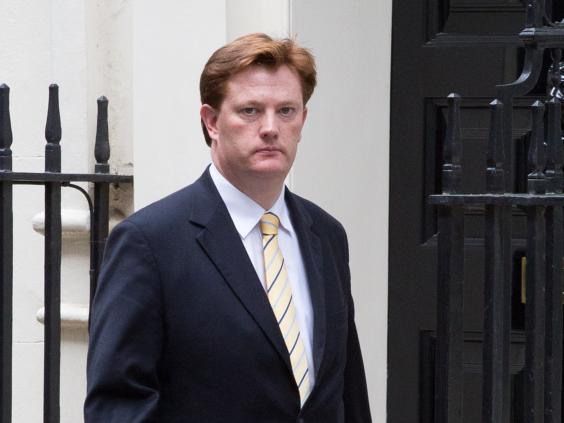 The figures, which exclude those unsure of how they will vote in May 2015, were taken from 1001 participants – who were asked how they would vote if there was a general election tomorrow - surveyed between 12-19 January.
They were asked how they would vote "if there was a general election tomorrow".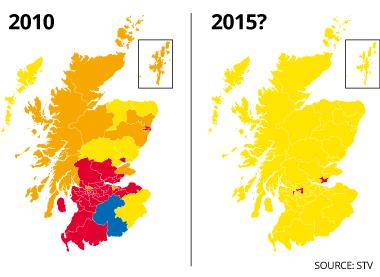 In 2010, Labour received 42 per cent of the Scottish vote, compared to the SNP's 19.9 per cent.
Experts' predictions for the general election
Experts' predictions for the general election
1/10 Andrew Hawkins (ComRes)

Just as the polls in 2010 pointed to no overall majority for any party, the overwhelming evidence points to Labour either being the largest party or getting a small majority, probably below 20. The Lib Dems and SNP should each win between 25 and 35 seats, with single-figure wins for both Ukip and the Greens.

2/10 Joe Twyman (YouGov)

I predict it will be close. I predict a few tremors, though earthquakes are unlikely. I predict the eventual winner may not be the direct result of public opinion, but instead the outcome of political negotiations. It's too early to predict numbers given all the uncertainties surrounding (among other things) Ukip, the SNP and the Lib Dems. It is possible that it will be close between Conservative and Labour in terms of both votes and seats. The Lib Dems might retain 20-30 seats and the balance of power, despite small gains for the SNP, and at most half a dozen Ukip seats. Gun to my head? Labour minority government.

Rex

3/10 Ben Page (Ipsos MORI)

A mug's game for this election months away, but my predictions in order of likelihood: most likely a hung parliament or coalition of some kind, closely followed by either a small Labour majority or an equally small Conservative majority. Given how close the parties are, the unknown performance of Ukip in key marginals, the effect of incumbency on Lib Dem losses, the final size of SNP surge and so on, to be more precise is simply foolish! Professor Tetlock, who found that forecasts by experts were only slightly better than throwing dice, weighs heavily upon me!

Rex

4/10 Rick Nye (Populus)

I can see a hung parliament, where Labour is the largest party in terms of seats – though not necessarily in terms of votes, with the Lib Dems having 30 seats or fewer, the SNP having up to 20 seats and Ukip having no more than five seats. In short, it's going to get messy and stay messy for some time to come.

5/10 Nick Moon (GfK)

I can't recall there ever being an election more difficult to predict than this one. I'm confident no party will have an overall majority, with the Tories probably the largest party but no single partner for a viable coalition, with the Lib Dems on 25 seats, the SNP 20, Ukip three, and the Greens one.

6/10 Damian Lyons Lowe (Survation)

We might have expected a workable Labour majority, were it not for the wild-card rise of the SNP in Scotland. Survation's December Scottish polls suggest an almost complete wipeout by the SNP in Scotland and result in 40+ seat gains – mostly at Labour's expense. My current predictions are: Labour the largest party by 40-50 seats over the Tories, no overall majority; Tories 235-255 seats; Lib Dems 20-30 seats; SNP 30-40 seats – maybe held back from potential support level by opposition incumbency and tactical voting by pro-unionist voters. Finally, Ukip, 5-10 wins from Conservatives, including Rochester and Clacton, and potentially a single Labour-seat surprise.

7/10 Michelle Harrison (TNS)

The battleground over the next three months is at the kitchen table – the difference between what the statistics tell us about the economy, the experience that Britons are having of managing their household budgets, and where – and if – they believe politics can make a difference. In this regard, the disconnect with the major political parties is more interesting than the horse race.

8/10 James Endersby (Opinium Research)

Our first poll for 2015 shows Labour one point ahead [see above], but polls four months out from an election are snapshots, not predictions. It would be extremely unwise for a pollster to make a firm prediction now. At the moment, Opinium's estimate on polling day would be the Tories slightly ahead on vote share, but Labour slightly ahead on seats. These numbers are based on a uniform swing, with tweaks to Green and Ukip numbers based on local information: Labour 320 seats, Conservatives 271, Lib Dems 20, SNP 16, Plaid Cymru three, Greens two, Ukip four. A hung parliament with Labour potentially closer to a majority coalition than the Conservatives.

9/10 Martin Boon (ICM)

I've not recovered from the Scottish referendum campaign yet, and here we go with another wildcard strewn nail-biter. For me, Labour on 30 per cent will only fractionally nudge past their woeful 2010 showing – behind the Tories on 33 per cent – but enough to secure more seats (290 for Labour, 280 for the Tories) on boundary wackiness. The Lib Dems will secure 14 per cent of the vote and 35 seats; Ukip will also get 14 per cent, but that only gets them a couple of seats. As for Scotland, I'm bewildered, but as you asked I'll say 30 seats for the SNP, which wipes out a breathing-space victory in seats for Labour.

10/10 Lord Ashcroft (Lord Ashcroft Polls)

Declined to take part. His spokeswoman said: "As he has said many times, his polls are snapshots not predictions." Health warning: when The Independent on Sunday carried out a similar exercise in April 2010, at the start of that year's election campaign, eight out of eight pollsters predicted a Conservative overall majority.

Rex
Reuse content