A Scottish National Party politician has apologised "unreservedly" for sharing an anti-Semitic image on Twitter.
Sandra White, MSP for Glasgow Kelvin, retweeted the picture, which depicts six piglets, representing Britain, the US, Israel and terror groups Isis, Al Qaeda and Boko Haram, suckling from a large sow with the word "Rothschild" on it.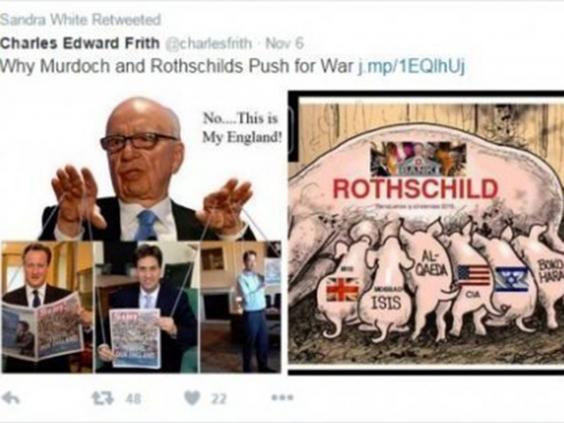 She has since deleted the tweet.
Scotland's first minister, Nicola Sturgeon, apologised to the Scottish Council of Jewish Communities (SCJC) for the "abhorrent" post, The Guardian reports.
Ephraim Borowski, director of SCJC, expressed concerns over the number of motions condemning Israel lodged at Holyrood, many of which were proposed or backed by Ms White.
The group said 62 of the 355 motions about foreign affairs in this parliamentary term had been about Israel, compared to 13 about Syria and 15 about Iraq.
A petition was started by Jonathan Manevitch, from Glasgow, for Ms White to "resign for her racist tweet".
It has almost 600 signatures at the time of writing.
Yesterday, Ms White apologised in a post on her website, saying she had not intended to retweet the picture.
My letter and apology to the Jewish community https://t.co/zwX3jpvAmS

— Sandra White (@SandraWhiteSNP) November 12, 2015
"I would like to take this opportunity to apologise unreservedly for the offence that has been caused by my accidental retweeting of this offensive image which I too find repellent and offensive," she wrote.
"I had not intended to retweet this picture, and was horrified to learn that I had done so. As soon as this was brought to my attention, I deleted the tweet."
People news in pictures
People news in pictures
1/9

US President-elect Donald Trump and musician Kanye West pose for media at Trump Tower in Manhattan, New York City

Reuters

2/9

Anna Wintour apologises for criticising Donald Trump on a train. Fashionista was reportedly heard saying the President-elect would use the Presidency 'to sell himself and his brand'

Getty

3/9

Ivanka Trump and her husband might be joining the next administration. The couple is plotting a move to the nation's capital

Getty

4/9

Samuel L Jackson calls Muslims 'the new black kids in America' 'People perceive them as a threat before even saying hello,' actor says of Muslims in the US

Getty

5/9

Former JLS star Oritse Williams denies rape allegation The singer has not been charged

Getty

6/9

Bill Gates announces $1bn investment fund for clean energy technology Team-up with Richard Branson, Jeff Bezos and others aims to fight climate change - and reap 'super' rewards

Getty

7/9

Donald Trump's aide worked for anti-immigation extremists Poll was used by President-elect during campaign to justify banning Muslims from the US

Reuters

8/9

Henry Kissinger tells Nobel Peace Prize forum to give Donald Trump a chance More than 7,000 people called for the 'mastermind of war' to be arrested while visiting Norway

EPA

9/9

John Travolta dismisses new Scientology documentary by former member Leah Remini The actor defends the church and says it was a source of support for him when he lost his girlfriend, mother and son

Getty
She went on to say she believed "Scots of all backgrounds are welcoming and inclusive and this is something I have always been proud of."
Reuse content