A group of Tory MPs has urged David Cameron to take more refugee children from within Europe after witnessing first hand the "sheer scale" of the desperate situation on a Greek island at the centre of the crisis. 
The three MPs met with immigration minister, James Brokenshire, after travelling to Lesbos, where up to 6,000 asylum-seekers arrive from Turkey every day to squalid conditions and total administrative chaos.
Last week, the Prime Minister rejected calls from charities to take in 3,000 unaccompanied children who had already arrived in Greece and Italy, saying Britain would focus its efforts on Syria and other conflict zones.
The Independent can reveal that he now faces growing pressure to reconsider that approach from his own MPs, who reported back to Government with their findings last night.
Heidi Allen, the MP for South Cambridgeshire, Caroline Ansell, the member for Eastbourne and Jo Churchill for Bury St Edmunds were taken out to Lesbos by Save The Children, one of the main charities providing relief to the thousands of refugees as they arrive on the island.
The three MPs met with Mr Brokenshire before they left on the trip in order, Ms Allen says, to be "filled in on the Government's strategy" for the region.
But Ms Allen said that after seeing "the discarded life jackets, the broken ships and battered limbs" of people arriving in Lesbos, she would "bang every drum" to get the Government to do more for genuine asylum-seekers within Europe's borders.
Speaking to The Independent, she acknowledged Mr Cameron's concerns about the "pull factor" of providing help to people who have made the journey to Europe themselves – possibly encouraging more to do so.
Nonetheless, she said: "I defy any country, and I would drag them to the table myself if I have to, if we identify however-many thousands of unaccompanied children who genuinely have not a soul in the world [not to do more to help them].
"We will find homes for them," she said.
Refugee crisis - in pictures
Refugee crisis - in pictures
1/27

A child looks through the fence at the Moria detention camp for migrants and refugees at the island of Lesbos on May 24, 2016.

AFP/Getty Images

2/27

Ahmad Zarour, 32, from Syria, reacts after his rescue by MOAS (Migrant Offshore Aid Station) while attempting to reach the Greek island of Agathonisi, Dodecanese, southeastern Agean Sea

3/27

Syrian migrants holding life vests gather onto a pebble beach in the Yesil liman district of Canakkale, northwestern Turkey, after being stopped by Turkish police in their attempt to reach the Greek island of Lesbos on 29 January 2016.

Getty Images

4/27

Refugees flash the 'V for victory' sign during a demonstration as they block the Greek-Macedonian border

5/27

Migrants have been braving sub zero temperatures as they cross the border from Macedonia into Serbia.

6/27

A sinking boat is seen behind a Turkish gendarme off the coast of Canakkale's Bademli district on January 30, 2016. At least 33 migrants drowned on January 30 when their boat sank in the Aegean Sea while trying to cross from Turkey to Greece.

Getty Images

7/27

A general view of a shelter for migrants inside a hangar of the former Tempelhof airport in Berlin, Germany

8/27

Refugees protest behind a fence against restrictions limiting passage at the Greek-Macedonian border, near Gevgelija. Since last week, Macedonia has restricted passage to northern Europe to only Syrians, Iraqis and Afghans who are considered war refugees. All other nationalities are deemed economic migrants and told to turn back. Macedonia has finished building a fence on its frontier with Greece becoming the latest country in Europe to build a border barrier aimed at checking the flow of refugees

9/27

A father and his child wait after being caught by Turkish gendarme on 27 January 2016 at Canakkale's Kucukkuyu district

10/27

Migrants make hand signals as they arrive into the southern Spanish port of Malaga on 27 January, 2016 after an inflatable boat carrying 55 Africans, seven of them women and six chidren, was rescued by the Spanish coast guard off the Spanish coast.

11/27

A refugee holds two children as dozens arrive on an overcrowded boat on the Greek island of Lesbos

12/27

A child, covered by emergency blankets, reacts as she arrives, with other refugees and migrants, on the Greek island of Lesbos, At least five migrants including three children, died after four boats sank between Turkey and Greece, as rescue workers searched the sea for dozens more, the Greek coastguard said

13/27

Migrants wait under outside the Moria registration camp on the Lesbos. Over 400,000 people have landed on Greek islands from neighbouring Turkey since the beginning of the year

14/27

The bodies of Christian refugees are buried separately from Muslim refugees at the Agios Panteleimonas cemetery in Mytilene, Lesbos

15/27

Macedonian police officers control a crowd of refugees as they prepare to enter a camp after crossing the Greek border into Macedonia near Gevgelija

Getty Images

16/27

A refugee tries to force the entry to a camp as Macedonian police officers control a crowd after crossing the Greek border into Macedonia near Gevgelija

Getty Images

17/27

Refugees are seen aboard a Turkish fishing boat as they arrive on the Greek island of Lesbos after crossing a part of the Aegean Sea from the Turkish coast to Lesbos

Reuters

18/27

An elderly woman sings a lullaby to baby on a beach after arriving with other refugees on the Greek island of Lesbos after crossing the Aegean sea from Turkey

Getty Images

19/27

A man collapses as refugees make land from an overloaded rubber dinghy after crossing the Aegean see from Turkey, at the island of Lesbos

EPA

20/27

A girl reacts as refugees arrive by boat on the Greek island of Lesbos after crossing the Aegean sea from Turkey

Getty Images

21/27

Refugees make a show of hands as they queue after crossing the Greek border into Macedonia near Gevgelija

Getty Images

22/27

People help a wheelchair user board a train with others, heading towards Serbia, at the transit camp for refugees near the southern Macedonian town of Gevgelija

AP

23/27

Refugees board a train, after crossing the Greek-Macedonian border, near Gevgelija. Macedonia is a key transit country in the Balkans migration route into the EU, with thousands of asylum seekers - many of them from Syria, Afghanistan, Iraq and Somalia - entering the country every day

Getty Images

24/27

An aerial picture shows the "New Jungle" refugee camp where some 3,500 people live while they attempt to enter Britain, near the port of Calais, northern France

Getty Images

25/27

A Syrian girl reacts as she helped by a volunteer upon her arrival from Turkey on the Greek island of Lesbos, after having crossed the Aegean Sea

EPA

26/27

Refugees arrive by boat on the Greek island of Lesbos after crossing the Aegean sea from Turkey

Getty Images

27/27

Beds ready for use for migrants and refugees are prepared at a processing center on January 27, 2016 in Passau, Germany. The flow of migrants arriving in Passau has dropped to between 500 and 1,000 per day, down significantly from last November, when in the same region up to 6,000 migrants were arriving daily.
Save The Children say around 26-27,000 unaccompanied children turned up on Europe's shores last year – but admit that this is just a best guess because of failures processing new arrivals.
And Ms Allen said that Government's must act now to help solve the crisis: "At the moment the difficult position is we just don't know how many [unaccompanied children] there are," she said. "And the faster we can process these people, the faster we can find out whether they do have true refugee status, then the faster we can work out how to help them and identify those children."
'I was prepared to be upset – I wasn't prepared for the sheer scale'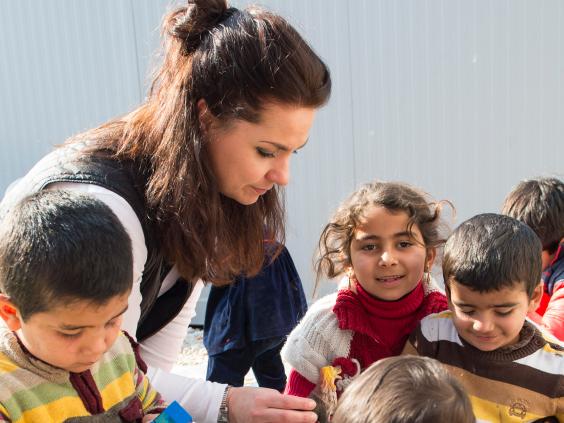 Ms Allen said she agreed to the trip with Save The Children when she had a "gut instinct we should be doing more", without a clear idea of what that would mean.
She says she was told of the need to "relieve the administrative pressure", and even "wondered whether there could be a military operation… with people turning up on an island met by men in green uniforms".
"We have seen such uncontrolled immigration, and countries risk losing their compassion because they are overwhelmed," she said. "It seems to me if you are a person looking at the statistics and infrastructure you will be terrified and batten down the hatches and say no more."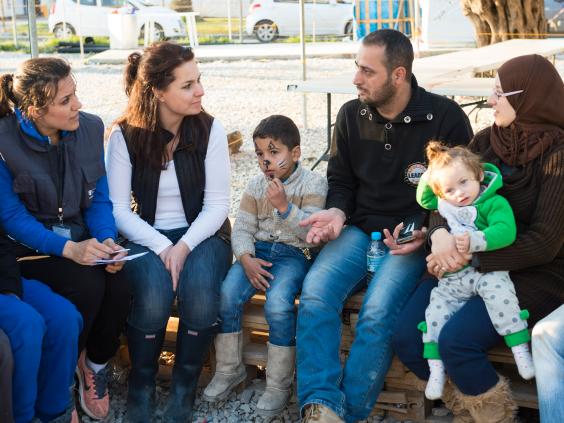 She said she had "been privileged to lead a beautifully sheltered life" and, up until last week, had never met anyone "who had gone through this".
When the MPs were there, though, they saw the boats people arrive in, helped distribute supplies and sat down with men, women and children who had fled from conflict.
 "I was prepared to be upset by it all – I wasn't prepared for the sheer scale," she said.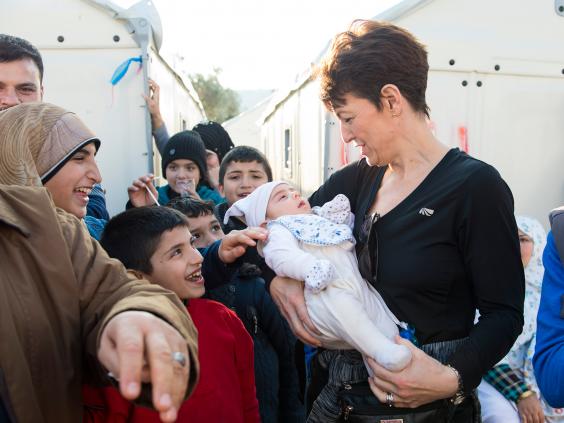 "I'll never forget the sight of a woman slightly younger than me, walking along with her two little children and barely able to open her eyes because her face was so obliterated by black eyes and bruising.
"And she didn't need to say a word, at a glimpse she told you exactly where she's come from. It was absolutely heartbreaking, and I've never seen anything like it in my life."
'We need to step up'
Ms Allen said she was proud Britain had pledged to take in 20,000 refugees, as well as being "second only to America" in the amount it has contributed towards solving the crisis financially.
But she said she would also press the Government to do more for unaccompanied children in Europe and called on Europe as a whole to address the administrative issues preventing them from being identified.
She is hoping to go to Italy next with Save The Children, where the authorities have a better grasp on who arrivals are and where they have come from. 
"If I do get to Italy and I see there are unaccompanied children who have been identified, then I will be pushing hard [on the Government] because I feel that we do need to step up and take some of them," she said.
"As the situation evolves and we get better at identifying children, I think there should be a review of that 20,000 figure," she said. "I think that should be fluid."
'A proud history of offering safe havens to children'
Ms Allen said her own rural constituency of South Cambridgeshire had not been called upon to take refugees yet as part of the 20,000 pledge, and said there were "great reservations" in the area about how people would be integrated into the community.
But having seen the situation in Lesbos, she said she would "want us to try" and do more if called upon by the Home Office.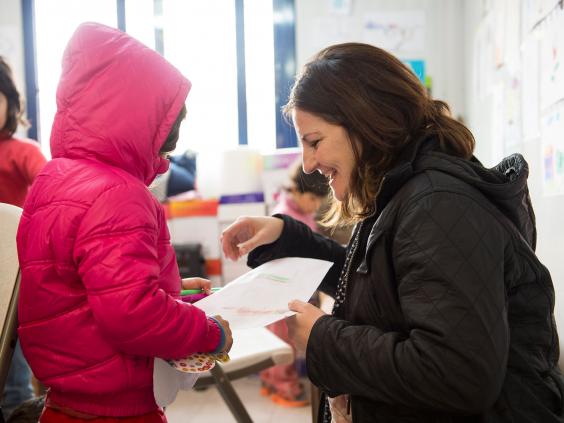 "We are extremely rural with very poor public transport links, so for the most part they would be stuck in the middle of nowhere and I don't think that would be helpful.
"But I've had lots of people volunteering, and we would look to try and do something in the villages [near the city of Cambridge] where it might work."