A ban on so-called hate preachers and other extremists being interviewed on television or speaking at public meetings will be promised by the Conservatives at next year's general election.
The party will also back an extension of ministers' authority to outlaw groups suspected of encouraging terrorism or violence.
Announcing plans for "terrorist Asbos", Theresa May, the Home Secretary, will argue that police and the intelligence services need extra powers to clamp down on hardline individuals and organisations whose activities fall just short of breaking existing laws.
She will stress the moves are aimed not just at Islamist extremists but also Neo-Nazis and anyone dedicated to overthrowing democracy.
It was also reported that posts by extremists on social media such as Twitter and Facebook will be the target of controls.
Mrs May told the Daily Mail she wants to combat extreme views which can lead to violence.
She said: "It creates the environment in which that sort of thinking appears to be acceptable. Of course we want to maintain free speech but we do not want to see incitement."
The move comes a week after the radical preacher, Anjem Choudary, was arrested on suspicion of encouraging terrorism. He was released in bail four days ago.
Mrs May's proposals, which have been described as "terrorist Asbos" and are reminiscent of the broadcast ban on Gerry Adams and other Sinn Fein figures between 1988 and 1994, will be strongly condemned by civil liberties groups.
They will accuse ministers of dramatically widening the state's powers of censorship against people who have never been convicted of a criminal offence. The moves could also run into opposition within her party as well as its Liberal Democrat Coalition partners.
Mrs May will tell the Tory conference that the party manifesto will pledge to bring in "extremist disruption orders" targeted against people suspected of spreading hate against on the grounds of religion, race or gender.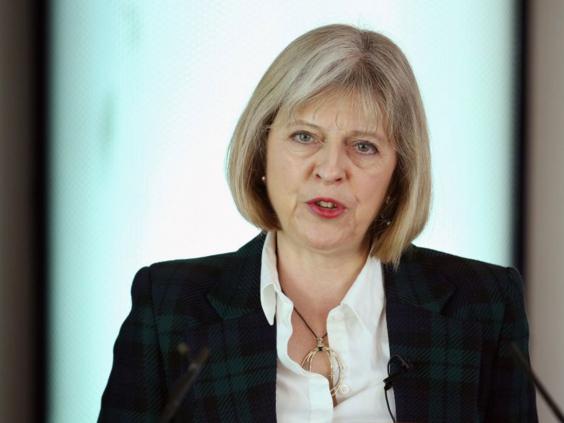 Police will be able to apply to the High Court for restrictions including preventing people from broadcasting, speaking at public meetings, joining protests and being in certain areas.
Breach of the restrictions, which will be set for fixed periods, would be a criminal offence.
The Home Secretary will also promise to bring in "banning orders" aimed at extremist groups which cannot be outlawed under the existing proscription regime.
It would become a criminal offence to belong to such an organisation, or to raise money for it, carrying a maximum jail sentence of seven years.
Mrs May has previously accused the Liberal Democrats of blocking plans for "banning orders".
However, she will tell activists that the Coalition has agreed a new strategy designed to counter and eliminate extremism in all its forms.
Following the "Trojan horse" allegations of hardliners operating in Birmingham schools, the strategy will include improved training to spot "entrysim" and new vetting procedures to stop extremists being appointed to positions of authority.
Meanwhile Chris Grayling, the Justice Secretary, will tell the conference that tackling high levels of mental illness among offenders would be a key priority for a Tory government.
He will announce plans to establish specialist centres in jails to help offenders suffering with the problem, saying prisons are home to "far too many people with acute mental health problems".
He will say: "Too many people self-harm, too many take their own lives, and more often than not mental health is a key part of the problem.
"We already work closely with the NHS to provide support and treatment across the prison estate, but I think it is time to step up our response to the challenge.
"We need to get to a point where we have specialist centres in our prison system where we can concentrate our best mental health expertise."
Reuse content