The gloves came off in the fight to be Labour's candidate in next year's election to be London Mayor as opponents of Dame Tessa Jowell claimed  she could not win the contest because she supports the expansion of Heathrow Airport.
Senior Labour figures in London warned that Ms Jowell, the front-runner to win the party's nomination, would be defeated in the election to choose Boris Johnson's successor by Zac Goldsmith, the favourite to be the Conservative candidate and a staunch opponent of  a third runway at Heathrow. They pointed out that the only two people elected as London Mayor – Ken Livingstone and Mr Johnson - both opposed expansion at the West London airport.
The issue is becoming a defining one in the Mayoral race as Sir Howard Davies, after a three-year inquiry, prepares to publish his recommendations in the next few weeks on whether Heathrow or Gatwick should expand.
Sadiq Khan, who backed the development of Heathrow as Transport Minister in the previous Labour Government, announced last week that he now opposes the move. He is seeking the Labour nomination for Mayor and his allies have turned on Dame Tessa.
The major political figures who lost out in the General Election
The major political figures who lost out in the General Election
1/16 Ed Balls

Ed Balls lost his seat in what was the biggest shock of an extraordinary night of election results. His defeat in compounded Labour's woes in a dismal night, which saw the party lose all but one of its Scottish MPs and will undoubtedly lead to Ed Miliband standing down.

2/16 Nigel Farage

OK, so he came close to being upstaged by a professional comedian – Al Murray aka the Pub Landlord, had also lost in South Thanet. But as he lost his fight to become an MP and resigned his Ukip leadership, Nigel Farage did manage to get in a few gags. He began by railing against the editors of the The Sun and the Daily Mail, sarcastically calling them "geniuses". But perhaps bearing the last election in mind, when he was in intensive care following an air crash, he said after the result that he felt "pretty good". "Never felt happier," in fact. A weight lifted off the old shoulders. Quite right too, old boy. More time for the saloon bar and a pint, or five.

AFP/Getty Images

3/16 Vince Cable

A huge scalp for the Conservatives, even though he was part of their coalition government. The Liberal Democrat Business Secretary lost his Twickenham seat to Tory candidate Tania Mathias. Cable had held the seat since 1997 and was a strong figure in the Lib Dems, having previously been deputy leader.

Christopher Furlong | Getty Images

4/16 Jim Murphy

A sign of how dire things are in Scotland now for the Labour party. The leader of the Scottish Labour Party, Jim Murphy, lost his Renfrewshire East to the SNP, having held the seat since 2005. He held a number of cabinet positions under the administrations of Tony Blair and Gordon Brown.

Jeff J Mitchell | Getty Images

5/16 Danny Alexander

The Chief Secretary to the Treasury and Nick Clegg's right-hand man, Danny Alexander, lost his seat of Inverness, Nairn, Badenoch and Strathspey to the SNP. His aides admitted defeat several hours before the formal decision was due. There were suggestions that the SNP vote could be as high as 50 per cent.

BEN STANSALL | AFP | Getty Images

6/16 Esther McVey

The Minister of State for Employment and one of the few women in David Cameron's male-dominate cabinet, Esther McVey had only held Wirral West since 2010. Her 2,436 majority was overturned and Labour's Margaret Greenwood won the seat with a 417 majority.

BEN STANSALL | AFP | Getty Images

7/16 George Galloway

The former Labour MP had held the seat of Bradford West since 2012 for the Respect Party. He previously held the constituency of Bethnal Green and Bow for Respect between 2005 and 2010, although he unsuccessfully contested Poplar and Limehouse in 2010.

Nigel Roddis | Getty Images

8/16 Charles Kennedy

Another huge Lib Dem scalp, with the SNP taking the seat of Ross, Skye and Lochaber from the former leader of the party. Kennedy had led the Lib Dems between 1999 and 2006 and had become something of an elder statesman of the party. He conceded defeat ahead of the official declaration and said he would not give any TV interviews. He had been an MP since 1983.

Jeff J Mitchell | Getty Images

9/16 Douglas Alexander

The shadow Foreign Secretary and Ed Miliband's Chair of General Election Strategy, Danny Alexander had been the MP for Paisley and Renfrewshire South since 1997. He lost his seat to the SNP, with the party now holding a 9,076 majority. Labour's share of the vote was down by 21.3 per cent.

Jeff J Mitchell | Getty Images

10/16 Simon Hughes

Simon Hughes held a key Liberal Democrat seat in London, Bermondsey and Old Southwark, which he held from 1983. Hughes is a former deputy leader of the Lib Dems and had been minister of state at the Ministry of Justice since 2013. He was previously the President of the party, as well as a two-time leadership candidate, and stood for the party in the 2004 Mayoral election.

Rob Stothard | Getty Images

11/16 Mark Reckless

An MP for Rochester and Strood since 2010, Reckless switched from the Conservatives to Ukip in September 2014 and winning the seat outright in November. He was the second Ukip MP after Douglas Carswell, and his loss is a huge blow to Nigel Farage's party.

Carl Court | Getty Images

12/16 Margaret Curran

Margaret Curran had held Glasgow East since 2010 and was the shadow Secretary of State for Scotland. She had previously been the MSP for Glasgow Baillieston (a seat she might wish she still held, as it is still held by Labour under the title Glasgow Provan).

Jeff J Mitchell | Getty Images

13/16 David Laws

A Liberal Democrat MP for Yeovil since 2001, he was the minister of state for Schools. He had briefly been Chief Secretary to the Treasury after the 2010 election, only holding the office for 17 days after resigning due to the disclosure of his Parliamentary expenses claims. Laws was a key negotiator for the Lib Dems when the coalition was being formed five years ago.

Jeff J Mitchell | Getty Images

14/16 Jo Swinson

On her election in 2005, she was the youngest member of the House of Commons. Under the Coalition government, the Lib Dem MP was the Under-Secretary of State for Employment Relations, Consumer and Postal Affairs and for Women and Equalities. She lost her seat of East Dunbartonshire to the SNP's John Nicholson.

Matthew Lloyd | Getty Images

15/16 Ed Davey

The Liberal Democrat Energy and Climate Change Secretary Ed Davey had been the MP for Kingston and Surbiton since 1997. Davey championed the Lib Dems' role in ensuring the Conservative-led Coalition championed the green agenda. However, the well-known Lib Dem MP lost his seat to the Tories, having held the seat in 2010 by 7,560 votes.

Jeff J Mitchell | Getty Images

16/16 Lynne Featherstone

Lynne Featherstone lost her London seat of Hornsey and Wood Green to the Labour party. She was a former junior Home Office minister with responsibility for equality, then becoming junior minister with responsibility for international development.

Dan Kitwood | Getty Images
Andy Slaughter,  MP  Hammersmith, who resigned as a ministerial aide over Heathrow under Tony Blair in 2009, said: "Heathrow expansion is a politically toxic issue. Any Labour candidate for Mayor standing for office on the ticket of an extra runway at Heathrow would lose the support of swathes of voters in West London. I can't see how they could beat a Tory candidate opposed to Heathrow expansion."
Stephen Alambratis, Labour leader of Merton Council in South West London, said: "It is now impossible for Tessa Jowell to win the London Mayoralty. She simply can't beat Zac Goldsmith while she is in favour of Heathrow expansion and he is opposed. In boroughs like Merton, many voters will decide how to vote based solely on their view on Heathrow. It is now crystal clear that Labour must select Sadiq Khan in order to win the Mayoral election."
Murad Quereshi, a London Assembly Member and Labour  environment spokesman, said: "Going by previous election results in my time on the London Assembly, it will be almost impossible for a candidate to win the Mayoralty without opposing Heathrow expansion."
Allies of Dame Tessa dismissed the attacks, pointing to a YouGov poll for the London Evening Standard showing that the former Olympics Minister would beat Mr Goldsmith by 57 to 43 per cent, while Mr Khan would be neck and neck with him.  Dame Tessa's aides said that although she has voted for Heathrow expansion previously,  she would wait and see what the Airports Commission proposes.  However, she does support a quick decision after years of delays.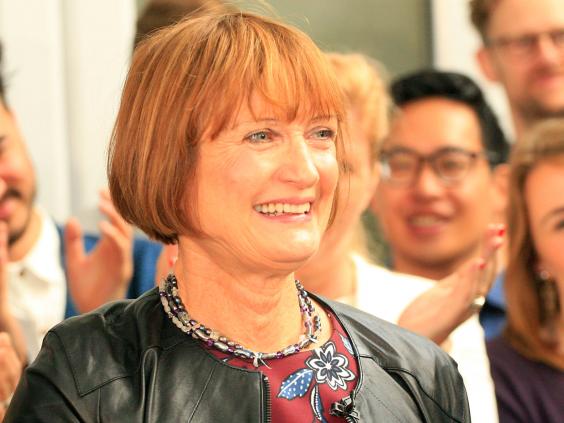 Mr Khan, who has been attacked for what  rivals have dubbed "an incredible U-turn," said: "As Mayor, I will stand up for Londoners, and that means I cannot support a third runway at Heathrow. When the facts change, I change my mind, and it is now clear that too many people would suffer from the air pollution and noise pollution that would come from an expanded Heathrow."
The Airports Commission is looking at three options –  a third runway at Heathrow; extending the northern runway at Heathrow and a second runway at Gatwick. The Government may take several months to make a decision on the long-awaited recommendations.
Reuse content