The international definition of what counts as a "refugee" should be changed to make it harder for people to count as one, the Home Secretary has said.
Theresa May said some refugees and asylum seekers were more deserving than others and that narrowing the scope of people allowed in could allow help to be more targeted.
"In the longer term, I want to work with other countries in Europe, and the United Nations, to review the international legal definitions of asylum and refugee status," she said.
"Because there is a huge difference between a young Syrian family fleeing the tyranny of ISIL or Assad, and a student who claims asylum once he has been discovered overstaying his visa, or a foreign criminal about to be sent to a prison in his own country."
"By taking a tougher approach to those who do not need our help, we can give more support to vulnerable people who are in real and urgent need of our protection."
The Government has faced criticism from human rights groups over its refusal to play a significant part in accepting refugees displaced by the current Syrian civil war.
Britain refused to take part in an EU scheme to redistribute refugees fleeing the Syrian civil war who have come to Europe.
David Cameron has said the UK will however take 4,000 refugees a year from camps near Syria, a total of 20,000 over five years.
By contrast, other European countries have taken orders of magnitude more.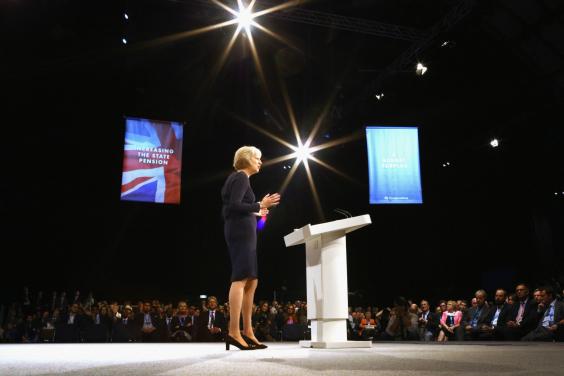 Germany's government expects to give refugee to a million refugees this year alone and has said it could take half a million a year for the next few years.
Ms May, who is seen as a candidate for the next leader of her party, announced that she would publish a UK asylum strategy next year that would lay out details of how "abuse" could be screened out.
The Home Secretary also said the UK's own asylum seeker process would be overhauled to reduce the numbers of people coming to Britain specifically.
She claimed the current system rewarded the "wealthiest, the luckiest and the strongest" by granting asylum to those who managed to physically reach the UK.
Refugee charities described the Home Secretary's speech as "chilling"
"The Home Secretary's clear intention to close Britain's border to refugees fleeing for their lives is thoroughly chilling, as is her bitter attack on the fundamental principle enshrined in international law that people fleeing persecution should be able to claim asylum in Britain," said Maurice Wren, chief executive of the Refugee Council.
"The Home Secretary's idea that the few refugees who reach Britain's shores under their own steam are not in need of protection is fundamentally flawed. Becoming a refugee is not solely the privilege of the poor or infirm.
"Everyone would like to see the number of asylum claims in Britain go down: but only because that would mean the world had become a safer, more peaceful place. As it stands, the Home Secretary's ambitions are simply out of step with reality: the world is facing one of the worst refugee crises we've ever seen. The global system of refugee protection is based on the principle that everyone has the right to claim asylum and to have that claim examined properly.
"Instead of seeking to close the door on refugees reaching Britain by creating the idea they are somehow unworthy of our help, the Home Secretary should focus her efforts on reforming Britain's asylum system so it treats people with the dignity and respect they so desperately need."
The Overseas Development Institute, a think-tank that studies humanitarian issues, also criticised Ms May's comments on immigration. 
"Theresa May is wrong to say mass migration brings almost no economic or fiscal benefit. The evidence is clear that migration is good for the economy and for societies: the IFI found that Eastern European immigrants who arrived in the UK after EU enlargement in 2004 are 60% less likely than natives to receive state benefits or tax credits, and 58% less likely to live in social housing.  These immigrants also make a positive contribution to public finance," Marta Foresti, director of governance, security and livelihoods at the Institute said.
"Recent studies also found that assisting refugees is a long term investment and that wages were on average positively affected by immigration.  At the global level, the removal of some restrictions on people's movement, could generate economic gains equivalent to 20 per cent of global GDP. Integrating people into our societies is not without its challenges, but the government should focus on managing it better rather than concentrating on an arbitrary target. That's what countries like Germany have, rightly, decided to do."
Ms May was speaking on Tuesday at the Conservative annual conference in Manchester. The conference commenced on Sunday and ends on Wednesday.
Reuse content