The think tank on whose work George Osborne based his new national living wage has accused him of creating a "two-tier welfare  system" in which the low income families of the future will be much worse off than today's.
On 9 July the Chancellor praised the Resolution Foundation, describing it as a "centre left" organisation as he staked the Conservatives' claim to the political centre ground. Mr Osborne said: "What I am offering is a new contract with the country. What we are saying to businesses is: pay higher wages and you will get lower taxes. What we are saying to people is: you will get a bigger cheque but there will be a less generous benefits system…. That is the new settlement. I think it is the new centre of British politics."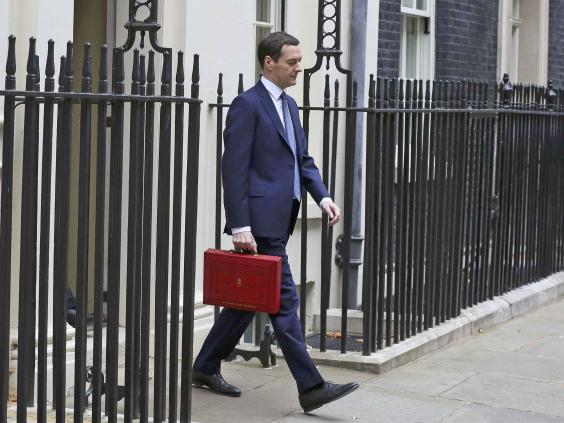 But a detailed analysis of his Budget by the foundation discovered that families who start to receive in-work support after  April 2017 could be thousands of pounds a year worse off than those already in the system.  That is partly because tax credits will be limited to the first two children from then.
The think tank said the Chancellor's decision to defer the pain could leave some families more than £3,000 a year worse off than those in identical circumstances today.
The national living wage, to be set at £7.20 an hour from next April and £9 an hour by 2020, will help some families already getting state top-ups, the foundation said. But the scale of the cuts faced by families in the future will dwarf any gains from the wages boost.
David Finch, senior economic analyst at the Resolution Foundation, told The Independent: "The welcome new national living wage has stolen the headlines, and the challenge now will be to implement it in a way that's fair to workers and employers. But with the dust now settling on the Budget, many low income families will find that any future pay gains will be more than offset by losses of in-work support. It could take years for them to recover the losses they'll face in the coming years.
In Graphics: Budget 2015 analysis
"But the biggest losses will fall on families making claims in several years' time. By cutting back future support, the Chancellor has created a two-tier welfare system, with levels of support for families with identical characteristics differing by thousands of pounds, just because of when their children were born."
According to the foundation, a two-earner couple with three children both earning the minimum wage will be £250 per year worse off if they are already claiming benefits. Their earnings would need to rise by 6 per cent to cover these losses, or the second earner could work an extra two hours.
However, the same family would be £3,600 worse off if they start claiming benefits after 2017, because some Budget measures affect only new claimants or families whose circumstances change. Their earnings would need to rise by 56 per cent to cover these losses because they face high effective tax rates. Under Universal Credit, they would keep only 35p of every extra pound they earn, so they would have to earn £2.85 to increase their income by £1.
Paul Johnson, director of the  Institute for Fiscal Studies,  said the new living wage would not compensate for the Chancellor's cuts to tax credits and benefits. "That is just arithmetically impossible. The gross increase in employment income from the higher minimum wage is about £4 bn.  Welfare spending as a whole is due to fall by £12bn," he said.
But Mr Osborne insisted: "It's very clear that if you are a typical family and you're working full time on the current minimum wage, you are going to be better off as a result of this Budget over the coming years. You are going to see a £5,000 increase in your pay – and that more than offsets anything you might lose because we have had to make savings in benefits. So that's what we are doing. We are supporting work. We are rewarding work."
Reuse content