Tony Blair is back. He started to pop up during the Brexit debate and has now revealed that he plans to set up a centrist think tank and to "make more direct interventions". It seems Labour's most successful prime minister feels he has more to give to the British political scene.
Blair has been calling for a revival of the "progressive centre or centre-left" – and it's now clear that he no longer intends to do it from the sidelines. But is there space for him anymore?
Blair does still have relevance. He was, and remains, a useful diagnostician. In the 1990s he worked out his party's faults – an obsession with tax-and-spend, the perception that it was soft on welfare and that it would take the country back to the union dominance of the 1970s. He then moulded New Labour into a force capable of repudiating such electoral dangers in opposition before going on to deliver many of the left's historic dreams when in office.
He forged a centre ground that lasted five British election cycles between 1997-2015, from when his party won government until the Conservatives won power in their own right. Though that world is now shifting, this is hardly a negligible achievement.
So when Blair speaks, we should listen. He is correct, for example, when he says that the issue of the day is less about the tension between traditional notions of left and right and more between "open" and "closed" states.
As Blair told the New Statesman: "Ok, the left is more anti-business, the right is more anti-immigrant, but they [both] tend to be protectionist". To combat this, he argues, the "muscular centre" has to work out "what bits of the so-called liberal agenda have failed and what bits haven't".
Let's be clear, that doesn't mean ending global capitalism. After all, many of the people who deride globalisation still happily drive a Toyota, eat at Nando's and watch Netflix. Likewise, the solution to greater pressure on public services in Clacton or Spalding is clearly not to limit the number of Indian students studying in London or Edinburgh. This needs a degree of sensibility and deep thought. Waving the Red Flag isn't that, nor is an immigration policy without flexibility.
But it also requires a more dynamic state than Blair himself envisaged 20 years ago. A more politically active Bank of England – as identified by Strictly's Ed Balls – would make sense. Deficit finance to fund productive infrastructure investment, as delivered in a limited form in the most recent Autumn Statement, should no longer be the horror story the centre once saw it as. And the conditions that lead to the 2008 crash could indeed by tackled by some form of financial transaction tax, potentially allowing the British centre-left to promise less borrowing than the current government in any event.
What experts have said about Brexit
What experts have said about Brexit
1/11 Chancellor of the Exchequer Philip Hammond

The Chancellor claims London can still be a world financial hub despite Brexit "One of Britain's great strengths is the ability to offer and aggregate all of the services the global financial services industry needs" "This has not changed as a result of the EU referendum and I will do everything I can to ensure the City of London retains its position as the world's leading international financial centre."

Reuters

2/11 Yanis Varoufakis

Greece's former finance minister compared the UK relations with the EU bloc with a well-known song by the Eagles: "You can check out any time you like, as the Hotel California song says, but you can't really leave. The proof is Theresa May has not even dared to trigger Article 50. It's like Harrison Ford going into Indiana Jones' castle and the path behind him fragmenting. You can get in, but getting out is not at all clear"

Getty Images

3/11 Michael O'Leary

Ryanair boss says UK will be 'screwed' by EU in Brexit trade deals: "I have no faith in the politicians in London going on about how 'the world will want to trade with us'. The world will want to screw you – that's what happens in trade talks," he said. "They have no interest in giving the UK a deal on trade"

Getty

4/11 Tim Martin

JD Wetherspoon's chairman has said claims that the UK would see serious economic consequences from a Brexit vote were "lurid" and wrong: "We were told it would be Armageddon from the OECD, from the IMF, David Cameron, the chancellor and President Obama who were predicting locusts in the fields and tidal waves in the North Sea"

PA

5/11 Mark Carney

Governor of Bank of England is 'serene' about Bank of England's Brexit stance: "I am absolutely serene about the … judgments made both by the MPC and the FPC"

Reuters

6/11 Christine Lagarde

IMF chief urges quick Brexit to reduce economic uncertainty: "We want to see clarity sooner rather than later because we think that a lack of clarity feeds uncertainty, which itself undermines investment appetites and decision making"

Getty Images

7/11 Inga Beale

Lloyd's chief executive says Brexit is a major issue: "Clearly the UK's referendum on its EU membership is a major issue for us to deal with and we are now focusing our attention on having in place the plans that will ensure Lloyd's continues trading across Europe"

EPA

8/11 Colm Kelleher

President of US bank Morgan Stanley says City of London 'will suffer' as result of the EU referendum: "I do believe, and I said prior to the referendum, that the City of London will suffer as result of Brexit. The issue is how much"

9/11 Richard Branson

Virgin founder believes we've lost a THIRD of our value because of Brexit and cancelled a deal worth 3,000 jobs: We're not any worse than anybody else, but I suspect we've lost a third of our value which is dreadful for people in the workplace.' He continued: "We were about to do a very big deal, we cancelled that deal, that would have involved 3,000 jobs, and that's happening all over the country"

Getty Images

10/11 Barack Obama

US President believes Britain was wrong to vote to leave the EU: "It is absolutely true that I believed pre-Brexit vote and continue to believe post-Brexit vote that the world benefited enormously from the United Kingdom's participation in the EU. We are fully supportive of a process that is as little disruptive as possible so that people around the world can continue to benefit from economic growth"

Getty Images

11/11 Kristin Forbes

American economist and an external member of the Monetary Policy Committee of the Bank of England argues that the economy had been "less stormy than many expected" following the shock referendum result: "For now…the economy is experiencing some chop, but no tsunami. The adverse winds could quickly pick up – and merit a stronger policy response. But recently they have shifted to a more favourable direction"

Getty
The political space for this agenda is opening up and, as the facts change – to paraphrase Keynes – so must the centre. Much of this Jeremy Corbyn, the current Labour leader, would agree with. But whether he is prepared to make the necessary trade-offs elsewhere (not raising the top rate of income tax, genuine welfare reform, not decrying all private involvement in public service delivery – and adopting a sensible foreign policy) remains to be seen.
Compromise is not a dirty word – and it need not be for Corbyn. The broad centre ground encompassing Nick Clegg, Liz Kendall and Chuka Umunna has been packed full of talented figures for several years now – and newly elected Tories such as Heidi Allen also fit the bill. Winning an election has historically been about gaining political cover through give and take – and the "anti-elites" events of June to November do not completely override that rule. Corbyn has been getting better at PMQs, but more remains to be done.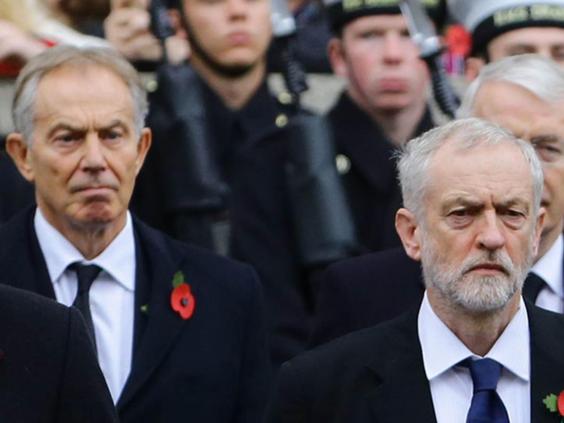 One way to tackle Michael Gove's "anti-expert" world view is to go all-in on criticising other politicians in the hope the electorate will pick you as the best of a rotten bunch. The other, more adult position, is to work out areas of commonality and the routes in which they may be achieved. The centre is about compromise; there is no point hiding this from the Trumps of this world since they will hammer you on it anyway. The centre should double down on talking like grown-ups.
This is true as much of identity as it is the economy. There is a sensible position on immigration and race which rejects Trumpism but also does not suggest totally open borders.
As Blair argues on notions of identity, prior to Hillary Clinton's loss many Americans felt "that the liberal left [was] unwilling to have a discussion about these things". The centre needs to accept that, electorally, the patchwork strategy of the 1990s and early 2000s is dead.
Embracing one dispossessed group at the expense of another has failed, from Ken Livingstone in London to the Democrats in Wisconsin and Michigan. The centre needs flagship policies for the majority, not merely the marginalised.
And so Blair is back. He brings a considerable amount of baggage – and not every decision he took could or should be justified even by his advocates. But he brings an actual track record of carving out a new political economy. As we all work out what comes next – and what the chancers now do with the mandates they have acquired – we should at least listen to what he has to say.
This article first appeared on The Conversation (theconversation.com). Richard Carr is a lecturer in history at Anglia Ruskin University
Reuse content