The Conservatives have edged ahead of Labour for the first time in more than three years, according to the latest poll of polls for The Independent.
The finding will raise Tory hopes that the party can achieve some momentum before the May election. Tory ministers and MPs have been frustrated that the better economic figures have not yet showed up the opinion polls, but that may finally be starting to happen.
The Tories are now on 34 per cent, their highest "poll of polls" rating since May 2012, putting them ahead of Labour for the first time since January 2012. The Tories are up two points on the previous month. Labour is unchanged on 33 per cent and the Liberal Democrats unchanged on eight per cent. Ukip dropped from 13 per cent to 11 per cent and the Greens from eight per cent to seven per cent.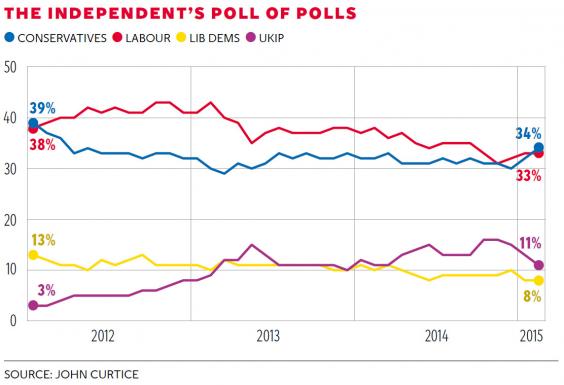 The bad news for the Tories is that these figures, if repeated on a uniform swing, would still make Labour the largest party in a hung parliament. Labour would have 311 seats, the Tories 290 and  the Lib Dems 19. However, if the dramatic rise of the Scottish National Party in polls in Scotland is taken into account, Labour's lead would be much smaller. Labour would have 285 seats, the Tories 271, the SNP 58 and the Lib Dems 16.
John Curtice, professor of politics at Strathclyde University, who compiled the poll of polls said: "The advance in the Tories' position and the fall back in Ukip support will put a bit of a spring in the step of the Tory faithful."
The proportion of 2010 Tory voters saying they would back Ukip had fallen from 17 per cent in December to 13 per cent, he added.
Election Analysis: The Key Voters
Election Analysis: The Key Voters
1/6 Settled Silvers

These are the comfortably-off over-60s, still in work or drawing a decent pension – or both – who are enjoying their entitlements such as the Winter Fuel Allowance, free bus passes and free TV licence. They are worried about immigration and Europe. Both the Conservatives – who are pledging to keep benefits for wealthier pensioners – and Ukip want their votes

Micha Theiner

2/6 Squeezed Semis

Slightly older than the Harassed Hipsters, they are the second key group for Labour's family-focused election strategy. They are married couples on low to middle incomes who own unpretentious semi-detached homes in suburban areas. In 2001, these were the Pebbledash People sought by the Conservatives. Now the pebbledash is gone and a modest conservatory has been built at the back

Micha Theiner

3/6 Aldi Woman

In 1997 and 2001 she was Worcester Woman – a middle-class Middle Englander shopping at Marks & Spencer and Waitrose. Today, the age of austerity means she still goes to Waitrose for her basic food shop but cannily switches to Aldi for her luxury bargains such as Parma ham and prosecco. Identified by Caroline Flint, she is a key target of both Labour and the Conservatives

Micha Theiner

4/6 Glass Ceiling Woman

In her thirties or forties, she has an established career under her belt, perhaps in the "marzipan layer" – one position below the still male-dominated senior executive level. She is now, according to Nick Clegg, forced into making the "heart-breaking choice" between staying at home to bring up her children and going to work and forking out for high-cost, round-the-clock childcare

5/6 Harassed Hipsters

One of the two key groups identified by Labour as crucial to hand Ed Miliband the keys to Downing Street. Well-paid professional couples, often with children, they live in diverse urban and metropolitan areas rather than the suburbs. More comfortably off than most swing voters, they are time poor – struggling to balance raising a young family with busy work schedules

Micha Theiner

6/6 Neo-Greens

These are mainly first-time voters, though some are in their twenties – students and digital-age generation renters helping to fuel the "Green Surge". Idealists, but with no tribal loyalty to any party, they are anti-austerity, middle class, living in urban areas. Despite studying at university or recently graduated, they are struggling to find decent jobs and want cheaper housing and a higher minimum wage

Micha Theiner
Professor Curtice said there were signs that the Tories' ratings on the economy were starting to improve just in time for the election. For example, YouGov's "feelgood factor" - whether people think their household finances will get better or worse over the next 12 months - is at its most positive level since the 2010 election. "There are some signs in particular that the deep economic pessimism amongst Ukip supporters is beginning to ease a little," he said.
However, Professor Curtice pointed out that the Tories might need a seven-point lead over Labour to secure a majority. "There is still a long way for David Cameron to travel," he said.
The latest poll of polls takes the election "more firmly into hung parliament territory", with both the Tories and Labour some distance from the 326 seats needed for an overall majority. He said this could make the formation of a government after May 7 "a potentially fraught and difficult affair". 
Professor Curtice added: "What happens north of the border could now be central to the prospects of anyone being able to form a stable government." He said it would be difficult for any government to be formed without the acquiescence of the SNP, which has said it would not prop up a minority Tory government.
Reuse content