The Conservative Party withheld key documents from an investigation into possible electoral fraud by the party, the elections watchdog has revealed.
The Electoral Commission on Thursday applied for a High Court order to force the Tories to hand over the missing papers – which it says would help shed light on whether the party broke spending rules in key marginal seats at the general election.
Police across the country have announced criminal investigations into the Conservative Party's conduct at the general election after a Channel 4 News investigation alleged it might have broken spending rules.
According to the broadcaster, the party allegedly failed to locally declare the costs of bussing activists around to marginal seats – activity which could potentially have swung hotly contested marginals in their favour.
Between 20 and 30 marginal seats were reportedly visited by the bussed-in activists; the Tories ultimately only won a majority of 12, allowing them to form a majority government.
If electoral law is found to have been broken then punishments could include fines and prison sentences. 
David Cameron was at PMQs yesterday asked to account for his party's actions at the election. He replied: "The whole point in this country is the Electoral Commission is independent and when it comes to operational decisions by a police force, they are independent too. That's the hallmark of an uncorrupt country!"
The Electoral Commission said it had already issued a statutory notice demanding the Tories hand over the documents using powers granted to it under the Political Parties Elections and Referendums Act (PPERA) 2000.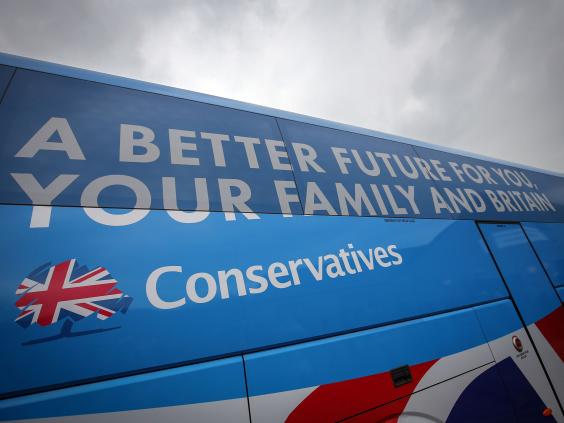 However, after the party failed to comply with part of the notice, the Commission said it had launched a court bid "for a disclosure order which if granted would be the court compelling the Respondent to release the required documents and information to the Commission".
Bob Posner, director of party and election finance and legal counsel at the Electoral Commission, said the withheld documents were necessary to proceed with the investigation.
"If parties under investigation do not comply with our requirements for the disclosure of relevant material in reasonable time and after sufficient opportunity to do so, the Commission can seek recourse through the courts," he said.
General election 2015: Polling day
General election 2015: Polling day
1/16 General election 2015

Nuns arrive to vote at a polling station at St John's Church in Paddington, London

2/16 General election 2015

A voter leaves the White Horse Inn in Priors Dean, also known as the 'Pub with no name', which is part of the East Hampshire constituency and acts as a local polling station on the day of the election

3/16 General election 2015

General view of inside the White Horse Inn in Priors Dean

4/16 General election 2015

People cast their votes as a man uses a punch bag in the East Hull Boxing Academy, which is being used as a polling station in Hull

5/16 General election 2015

Penny Higbee waits to greet voters at her home in Routh, East Yorkshire, which is being used as a rural polling station

6/16 General election 2015

Voters in Ironbridge, Shropshire, arrive to cast their vote at The Iron Bridge Tollhouse

7/16 General election 2015

A voter arrives at the North West Ambulance Service Station at Milton Green, Cheshire, which is being used as a polling station as Britain goes to the ballot box

8/16 General election 2015

A polling station has been installed in a launderette in Oxford

9/16 General election 2015

SNP candidate for the Gordon constituency and Former First Minister Alex Salmond with first time voter Nicki Falconer, and her family, (L-R) Mackenzie, Nicki, Skye, Alex Salmond and Keiran at their local polling station in the Gordon constituency in Ellon, Scotland

10/16 General election 2015

Prime Minister David Cameron and wife Samantha after casting their votes at Spelsbury Memorial Hall, Witney

11/16 General election 2015

Liberal Democrat leader and Deputy Prime Minister Nick Clegg and his wife Miriam Gonzalez Durantez arrive at Hall Park Hill Community Centre to cast their votes, in Sheffield

12/16 General election 2015

Labour Party leader Ed Miliband and his wife Justine Thornton leave the polling station at Sutton Village Hall in Sutton after casting their votes in the 2015 general election in Doncaster

13/16 General election 2015

First Minister of Scotland and leader of the SNP Nicola Sturgeon, votes with her husband Peter Murrell in Glasgow, Scotland

14/16 General election 2015

Ukip leader Nigel Farage arrives to cast his vote for the South Thanet constituency in Ramsgate

15/16 General election 2015

Plaid Cymru leader Leanne Wood arrives at a polling station in Penygraig, Rhondda, Wales

16/16 General election 2015

Green Party leader Natalie Bennett after casting her vote at Ossulston Tenants' Hall, London
"We are today asking the court to require the party to fully disclose the documents and information we regard as necessary to effectively progress our investigation into the party's campaign spending returns."
A Conservative Party spokesperson said in a statement issued to the Independent at 2.30pm: "We advised the Electoral Commission on 29 April that we would comply with their notices by 1pm today – and we will do so. There was no need for them to make this application to the High Court."
The Conservative spokesperson later said it had now complied with the Electoral Commission's order. The Electoral Commission said it had received "some additional documentation" from the party but that it was still checking whether this documentation complied with that requested in the order.
However, a spokesperson for the watchdog disputed the Conservative spoksperson's claims about deadlines.
"The Commission granted the Conservative Party an additional period of time with a deadline of 9 May by when it was required to comply with the Commission's notices for provision of documents and information," the spokesperson told Channel 4 News.
"The Party did not comply and did not state that it intended to submit any documents at 1pm today (12 May)."