Labour must avoid "pandering" to Ukip and instead attack Nigel Farage's party head-on, a senior member of the Shadow Cabinet said yesterday.
In an interview with The Independent, Tristram Hunt warned Labour not to rely on Ukip self-destructing despite a spate of damaging headlines about the anti-EU party in the past two months.
The shadow Education Secretary said Labour had three options – to ignore, pander to or confront Ukip. He argued that "confronting Ukip – going toe-to-toe with it-on Labour's traditional territory" was the key to success at the May general election.
Admitting that Ukip had struck a chord with voters, he insisted it is "a very real and dangerous threat to prosperity for working people". He called on Labour relentlessly to make the case for an alternative, outward-facing, positive set of solutions to the concerns felt by people turning to Mr Farage.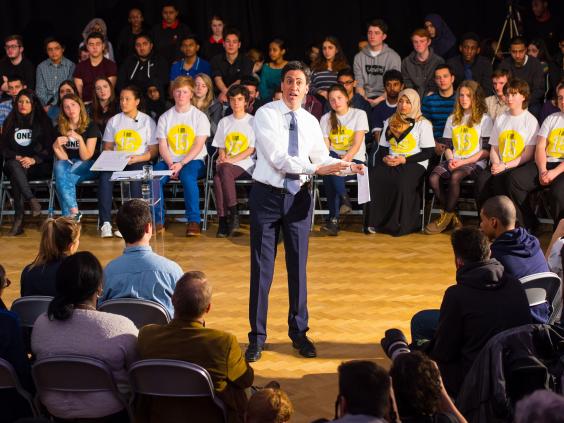 Mr Hunt dismissed calls by Labour left-wingers to ignore Ukip on the grounds that electoral gains would lead to its demise once voters had seen it in office. He also rejected pressure from other Labour figures who want a much tougher stance on immigration.
He admitted: "Ukip's electoral success derives from an ability to speak into the living-rooms of the British public. To speak about the issue of globalisation and that, for big swathes of the electorate, this means a sense that they have been left behind."
The shadow Education Secretary said: "Ukip is a clarifying force for the Labour Party. It forces us to draw inspiration from our progressive tradition and philosophy. To make the case for Europe and open markets, not retreat from the debate. Ukip identifies the tensions and anxieties of the British public. At this election, we will provide the answers."
Mr Hunt will issue his warning tomorrow in a speech to a Fabian Society conference in London, at which Ed Miliband will be the main speaker. Last year, the Labour-affiliated Fabians published research suggesting that the "Farage effect" could pose a serious threat to Labour by wooing its working-class supporters, denying Labour victory in some Lab-Con marginal seats. Mr Hunt, who is campaigning in Labour constituencies targeted by Ukip, believes the party's fightback has been boosted by the appointment of Lucy Powell, a former member of his shadow education team, as vice chair of Labour's campaign.
Ukip's confusing policies
Ukip's confusing policies
1/6 Deport migrants

Ukip MP Mark Reckless suggested he would deport existing EU migrants, a policy Nigel Farage rejected out of hand.

Reuters

2/6 US-style NHS

Farage was caught on film in 2012 saying healthcare headed towards insurance-based system, though he has since said he would keep it free at the point of use.

Universal Images

3/6 Handbag tax

Ukip Economy spokesman Patrick O'Flynn said he would introduce a tax on high-price items like shoes, Nigel Farage disowned this idea.

4/6 Same-sex couple adoption

Ukip candidate Winston McKenzie likened adoption by same-sex couples to "child abuse", but the party rejects that view.

PA

5/6 Gay marriage?

In early 2014 Ukip released a statement saying it would review its gay marriage policy, but later said that was an error.

AFP/Getty Image

6/6 Sex education u-turn

Nigel Farage told Leaders Live that he backed sex education for under-11s but later admitted that is not Ukip policy.

Getty
Mr Hunt argued: "Labour's challenge is to show that we can make globalisation work for working people. And to show how we will use our membership of Europe to spread wealth creation, extend home-ownership, deliver employment and training opportunities, and raise the prospects for our young people."
The TV historian insisted that globalisation had been driven by people, rather than politicians, because they wanted affordable airline travel for cheap holidays; access to goods and services at the click of a button and to communicate with anyone, anywhere and at any time. "Ukip talks about globalisation as if it were party policy. It is driven by people. The role of government is to spread the benefits and make it work for all communities across Britain, not just the few," he said.
Mr Hunt added: "There is nothing inevitable about retaining, spreading and strengthening the benefits that have been delivered through globalisation. But there is a very real danger that, instead of the benefits being spread more evenly, Ukip could steal a march with their platitudes of false hope.
"These arguments will not make themselves and so it is left to the only progressive party in British politics – the Labour Party – to take on that mantle. We must remain authentic to our values and stay true to the people the Labour Party was founded to serve."