A Ukip parliamentary candidate made a public gaffe this week by asking a room full of business leaders "what happens when renewable energy runs out?"
Councillor Victoria Ayling, who is vying to become MP for Great Grimsby, made the query during a Question-Time style debate on Monday, and it was reportedly met with "guffaws" from attendees.
Ms Ayling "spouted fiction and scientific incompetence" as she referred to offshore wind energy as a "fad" during the meeting in Cleethorpes, local newspaper Grimsby Telegraph reported.
The question went viral on Twitter after Guardian data editor Alberto Nardelli sent out a tweet that was reposted more than 2,000 times.
"What happens when renewable energy runs out?" - Victoria Ayling, Ukip's candidate for Great Grimsby pic.twitter.com/29EW5nuxvM

; Alberto Nardelli (@AlbertoNardelli) February 19, 2015
Ms Ayling hit back the day after the meeting was held at Parkway Cinema by saying that she meant to say "what happens when subsidies for renewable energy run out," rather than the energy itself.
She accuses politicians from other political parties of "insulting" her and not answering her question, which she claims was the one she meant to ask in the first place.
#ukip #grimsby When I asked what happens when subsidies for renewable energy run out I am insulted by Lib/Lab/Con/Grn pact but none answered

; Victoria Ayling (@VAylingUKIP) February 17, 2015
However, attempts to clarify her intentions did not discourage others from making their own opinions heard about the blunder.
@thirstybear @AlbertoNardelli @blongden They're working on a device that runs on stupid. We'll never run out of that.

; Paul Berry (@pmberry2007) February 19, 2015
@quebectango @albertonardelli Ever hear of George W Bush? This girl's got a future!

— (@RModiz) February 19, 2015
@AlbertoNardelli @CocoaKevin That's solid comedy gold. I couldn't come up with that if I tried.

— Alexander Repty (@arepty) February 19, 2015
@albertonardelli @QuebecTango You're being critical because a politician has said something _dumb_? Seriously?

; (@RModiz) February 19, 2015
@AlbertoNardelli @chunkymark oh, bless her innocent little heart...or do I mean ignorant?

; Jennie Macfie (@JennieMacfie) February 19, 2015
And it is not the first time the Tory defector and former barrister has been exposed for saying questionable things.
An outtake from a video filmed around seven years ago, and reported by Mail on Sunday  in 2013, shows her saying about migrants: "I just want to send the lot back but I can't say that."
The clip, in which she tries to explain her stance on immigration, was filmed by her then-husband Rob Ayling while she was still a member of the Conservatives.
She has since said that she stands by those remarks.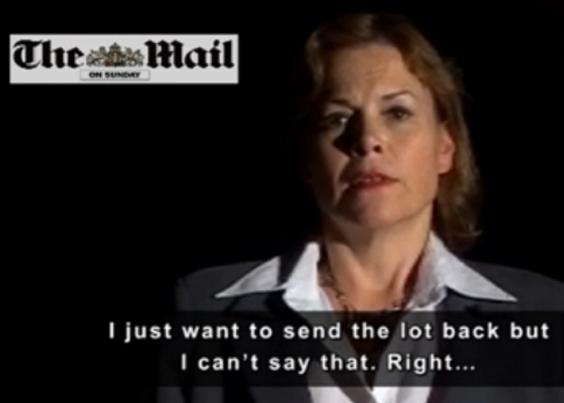 Ukip have set out in their energy policies that they are against all wind power developments and renewable subsidies in favour of coal-fired power stations, that they say are opposed by Brussels.
Ms Ayling details her views on her website, which include having no new subsidies for wind farms and solar panels, as well as abolishing green charges to reduce fuel bills.
Reuse content