Ukip has been accused of exploiting the misery of Rotherham sex-abuse victims in its determination to win its first police and crime commissioner post.
The anti-EU party is running neck and neck with Labour in the battle in South Yorkshire as it mounts a huge effort to demonstrate its appeal to voters in traditionally left-leaning areas. Ukip has provoked anger from political rivals and widespread condemnation on social media by launching a "1,400 reasons to vote" campaign – a reference to the estimated number of victims of paedophile gangs in Rotherham over a 16-year period. The tactics were also denounced as "disrespectful" on Sunday night by a victim of abuse.
This week's election was prompted by the resignation of the Labour police commissioner Shaun Wright, who was the councillor responsible for children's services in Rotherham from 2005 until 2010.
Ukip's controversial poster features a young woman alongside the message: "There are 1,400 reasons why you should not trust Labour again." It will be displayed across South Yorkshire in the run-up to Thursday's election.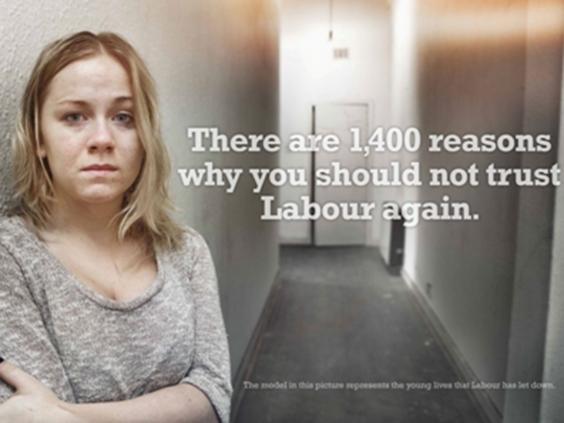 The party is unrepentant about its tactics, insisting it is conveying a "simple truth" about Labour's failure to combat widespread paedophile activity when it ran Rotherham Council.
But one victim of abuse accused Ukip of exploiting pain to get elected. The 25-year-old, who was groomed, raped and passed between a group of older men from the age of 12, said the role of candidates should be to "put Rotherham back together".
She told The Independent: "People shouldn't be making such comments and using it to get themselves into high positions. That's very disrespectful to us victims."
The woman, who said she is yet to decide how to vote, criticised all the main parties for failing to learn from reports into sexual exploitation in Rotherham. "Nothing has really changed," she said. "People feel that nobody is listening."
Simon Danczuk, the Labour MP for Rochdale, who has campaigned to expose child sex abuse, denounced Ukip's tactics as "despicable". He said: "Ukip are clearly more interested in trying to use victims' suffering to win votes than in coming up with solutions. They have never contributed to discussions in terms of child sex abuse. They have decided to create a bandwagon which they are now jumping on."
A spokesman for Nick Clegg, who is a South Yorkshire MP, said the Deputy Prime Minister regretted that "victims of sexual abuse are being turned into a political football".
Ukip gaffes and controversies
Ukip gaffes and controversies
1/18 European elections poster

Party's latest EU election posters branded 'racist' and compared to BNP campaigns

Rex

2/18 Farage 'car-crash' interview

Ukip spin doctor forced to intervene as Farage falters in disastrous radio interview

3/18 Neil Hamilton

Picture Exclusive: The year is 1998. The venue is a Springbok Club meeting. The flag is a symbol for white supremacists in South Africa. And the speaker is Ukip's deputy chairman, Neil Hamilton

4/18 Kerry Smith

Kerry Smith resigned as would-be MP for South Basildon and East Thurrock after it emerged he had mocked gay party members as "disgusting poofters", joked about shooting people from Chigwell in a "peasant hunt" and referred to someone with a Chinese name as a "Chinky bird"

PA

5/18 Natasha Bolter

Former Ukip member Natasha Bolter was suspected of not having the teaching qualifications she professed to, only days after it was revealed that claims of her having attended Oxford University were also false

PA

6/18 Ukip Calypso song

Mike Reid released a single in praise of UKIP trying to control the UK's borders, only to withdraw the single after being accused of racism for singing in a Jamaican accent

7/18 Janice Atkinson

Janice Atkinson, Ukip's South East chair, pictured by protesters while campaigning in Ashford, Kent with local party chair Norman Taylor

Facebook/Maria Pizzey

8/18 Ukip cancels Freephone

Ukip cancels Freephone number after protesters repeatedly called to push up costs

Getty Images

9/18 Farage 'car-crash' interview

Mr Farage appeared to be caught out on a number of issues, from Romanian neighbours to people speaking foreign languages on the train

10/18 Ukip employs illegal immigrants

Ukip criticised after European election candidate found employing illegal immigrants

AP

11/18 Magnus Nielsen

Ukip candidate: 'Take away the right to vote to improve election turnout'

Getty Images

12/18 Poster model

A "British builder" portrayed in a Ukip poster accusing EU workers of taking UK jobs turns out to be an Irish actor - aka a migrant worker

13/18 'Arrest protesters'

Ukip called for police to arrest protesters 'who call us fascists' ahead of showdown with anti-fascist groups in Brighton

14/18 London Live make-up

Ukip's Nigel Farage reportedly refused to go on London Live 'without professional make up-artist'

Reuters

15/18 Andre Lampitt

Ukip forced to suspend the "poster boy" of its European election broadcast, after it was revealed he had posted a series of vile racist comments on Twitter

16/18 Expenses

Nigel Farage says he is taking taking legal advice over "outrageous" allegations that he is responsible for more than £50,000 of "missing" EU funding that was paid directly into his personal bank account

17/18 Have I Got News For You

Nigel Farage appears in Have I Got News For You, spends the entire episode being ridiculed over expenses and party 'fruitcakes'

BBC

18/18 Anti-gay comments

Local branch chairman for Ukip defends a party's councillor candidate Douglas Denny who called gay people "abnormal" and said he wished "they stop trying to ram it down my throat", all while discussing whether the word "sodomite" should be used
A Ukip spokesman acknowledged the party had wavered over whether to produce the poster but said it had been urged to press ahead by local activists who felt "absolute rage" over the events in Rotherham. He said: "This is political and Labour are partly responsible for what's happened. They were told, they were warned and they did nothing." He said he understood why some victims might not want to "revisit the horrors" they experienced, but said Ukip had been contacted by others who wished the party well in challenging a "Labour fiefdom".
Labour has historically been the dominant political force in South Yorkshire, but Ukip has made steady inroads in the area.
The expected low turnout in Thursday's by-election will increase the chances of Ukip's candidate, Jack Clarkson, becoming South Yorkshire's new police commissioner.
Video: In August Shadow Home Secretary Yvette Cooper called for changes
Matthew Goodwin, a leading expert in Ukip's rise, said he would not be surprised if the party beats Labour. He said: "It is taking the by-election very seriously. It wants to demonstrate its strength in Labour areas."
The shadow Justice Minister, Dan Jarvis, a South Yorkshire MP, said: "The cynical and deliberate exploitation of victims by Ukip in this poster marks a new and unacceptable low in their recent campaign activity."
Ukip is increasingly optimistic of victory in next month's by-election in the Kent constituency of Rochester and Strood following the defection of the Tory MP Mark Reckless. It received a further boost this weekend when Paul Sykes, its biggest donor, announced he planned to contribute a further £1.5m towards its election campaign.
Profile: Jack Clarkson
Jack Clarkson, Ukip's candidate for Police and Crime Commissioner for South Yorkshire, is an experienced former police officer with a strong track record in the region. He worked for the police for more than 30 years in Sheffield, Rotherham, Ecclesfield, Deepcar, Hillsborough and Doncaster, retiring as an inspector in 2006 before setting up his own security firm. He has also worked in victim support for two years.
Mr Clarkson is currently leader of the Ukip group on Sheffield City Council, as well as a town councillor for Stocksbridge.
He has said: "Only Ukip can guarantee that political correctness will not get in the way of investigating crimes, and only Ukip can promise one law for all."
Reuse content