A simple tin of jelly babies has caused upset on Amazon, with horrified readers taking to the comments section to express their views.
At £5.50 for 180grams, so-called Tinned Ukip Babies are considerably more expensive than a bag of Bassetts Jelly Babies (which cost 77.9p per 100grams).
They are sold under the line: "This is your chance to bite the head off a Ukip baby."
The six-party election: key figures
The six-party election: key figures
1/12 Conservatives

2/12 Lynton Crosby (Con)

Chief election strategist

Rex

3/12 Labour

4/12 Lucy Powell (Lab)

Vice chair of general election campaign

5/12 Liberal Democrats

6/12 Paddy Ashdown (Lib Dem)

Campaign director

Getty

7/12 Ukip

8/12 Suzanne Evans (Ukip)

Deputy chairman

9/12 Greens

10/12 Chris Luffingham (Green)

Campaigns director

11/12 Scottish National Party

12/12 Angus Robertson (SNP)

General election director

PA
Reactions have been strong to say the least. One reviewer was upset as the use of grams.
"I came across these by accident while searching for some Top Gear Midget Gems," JD wrote.
"However, I was shocked to find that these are tinned and measured in grams!!! I only eat sweets from little white PAPER bags weighed out in Imperial measurements from large jars from my local village shop in St Ives !! IT's political correctness gone mad, HOW dare the EU tell us how to eat our sweets."
However Gloria Preston was much more positive, saying that they "tasted much better than the real thing".
Others were less pleased.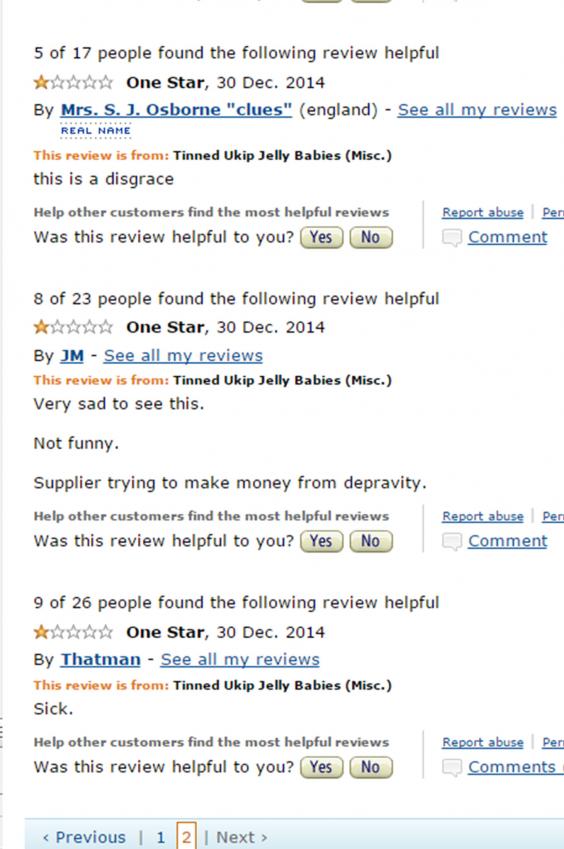 A Ukip spokesman said the sweets were "quite funny I suppose, but transparently nothing to do with UKIP".
Reuse content