Ukip's website is still down, and the problem appears to lie in Deutschland, Europe.
The immediate reaction on Twitter was that the political party had forgotten to renew their website domain name, and one company has already claimed to have bought it for themselves. However the expiry date listed on Domain Tools is 22 March of 2016.
Ukip say that the website now appears to be fixed and will be running again soon. The problem appears to have been caused by their DNS records (pic included) that points browser traffic to the correct location.
Guido Fawkes noted in a website post that titled 'UKIP Web Woe: It Was Zee Germans' that "the bit that's broken is handled by a very European company: Host Europe, Deutschland, who own 123 Reg".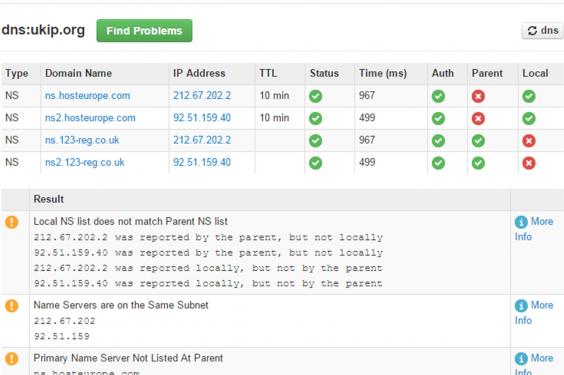 In yet another twist, the technical contact on the Ukip.org domain registration is web design company TW Media.
The portfolio on the company's website features the local site for Ukip South East - clicking on that link takes the user to http://www.ukipsoutheast.org.uk/ which is a domain registered to TW Media's director Time Parson. But this address redirects to youareanidiot.com, which appears with this: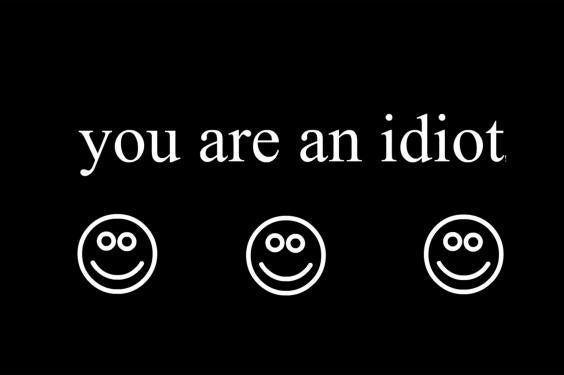 The actual address for UKIP South East is http://www.ukipsoutheast.com.
Who.is.org shows that the website was updated on 5 January 2015. Further information shows that the website was also updated today (6 January).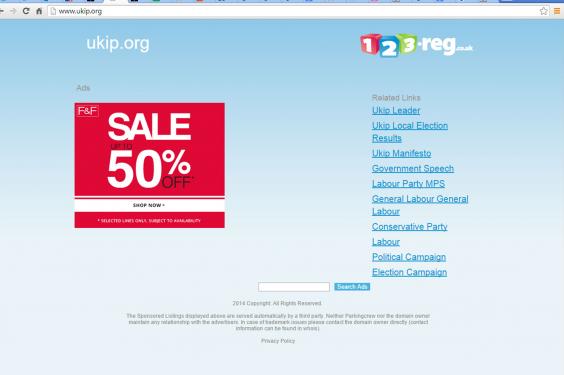 Alcopop! Records claims to have bought the domain name from GoDaddy.com at 10.30am on 6 December for £200. Interviewed by i100, an Alcopop! Records spokesperson said they have an email confirmation receipt, but have been told by people on Twitter that the transaction won't go through.
Guess who owns http://t.co/MF2oRnDEbJ ..... #whatthehelldoidowiththisnow pic.twitter.com/Q0CXPaTtjW

— Alcopop! Records (@ilovealcopop) January 6, 2015
Asked what they plan to do with the website, the spokesperson said: "I'm not sure yet. Some great charities have suggested linking through to them so that sounds like a cracking idea. What I really don't want to do, if it all goes through, is do anything to make a load of money - which would be horribly crass."
In pictures: The rise of Ukip
In pictures: The rise of Ukip
1/8 1993: Alan Sked forms Ukip

History professor Alan Sked had been active in anti-EU politics for a while beore he founded Ukip in 1993. He resigned from the party after the 1997 election, concerned that it was attracting far-right members, and has been critical of Ukip since. Picture: Reuters

Reuters

2/8 2005: Kilroy defects

Former TV presenter Robert Kilroy-Silk founded Veritas in 2005, after a failed bid to become leader, and took many of Ukip's elected members with him. But the party slowly lost its popularity and didn't put forward any candidates in the last election. Picture: REUTERS/Kieran Doherty REUTERS KD/RUS

3/8 2010: Farage becomes leader, again

Farage had led Ukip from 2006 until 2009, when he stood down to fight against the Speaker, John Bercow, for his Buckingham seat. He failed to win the election and returned to lead the party in November 2010. Picture: REUTERS/Kieran Doherty

REUTERS/Kieran Doherty

4/8 2010: Ukip fights for election

Nigel Farage was injured in a plane crash on polling day in the 2010 general election, but his party increased its success in the votes. It fielded 572 candidates and took 3.1% of the vote, though failed to win any seats. REUTERS/Darren Staples

REUTERS/Darren Staples

5/8 2013: Eastleigh gains

Ukip's candidate Diane James got the highest ever number of votes for any candidate from the party, but was beaten by the Liberal Democrats. The surge in support gave Ukip confidence ahead of local and European elections later in the year. Picture: Reuters

6/8 2013: Bloom kicked out

Godfrey Bloom, who served as an Ukip MEP from 2004 to 2014, had the whip withdrawn in 2013 after sexist comments and an attack on a journalist. He sat as an independent MEP until 2014, when he ended his term in office. Picture: REUTERS/Luke MacGregor

7/8 2014: European election success

Ukip got a higher proportion of the vote than any other party in 2014's European elections, adding 11 new MEPs and taking its total to 24. REUTERS/Luke MacGregor

8/8 2014: Carswell defects

Douglas Carswell defected from Ukip at the end of August, and was followed by Mark Reckless at the end of September, who resigned from the Tories amid rumours of many more defections to come. Picture: REUTERS/Toby Melville
Ukip have said they are aware of the problem and are working on fixing it. A Ukip source suggested it was down to "dirty tricks" that "usually happen before an election".
An official Ukip Spokesman told The Independent: "We have had a technical problem with the website overnight, it is being worked on currently and will get it back up as soon as possible."