Ukip is preparing a manifesto pledge to slash billions of pounds from Scotland's budget to help to pay for tax cuts for English voters.
Under the controversial proposal, announced at the party's final conference before the election, subsidies currently paid from Westminster to Scotland, Wales and Northern Ireland under the Barnett formula would be abolished, saving up to £8bn a year.
The move is part of plans by the party to tailor its policies carefully to appeal to voters in the dozen or so English seats it is targeting in May. But it is certain to alienate support north of the border and reinforce the impression that Ukip is effectively just an English party that is not representing the whole of the UK. Ukip's only Scottish MEP David Coburn defended the provocative policy by suggesting that if Scotland "wants to spend more then it needs to raise more".
"People have got to understand that they are getting a lot more money than folks in England," he said. "The present system is unsustainable."
Ukip's confusing policies
Ukip's confusing policies
1/6 Deport migrants

Ukip MP Mark Reckless suggested he would deport existing EU migrants, a policy Nigel Farage rejected out of hand.

Reuters

2/6 US-style NHS

Farage was caught on film in 2012 saying healthcare headed towards insurance-based system, though he has since said he would keep it free at the point of use.

Universal Images

3/6 Handbag tax

Ukip Economy spokesman Patrick O'Flynn said he would introduce a tax on high-price items like shoes, Nigel Farage disowned this idea.

4/6 Same-sex couple adoption

Ukip candidate Winston McKenzie likened adoption by same-sex couples to "child abuse", but the party rejects that view.

PA

5/6 Gay marriage?

In early 2014 Ukip released a statement saying it would review its gay marriage policy, but later said that was an error.

AFP/Getty Image

6/6 Sex education u-turn

Nigel Farage told Leaders Live that he backed sex education for under-11s but later admitted that is not Ukip policy.

Getty
Suzanne Evans, Ukip's deputy chairman who is in charge of the manifesto, claimed it showed the party was not "chasing votes" but was prepared to do "what is right".
She also announced that Ukip would slash foreign aid payments saving £11bn, and pulling out of the EU would save a further £10bn.
On the seat of every delegate in the slightly faded Winter Gardens in Margate was a glossy leaflet with a picture of a small African child with the heading "Eight reasons why we must cut foreign aid".
It appeared to back up a poll released yesterday for ITV news that found that 44 per cent of the public believe that Ukip is a racist party – up 12 points from April last year.
In an attempt to address Ukip's image problem, Nigel Farage used his speech to urge party candidates standing in May to present a positive message to voters. He accused the Tories of deliberately putting around false rumours that he has been seriously unwell over the past two months, and said Ukip itself should not engage in negative campaigning.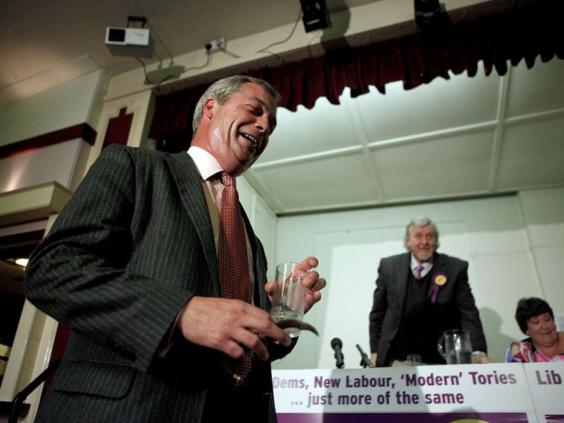 "My absence from the Westminster scene has led to some malicious speculation about my health," he said. "But rumours of my demise have been greatly exaggerated.
"This is beginning of [what will be] the most negative election campaign in history. Personal attacks on me is not the kind of politics that this country wants or needs.
"We as a party have got to ignore it and turn the other cheek and tell voters what we stand for. Everything about our campaign is going to be positive. We are standing up for democracy, our birthright and self respect."
Ukip used the gathering of the party faithful to release a poll showing that Mr Farage is now 11 points ahead in Thanet South where he is standing in May. Mr Farage is understood to have used the past few weeks to build up support in the constituency to avoid accusations that he is being parachuted in and is uninterested in local concerns.
But at the same time, party strategists privately admit that they face a "very, very tough fight" to hold on to Rochester and Strood which the Tory defector Mark Reckless won in a by-election last year.
Some in private believe that Mr Reckless cannot win and that campaigning resources would be better spent in other nearby seats such as Thurrock where the party is seen to have a better chance.