Labour MPs have publicly debated for the first time whether a so-called "universal basic income" should be introduced to replace the existing benefits system.
The discussion, thought to be the first such event at any Labour party conference, heard from MPs both in favour, opposed, and undecided on the policy.
A universal basic income, sometimes called a 'Citizen's Income' is the idea of a flat-rate unconditional cash payment to all adults and children, whether they are in or out of work. 
Most proponents of the idea say it should replace the existing means tested benefits system, while others say such a payment could sit on top of current schemes.
John McDonnell, Labour's shadow chancellor, told the room that a basic income was "an idea to explore" but suggested that may well be one "whose time has come".
"I'm going to be accused of being a Fabian here, but I think we need to take a gradualist approach to achieve it," he told the fringe meeting, organised by the think-tanks Compass and Christians On The Left.
"It might be one of those iconic policy areas that in ten years time we think 'why did we think it was ever controversial' and 'why didn't we do this before?'"
Mr McDonnell said any basic income would have to be introduced alongside changes to progressive taxation – either wealth or income. 
He added: "We've got to argue that this isn't something alien – this is something that's been gradually emerging in our society for some time and this is actually the next step on. 
"There's an urgency about it at the moment because work is no longer lifting people out of poverty but you combine that with the restoration of trade union rights so you can transform that at the same time … that helps in terms of the overall redistribution of income overall, to enable people to live with decent living standards."
Jonathan Reynolds, the MP for Stalybridge, said he believes Labour should be looking more closely at the policy.
"The first time I heard about this idea I thought it was pretty far-fetched – in fact I thought it was pretty utopian and unrealistic," he said.
"Once, this idea was fairly left-field but I think more and more people are taking it seriously and I think they're right to."
Mr Reynolds said a basic income could help re-shape perceptions around the welfare state – such a media portrayals of unemployed people as "workshy".
"We don't feel that way about the NHS of the education system and we shouldn't feel that way about the welfare state," he said.
Mr Reynolds also suggested that the redesign of the welfare state might be useful to help people cope with technological change and the increased trend towards the casualisation of work, telling the audience:  "I grew up in Sunderland in the 1980s and that was a time of deep industrial change. I know what it looks like when the mines go, when the shipyards go," he said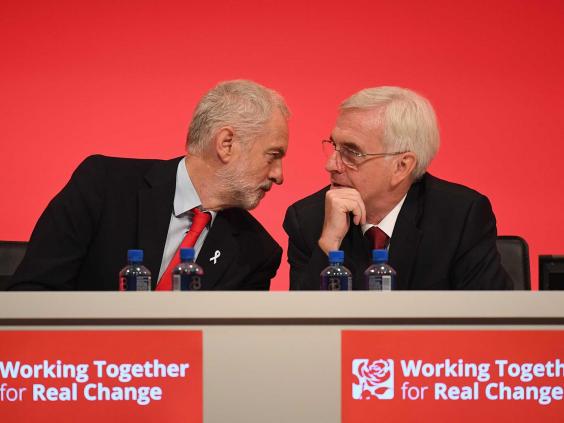 Karen Buck, the MP for Westminster North, however said she was "deeply skeptical" of the proposal, arguing that flattening the social security system would see money spread too thinly for those who needed it.
"The problem is this: if you provide within the existing amount of money we are spending on tax and social security, a sum of money for everybody, it is simply not enough to provide everybody with more than a minimum subsistence," she said.
"It is simply not enough for people to live on for any length of time," she noted, adding that the policy "wouldn't be redistributive".
Ms Buck also suggested a basic income's universal nature meant it might not be "saleable" to the electorate, that it included too few work incentives, and that it would be difficult to deal with housing costs and extra costs for disability under such a scheme.
The most ridiculous reasons people had their benefits sanctioned
The most ridiculous reasons people had their benefits sanctioned
1/16

"One case where the claimant's wife went into premature labour and had to go to hospital. This caused the claimant to miss an appointment. No leeway given"

2/16

"It's Christmas Day and you don't fill in your job search evidence form to show that you've looked for all the new jobs that are advertised on Christmas Day. You are sanctioned. Merry Christmas"

3/16

"You apply for three jobs one week and three jobs the following Sunday and Monday. Because the job centre week starts on a Tuesday it treats this as applying for six jobs in one week and none the following week. You are sanctioned for 13 weeks for failing to apply for three jobs each week"

4/16

"A London man missed his Jobcentre appointments for two weeks because he was in hospital after being hit by a car. He was sanctioned"

2011 Getty Images

5/16

"You've been unemployed for seven months and are forced onto a workfare scheme in a shop miles away, but can't afford to travel. You offer to work in a nearer branch but are refused and get sanctioned for not attending your placement"

2013 Getty Images

6/16

"You are a mum of two, and are five minutes late for your job centre appointment. You show the advisor the clock on your phone, which is running late. You are sanctioned for a month"

7/16

"A man with heart problems who was on Employment and Support Allowance (ESA) had a heart attack during a work capability assessment. He was then sanctioned for failing to complete the assessment"

Copyright (c) 2015 Rex Features. No use without permission.

8/16

"A man who had gotten a job that was scheduled to begin in two weeks' time was sanctioned for not looking for work as he waited for the role to start"

9/16

"Army veteran Stephen Taylor, 60, whose Jobseeker's Allowance (JSA) was stopped after he sold poppies in memory of fallen soldiers"

2014 Getty Images

10/16

"A man had to miss his regular appointment at the job centre to attend his father's funeral. He was sanctioned even though he told DWP staff in advance"

2014 Getty Images

11/16

"Ceri Padley, 26, had her benefits sanctioned after she missed an appointment at the jobcentre - because she was at a job interview"

Jason Doiy Photography

12/16

"A man got sanctioned for missing his slot to sign on - as he was attending a work programme interview. He was then sanctioned as he could not afford to travel for his job search"

2012 Getty Images

13/16

"Mother-of-three Angie Godwin, 27, said her benefits were sanctioned after she applied for a role job centre staff said was beyond her"

14/16

"Sofya Harrison was sanctioned for attending a job interview and moving her signing-on to another day"

15/16

"Michael, 54, had his benefits sanctioned for four months for failing to undertake a week's work experience at a charity shop. The charity shop had told him they didn't want him there"

16/16

"Terry Eaton, 58, was sanctioned because he didn't have the bus fare he needed to attend an appointment with the job centre"
The MP said that the existing welfare system could be improved that that punitive sanctions did not have to be a part of it.
Mr McDonnell has previously suggested that a trial of universal basic income could be included in Labour's 2020 general election manifesto.
Basic income was also discussed at the campaign group Momentum's parallel The World Transformed conference held alongside Labour's in Liverpool this week.
The Government has dismissed universal basic income, with ministers telling Parliament the idea is too expensive and that it does not include enough work incentives.
Reuse content