The Scottish National Party's conference has backed the principle of a universal basic income to replace the current welfare system.
SNP members agreed a motion stating that "conference believes that a basic or universal income can potentially provide a foundation to eradicate poverty, make work pay and ensure all our citizens can live in dignity".
The motion called for more research into the impact of the policy, which would unconditionally give all citizens an income from the state. 
Members also agreed that a basic income should be considered as a possibility when designing the welfare state of an independent Scotland.
The motion comes after around two SNP dozen MPs backed a call for a feasibility study into the policy.
MPs who signed a UK Parliament early day motion included Neil Gray, the SNP's work and employment spokesperson at Westminster. 
The idea has already features in proposals by the radical independence movement, including by the Scottish Greens.
A universal basic income is the idea of paying all citizens a flat, unconditional income, unusually instead of existing policies like means-tested benefits.
Proponents of the idea say it would save on welfare administration costs, reduce the poverty traps of traditional welfare states, be fair to people who have jobs, and give people more autonomy in general.
Opponents of the income have raised concerns including work disincentives, lack of targeted support for those most in need, and the size of the spending commitment required.
Green MP Caroline Lucas has tabled a motion on the policy, which has so far attracted signatures from 31 MPs, most of them SNP.
That motion came a week French MPs were asked to consider a similar amendment to the country's Digital Republic Bill calling for more research into the basic income idea.
Interest in the proposed policy, which has support on both the left and right of politics, has surged in recent months.
UK news in pictures
UK news in pictures
1/30

A man carries a EU flag, after Britain voted to leave the European Union, outside Downing Street in London

REUTERS

2/30 23 June 2016

AFP/Getty Images

3/30 22 June 2016

British Prime Minister David Cameron poses for a photograph after addressing pro-EU "Vote Remain" supporters at rally in Bristol, whilst campaigning to avoid a Brexit, ahead of the 23 June EU referendum

AFP/Getty Images

4/30 21 June 2016

Scottish Conservative leader Ruth Davidson (left) and Mayor of London Sadiq Khan speak during the EU debate at Wembley Arena in London

Getty Images

5/30 20 June 2016

A full moon rises behind Glastonbury Tor as people gather to celebrate the summer solstice in Somerse

Getty Images

6/30 19 June 2016

Hot air balloons took to the air as part of the annual Lord Mayor's Hot Air Balloon Regatta, a charity event in aid of the Lord Mayor's Fund, in London

Getty Images

7/30 19 June 2016

Liberal Democrats leader Tim Farron (C) poses with supporters after arriving in the Liberal Democrat Vote Remain campaign bus, campaigning to avoid a Brexit in the EU referendum, during a launch event in east London

AFP/Getty Images

8/30 18 June 2016

A man lights a flare among pro-refugee activists rallying outside the French Embassy in central London, during a protest after most of an aid convoy of vehicles organised by campaign groups heading to northern France were turned back at the French frontier at the port of Dover

AFP/Getty Images

9/30 17 June 2016

Prime Minister David Cameron and Labour Leader Jeremy Corbyn arrive to pay their respects at the scene where Jo Cox was shot in Birstall

Getty Images

10/30 16 June 2016

Floral tributes and candles are placed by a picture of slain Labour MP Jo Cox at a vigil in Parliament square in London. Cox died after a shock daylight street attack, throwing campaigning for the referendum on Britain's membership of the European Union into disarray just a week before the crucial vote

AFP

11/30 15 June 2016

Boats from the 'Fishing for Leave' campaign group join a flotilla along the Thames River in London. The flotilla organised by members of the Fishing for Leave group, who are campaigning to leave the European Union ahead of the referendum on the 23 of June, was countered by boats representing the 'In' campaign

Getty Images

12/30 14 June 2016

A general view of the Tate Modern's new Switch House in London. The Tate Modern art gallery has unveiled its new Switch House building designed by architects Herzog & de Meuron

Getty

13/30 13 June 2016

Labour Leader Jeremy Corbyn (C) and Deputy Labour Leader Tom Watson (R) attend a vigil for the victims of the Orlando nightclub shooting, outside the Admiral Duncan pub on Old Compton Street in Soho, London

Getty Images

14/30 12 June 2016

A pigeon flies ahead of Britain's Queen Elizabeth and Prince Philip, and Princes William, Harry and Kate Duchess of Cambridge behind as they wave to guests attending the Patron's Lunch on the Mall, an event to mark her 90th birthday, in London

REUTERS

15/30 11 June 2016

A Guardsman faints at Horseguards Parade for the annual Trooping the Colour ceremony in central London

REUTERS

16/30 10 June 2016

The national service of thanksgiving for the 90th birthday of Britain's Queen Elizabeth II at St Paul's Cathedral in London, which is also the Duke of Edinburgh's 95th birthday

Getty Images

17/30 9 June 2016

Princess Anne, Princess Royal attends the Founders Day Parade at The Royal Hospital Chelsea in London

Getty Images

18/30 8 June 2016

Two women walk barefoot through heavy rain in Westminster in London. The Met Office has issued flood alerts for parts of the south east of England as torrential rain hit parts of the country

Getty Images

19/30 7 June 2016

An Osprey catches two Rainbow Trout at Rothiemurchus in Kincraig, Scotland. Ospreys migrate each spring from Africa and nest in tall pine trees around the Aviemore area, the raptor was hunted to the point of extinction in the Victorian era, their migratory habits eventually brought them back to Scotland with the first successful breeding pair being recorded in 1954

Getty

20/30 6 June 2016

David Cameron speaks at a Remain in the EU campaign event at the Oval cricket ground in London

Getty Images

21/30 5 June 2016

Original participants take part in Japanese artist Koki Tanaka's recreation of the 1985 youth training scheme protest as part of the Liverpool Biennial. The 1985 protest saw 10,000 UK school children take to the street to protest against the Conservative government's controversial youth training Scheme

Getty Images

22/30 4 June 2016

Troops parade along The Mall after the Colonel's Review in London

Getty Images

23/30 3 June 2016

Large scale recreation of Dutch flower painting 'A Still Life of flowers in a Wan-Li Vase' by Ambrosius Bosschaert made out of real flowers is seen outside National Gallery in London

Rex

24/30 2 June 2016

Final preparations are made for the RHS Rose Show in London. The RHS London Rose Show runs from June 3-4 at RHS Lawrence Hall in Westminster

Getty Images

25/30 1 June 2016

Sheep are judged on the opening day of the Royal Bath and West Show in Shepton Mallet. The result of the EU referendum is likely to be closely watched by members of the farming community as the UKs membership of the European Union has long been a contentious issue for the farming industry

Getty Images

26/30 31 May 2016

German President Joachim Gauck (C), British Premier David Cameron (L) and Princess Anne, Princess Royal attend the 100th anniversary commemorations for the Battle of Jutland at the Lyness cemetery in Lyness, Scotland

Getty Images

27/30 30 May 2016

People enjoy the fine weather as they gather on the beach at Sennen Cove in Cornwall

Getty Images

28/30 29 May 2016

K, Moses Adams (South Africa), performs a noseblunt slide during the Red Bull Hold The Line competition at The Royal Albert Hall in London

Getty Images

29/30 28 May 2016

Princess Anne, Princess Royal and Vice Admiral Sir Tim Laurence attend a service at a war graves cemetery to mark the Battle of Jutland in South Queensferry, Scotland. The events begin a weekend of commemoration leading up to the anniversary on 31 May and 1 June to mark the centenary of the largest naval battle of World War One where more than 6,000 Britons and 2,500 Germans died in the Battle of Jutland

Getty Images

30/30 27 May 2016

Leader of Britain's opposition Labour Party, Jeremy Corybn, arrives to deliver a speech on the merits of Britain remaining in the European Union, in Doncaster

Getty Images
Finland has launched similar feasibility study to the one proposed in France, and Switzerland is set to consider a basic income at national referendum.
Last year the respected think-tank the RSA suggested that the UK adopt a universal basic income of £71 a week for all adults, with children also getting a payment similar to child benefit.
"The welfare state has become incredibly complex whilst locking those it seeks to help in a vicious circle of low pay, insecurity and an intrusive state. The RSA doubts the current system can be fixed," said Anthony Painter, the report's author.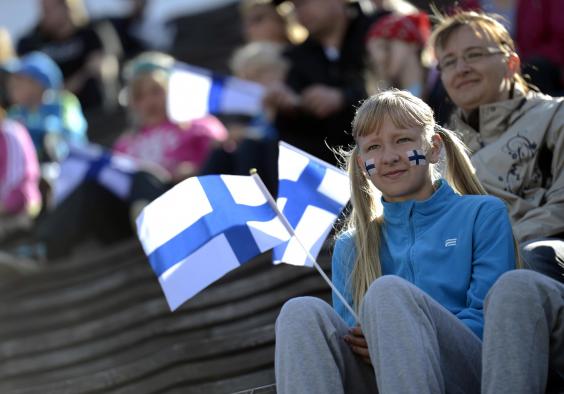 "A system of universal basic income is the best alternative to help people improve their own lives over time – it provides better security to support people's needs to work, learn, set up a business or care for their family."
During the Labour leadership contest Jeremy Corbyn, who now leads the party, said he was interested in the idea of a "guaranteed social wage" – a similar proposal – but that he believed there were issued that had to be worked through.
The SNP's spring conference took place on 12 and 13 March in the Scottish Exhibition and Conference Centre in Glasgow.