Hundreds of thousands of 18 to 21 year olds have lost the right to vote by failing to add their names to the electoral register, fuelling fears of growing disillusionment among young adults with party politics.
The numbers of potential new voters who have disenfranchised themselves was revealed in a ComRes survey which found that at least one in four young people could be missing from the register.
Ministers were warned that changes to the system of registration coming into effect this year could further reduce numbers entitled to vote, with "disastrous" consequences for the integrity of the electoral system.
The survey found that 24 per cent of 18 to 21 year olds had never registered, and another nine per cent did not know whether they were on the register. One third (33 per cent) had been added by a parent, guardian or relative and 32 per cent said they had registered themselves.
Seven per cent of 22 to 25 year olds said their names had never registered and a further eight per cent in that age group said they did not know whether they had been.
The research, suggesting that as many as 800,000 young adults could have been disenfranchised across the United Kingdom, was carried out for the Electoral Reform Society.
Its deputy chief executive, Darren Hughes, described the findings as shocking. He said: "Registering to vote is the first step towards participating in our democracy. With one in four young people not taking this step, that is a lot of voices not being heard in our democratic process.
"Young people are less likely to register, and less likely to vote - and that has real consequences for the shape of our politics and the strength of our system."
He warned the numbers could fall still further with the introduction of a new voter registration system. From this summer each person will be required to sign up individually, rather than one person per household - typically a parent - having responsibility for adding every adult living at the address.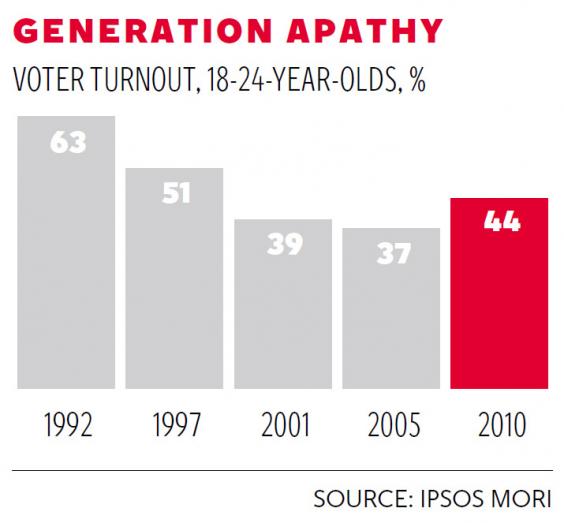 "The new figures suggest that when these changes come in, millions will be at risk of going un-registered," said Mr Hughes.
He was speaking on the eve of a nationwide drive today to add as many names as possible to the electoral register.
The inaugural National Voter Registration Day will bring schools, businesses, youth groups and community organisations together in an attempt to persuade up to 250,000 more people to register.
Mike Sani, the spokesman for Bite the Ballot, which is organising the campaign, said the numbers could be driven up if children were engaged in politics at a young age.
"We should be igniting their passion for politics and making sure they believe they have a stake in society. That begins with registering to vote," he said.
Jermain Jackman, a star of TV talent show The Voice, who is backing the initiative, said: "This is the moment for politicians to stand up and notice young people. We have the capability to play a massive part at the next general election in 2015."
Sadiq Khan, the shadow Justice Secretary, said: "Low numbers of young people being on the electoral register should worry us all. Not only does this mean that fewer young people will be able to vote in elections, but it means that juries won't be representative of society as a whole."
The Government last year announced a drive aimed at groups under-represented on the electoral register, including young adults. Its research suggested registration levels among the under-25s was as low as 56 per cent, adding: "It is not immediately obvious whether this is simply because they are more likely to live in rented accommodation or whether it is due to factors associated with youth, such as political disengagement."
Shortly afterwards, the comedian Russell Brand revealed that he had never voted, and never would. He argued: "As far as I'm concerned there is nothing to vote for.
"I feel it is a far more potent political act to completely renounce the current paradigm than to participate in even the most trivial and tokenistic manner, by obediently X-ing a little box."
Reuse content