Verbal battles over Damian McBride's memoirs at the Labour conference developed into actual fisticuffs today, as the ex-spin doctor's publisher grappled on on the floor with a protester to prevent him from disrupting the publicity drive for his controversial memoirs.
Iain Dale, of Biteback Publishing, became involved in a scuffle with the man on the Brighton seafront in an effort to stop him appearing on screen behind McBride during a series of media interviews.
The protester was Stuart Holmes, a pensioner from Manchester, who is in his 30th year as a fixture outside Labour and Conservative party conference venues.
Mr Holmes once interrupted a speech by Gordon Brown by jumping on stage whilst the former prime minister was mid speech.
He was also described by sculptor Antony Gormley as "an excellent warm-up act" after scaling his seven metre high plinth 'living sculpture' erected on Trafalgar Square whilst waving an anti-smoking banner as Mr Gormley attempted to give a speech.
On this occasion, he managed to get himself into shot as Mr McBride spoke to ITV1's Daybreak.
Mr Holmes, who seemed surprised to hear the interview with Mr McBride was being broadcast live, insisted that the ex-spin doctor had seen his placard and was "happy with it".
"I was not ruining the interview, I was just in the background. I was not saying anything," he said, after being spoken to outside the conference centre by Sussex Police officers.
But Mr Dale decided to take matters into his own hands by grabbing the man's rucksack and physically hauling him out of the way of the cameras, before the pair grappled on the pavement as Mr McBride's interview continued.
The barking of Mr Holmes' dog - which eagerly joined in the commotion - could be heard by TV viewers as the struggle continued.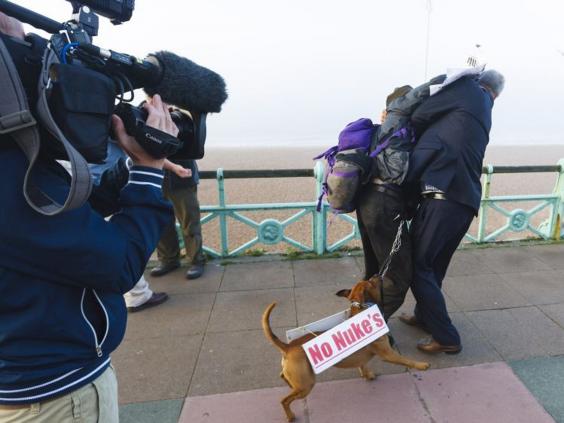 Mr Holmes' dog, also called Stuart, and carrying placards reading "No Nukes" on its back joined in the commotion by jumping up and biting his owner's rear.
As the scuffle continued, Mr Holmes did his best to hold up the "No Nukes - Radio Active Dust Cancer Epidemic" to photographers who were busy recording the scrap.
After a few moments, the pair separated and dusted themselves down, and the protester went back to trying to edge his way into view of the cameras.
Writing on his blog, Mr Dale - also a broadcaster on LBC 97.3 radio - joked: "I knew I shouldn't have had three Weetabix this morning."
He said he had seen the man holding his placard behind Mr McBride and distracting from his live TV interview.
"He started resisting and we ended up in an unseemly tumble on the ground. I was conscious of the photographers and other cameramen who were present filming the whole thing, but I was determined this idiot shouldn't disrupt what was an important interview for my author.
"I am someone who runs a mile from any form of physical confrontation normally, but I never understand why broadcasters seem to accept without question that someone with a placard or a loud voice should disrupt this sort of interview.
"Anyone who has seen the pictures and video can see that there was no real violence. I certainly didn't hurt the guy. He threw a punch at me but missed, and the only injury was when the man's dog bit him on the bum."
He added that he regretted committing "the cardinal sin of becoming the story myself, rather than my author", but said he did not regret stepping in to protect his author.
"One of the snappers afterwards said to me that I did what they had all been dying to do for years, as he regularly interferes with their professional work", the blog post continued.
"Everyone has an inalienable right to protest, but no one has a right to make a continual nuisance of themselves and interrupt interviews like that."
Additional reporting by Press Association