The Government will make no further cuts to the social security budget beyond those already legislated for, ministers have said.
Stephen Crabb, the new Work and Pensions Secretary, confirmed that cuts to the Personal Independence Payment would not go ahead – but also ruled out making any more broader welfare cuts.
The Government pledged to make £12 billion in welfare cuts before the general election as part of its plan to meet a self-imposed spending rule – and has already legislated to bring in significant cuts.
Cuts already legislated for that are yet to come in include £5 savings from less generous Universal Credit payments, cuts to the tax credit income disregard, and cuts to the Employemt and Support Allowance disability benefit.
"I can tell the House that we will not be going ahead with the changes to PIP that were put forward," Mr Crabb said in a statement to the Hosue of Commons.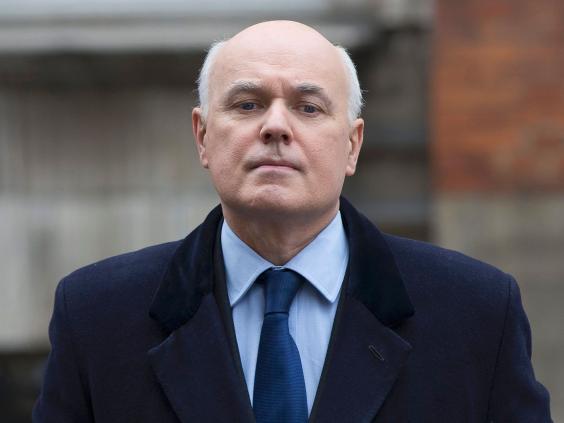 "I am absolutely clear that a passionate and fair welfare system should not just be about numbers – behind every statistic there is a human being and perhaps sometimes in government we forget that.
"I can also confirm that after discussing this issue over the weekend with the Prime Minister and the Chancellor  we have no further plans to make welfare savings beyond the very substantial savings legislated for by parliament two weeks ago – which we will not focus on implementing."
The new Secretary of State, who replaced Iain Duncan Smith, said he believed the Government's total welfare spending cap was right in "principle" but that it would  be reviewed at the Autumn Statement.
Mr Duncan Smith resigned on Friday night, warning that the Government was closing the budget deficit by targeting the most vulnerable in society.
Labour's Owen Smith said he welcomed the "vital and wholly inevitable" U-turn on the cuts to PIP.
"Never again can he and this Government claim they are all in it together – never again can he claim to lead a One Nation government," he said.
He noted that the Government had already passed sharp cuts to the ESA WRAG – another disability benefits – as well as having kept the bedroom tax.
Mr Smith said a House of Commons Library study had found spending on disabled people had fallen by six per cent under the Conservatives, whilst it increased by 60 per cent under Labour.
Mr Crabb accused Mr Smith of having a "pantomime approach".
Charities including learning disability charity Mencap and Sense, the national deafblind charity, welcomed the U-turn on PIP but called for more to be done to help disabled people.
Child Poverty Action Group Policy Director Alison Garnham said: "Stephen Crabb is to be congratulated for halting the PIP cuts and saying that there will be no more social security cuts this Parliament . 
7 ways the Tories have 'helped' disabled people
7 ways the Tories have 'helped' disabled people
1/7 Closing Remploy factories

The Work and Pensions Secretary called time on Britain's system of Remploy factories, which provided subsidised and sheltered employment to disabled people. People employed at the factories protested against their closure and said they provided gainful work. "Is it a kindness to stick people in some factory where they are not doing any work at all? Just making cups of coffee?" Mr Duncan Smith said at the time, defending the decision. "I promise you this is better." The Remploy organisation was privatised and sold to American workfare provider Maximus, with the majority of the organisation's factories closed. The future of the remaining sites is unclear

2/7 Scrapping the Independent Living Fund

The £320m Independent Living Fund was established in 1988 to give financial support to people with disabilities. It was scrapped on July 1 2015, with 18,000 often severely disabled people losing out by an average of £300 a week. The money was generally used to help pay for carers so people could live in communities rather than institutions. Councils will get a boost in funding to compensate but it will not cover the whole cost of the fund. This new cash also doesn't have to be spent on the disabled

3/7 Cut payments for the disabled Access To Work scheme

Iain Duncan Smith is bringing forward a policy that will reduce payments to some disabled people from a scheme designed to help them into work. The £108m scheme, which helps 35,540 people, will be capped on a per-used basis, potentially hitting those with the more serious disabilities who currently receive the most help. The single biggest users of the fund are people who have difficulty seeing and hearing. The cut will come in from October 2015. The charity Disability UK says the scheme actually makes the Government money because the people who gain access to work tend pay tax that more than covers its cost. The DWP does not describe the reduction as a "cut" and says it will be able to spread the money more thinly and cover more people

4/7 Cut Employment and Support Allowance

The latest Budget included a £30 a week cut in disability benefits for some new claimants of Employment and Support Allowance (ESA). The Government says it is equalising the rate of disability benefits with Jobseekers Allowance because giving disabled people more help is a "perverse incentive". The people affected by this cut are those assessed as having a limited capability for work but as being capable of some "work-related activity". A group of prominent Catholics wrote to Mr Duncan Smith to say there was "no justification" for this cut. Mental health charity Mind, said the cut was "insulting and misguided"

5/7 Risk homelessness with a sharp increase disability benefit sanctions

Official figures in the first quarter of 2014 found a huge increase in sanctions against people reliant on ESA sickness benefit. The 15,955 sanctions were handed out in that period compared to 3,574 in the same period the year before, 2013 – a 4.5 times increase. The homelessness charity Crisis warned at the time that the sharp rise in temporary benefit cuts was "cruel and can leave people utterly destitute – without money even for food and at severe risk of homelessness". "It is difficult to see how they are meant to help people prepare for work," Matt Downie, director of policy at the charity added

6/7 Sending sick people to work because of broken fitness to work tests

In 2012 a government advisor appointed to review the Government's Work Capability Assessment said the tests causing suffering by sending sick people back to work inappropriately. "There are certainly areas where it's still not working and I am sorry there are people going through a system which I think still needs improvement," Professor Malcolm Harrington concluded. The tests are said to have improved since then, but as recently as this summer they are still coming in for criticism. In June the British Psychological Society said there was "now significant body of evidence that the WCA is failing to assess people's fitness for work accurately and appropriately". It called for a full overhaul of the way the tests are carried out. The WCA appeals system has also been fraught with controversy with a very high rate of overturns and delays lasting months and blamed for hardship

7/7 The bedroom tax

The Government's benefit cut for people who it says are "under-occupying" their homes disproportionately affects disabled people. Statistics released last year show that around two-thirds of those affected by the under-occupancy penalty, widely known as the 'bedroom tax', are disabled. There have been a number of high profile cases of disabled people being moved out of specially adapted homes by the policy. In one case publicised by the Sunday People last week, a 48 year old man with cerebral palsy was forced to bathe in a paddling pool after the tax moved him out of his home with a walk-in shower. The Government says it has provided councils with a discretionary fund to help reduce the policy's impact on disabled people, but cases continue to arise
"These past few days have exposed the huge gap between lofty rhetoric on poverty and  the cold reality that vulnerable families – disabled, low paid, those with children -  have  repeatedly faced cuts in much-needed help while the better off are the overwhelming beneficiaries of hugely expensive cuts to the personal tax allowance, which is  being mis-sold as a pro-poor policy.  This has been the case since 2010.
"Ministers must now consult on the next steps for welfare reform to ensure that the lowest income households  do not continue to subsidise gains for better off groups. 
"Originally Universal Credit had big poverty-fighting potential but again and again the Treasury went after it, degrading its capacity to help low earners.    The most recent Summer Budget cuts to work allowances  - the amount people can earn before their Universal Credit starts to be withdrawn - will make it harder for low income families to get better off by earning more, hitting the incomes of working families in much the same way as the now abandoned plans to cut the thresholds for tax credits.  Very soon, a rethink of Universal Credit cuts must be a priority."
Reuse content