David Cameron has set the date for a referendum on Britain's membership of the EU for 23 June.
The Prime Minister made the long-awaited announcement after meeting with minsters at Downing Street to discuss reforms he secured yesterday following two days of talks in Brussels.
Speaking outside the door of Number 10, he said the cabinet had agreed that the Government's official position would back an "in" vote.
"We are approaching one of the biggest decisions this country will face in our lifetimes," he added.
"The choice goes to the heart of the kind of country that we want to be and the kind of future we want for our children."
The Prime Minister said the task of reforming Europe continues but cited terrorism, intelligence, trade, freedom of movement and employment among the reasons to stay in the EU.
"I do not love Brussels, I love Britain...the question is - will be we safer, stronger and better off working together in a reformed Europe or out on our own?" he added.
"Leaving Europe would threaten our economic and national security."
Mr Cameron said the legal process securing the referendum would start on Monday and addressed the British people to say "whatever your decision, I will do my best to deliver it. The choice is in your hands."
What has the EU ever done for us?
What has the EU ever done for us?
1/7 1. It gives you freedom to live, work and retire anywhere in Europe

As a member of the EU, UK citizens benefit from freedom of movement across the continent. Considered one of the so-called four pillars of the European Union, this freedom allows all EU citizens to live, work and travel in other member states.

2/7 2. It sustains millions of jobs

A report by the Centre for Economics and Business Research, released in October 2015, suggested 3.1 million British jobs were linked to the UK's exports to the EU.

3/7 3. Your holiday is much easier - and safer

Freedom to travel is one of the most exercised benefits of EU membership, with Britons having made 31 million visits to the EU in 2014 alone. But a lot of the benefits of being an EU citizen are either taken for granted or go unnoticed.

4/7 4. It means you're less likely to get ripped off

Consumer protection is a key benefit of the EU's single market, and ensures members of the British public receive equal consumer rights when shopping anywhere in Europe.

5/7 5. It offers greater protection from terrorists, paedophiles, people traffickers and cyber-crime

Another example of a lesser-known advantage of EU membership is the benefit of cross-country coordination and cooperation in the fight against crime.

6/7 6. Our businesses depend on it

According to 71% of all members of the Confederation of British Influence (CBI), and 67 per cent of small and medium-sized enterprises (SMEs), the EU has had an overall positive impact on their business.

7/7 7. We have greater influence

Robin Niblett, Director of think-tank Chatham House, stated in a report published last year: "For a mid-sized country like the UK, which will never again be economically dominant either globally or regionally, and whose diplomatic and military resources are declining in relative terms, being a major player in a strong regional institution can offer a critical lever for international influence.
It was the first time the UK's cabinet has met on a Saturday since the Falklands War more than 30 years ago, showing the significance of the occasion.
Ministers are now free to publicly back the "leave" campaign and Michael Gove, Iain Duncan Smith and Chris Grayling are believed to be among those opposing the Government's official stance.
"I know there will be many passionate arguments over the months ahead and individual cabinet ministers will have the freedom to campaign in a personal capacity as they wish," Mr Cameron said this afternoon.
The Prime Minister personally vowed to campaign for Britain to stay in the 28-nation bloc "with all my heart and soul" after securing a package of changes with European leaders.
He said the reforms, which include curbs on EU workers' benefits, protections for non-euro nations and an opt-out from "ever closer union", cemented Britain's "special status" despite a series of compromises.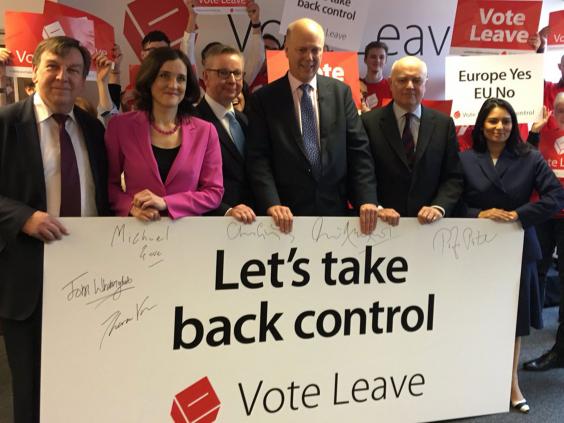 But Eurosceptics - including many within Mr Cameron's Conservative Party - dismissed the package as meaningless and said only withdrawal could restore sufficient powers to the country from Brussels.
Nigel Farage dismissed the "truly pathetic deal" and urged voters to seize the "golden opportunity" to vote for a Brexit, which is Ukip's foundational principle.
Jeremy Corbyn dismissed Mr Cameron's re-negotiation as a "sideshow" but confirmed Labour would be campaigning for an "in" vote.
"Despite the fanfare, the deal that David Cameron has made in Brussels on Britain's relationship with the EU is a sideshow, and the changes he has negotiated are largely irrelevant to the problems most British people face and the decision we must now make," he said.
"We will be campaigning to keep Britain in Europe in the coming referendum, regardless of David Cameron's tinkering, because it brings investment, jobs and protection for British workers and consumers."
Additional reporting by PA
Reuse content