HIV-positive activists have dumped half a ton of manure outside a Ukip office on World Aids Day, saying "what goes around comes around".
Members of the London-based Aids Coalition to Unleash Power (Act Up) said they wanted to show Nigel Farage what they thought of his recent statements suggesting people with Aids should be barred from entering the UK.
The Ukip leader later defended his assertion in a Newsweek interview that "quality" immigrants include "people who do not have HIV…that's a good start."
Mr Farage told BBC Radio 4's Today programme the UK's public services could not cope with extra demand created by people with severe medical conditions, claiming that the US and Australia had similar policies.
"We want people to come who have got trades and skills, but we don't want people who have got criminal records - and we can't afford people with life-threatening diseases," he said.
"I do not think people with life-threatening diseases should be treated by our National Health Service and that is an absolute essential condition for working out a proper immigration policy."
After dumping the manure outside the party's Croydon branch, Act Up activist Gary Hunter called Mr Farage's comments "bull****".
"The vile crap that Ukip keeps spreading stigmatises and ostracises people living with HIV, gay people and immigrants.
"We thought this steaming pile of muck was a great representation of what we, as HIV-positive people, think of Ukip's agenda."
The manure was decorated with a red Aids ribbon and a banner reading "what goes around comes around. Solidarity on World Aids Day. #UkipStinks"
Another Act Up activist, Dan Glass, said the US repealed its blanket ban on people with HIV entering the country, dating back to the panic in 1987, five years ago.
"The UK has never seriously considered it –we should be proud of that," he added.
"Ukip think they can spout filth without any consequences to them, but their lies directly impact millions by promoting stigma…if anything is making us miserable it's their fear-mongering and demonisation, which makes people afraid to get tested or discuss their status."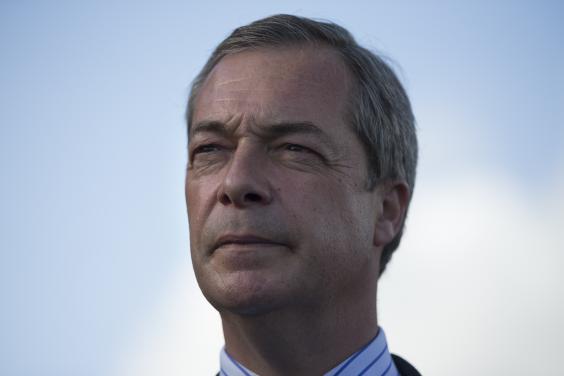 About 40 per cent of new HIV diagnoses in 2013 were of people born outside the UK, according to statistics by Public Health England.
The former deputy leader of Ukip, Lord Monckton, wrote an article last week claiming that gay men had "as many as 20,000" sexual partners in their "short, miserable lives".
In a column for The Independent, Mr Farage said there was "no place [in Ukip] for men like Monckton". The Glaswegian politician was kicked out in December 2013.
"Now, I'm not sure where Viscount Monckton is getting his statistics, but to frame these comments as he has is both deeply offensive and fundamentally wrong," he wrote.
"This sort of disruptive, crass and insensitive work serves to underscore why people with views such as these, openly mocking while seeming oddly threatened by homosexuals, should get no support from Ukippers."
In pictures: The rise of Ukip
In pictures: The rise of Ukip
1/8 1993: Alan Sked forms Ukip

History professor Alan Sked had been active in anti-EU politics for a while beore he founded Ukip in 1993. He resigned from the party after the 1997 election, concerned that it was attracting far-right members, and has been critical of Ukip since. Picture: Reuters

Reuters

2/8 2005: Kilroy defects

Former TV presenter Robert Kilroy-Silk founded Veritas in 2005, after a failed bid to become leader, and took many of Ukip's elected members with him. But the party slowly lost its popularity and didn't put forward any candidates in the last election. Picture: REUTERS/Kieran Doherty REUTERS KD/RUS

3/8 2010: Farage becomes leader, again

Farage had led Ukip from 2006 until 2009, when he stood down to fight against the Speaker, John Bercow, for his Buckingham seat. He failed to win the election and returned to lead the party in November 2010. Picture: REUTERS/Kieran Doherty

REUTERS/Kieran Doherty

4/8 2010: Ukip fights for election

Nigel Farage was injured in a plane crash on polling day in the 2010 general election, but his party increased its success in the votes. It fielded 572 candidates and took 3.1% of the vote, though failed to win any seats. REUTERS/Darren Staples

REUTERS/Darren Staples

5/8 2013: Eastleigh gains

Ukip's candidate Diane James got the highest ever number of votes for any candidate from the party, but was beaten by the Liberal Democrats. The surge in support gave Ukip confidence ahead of local and European elections later in the year. Picture: Reuters

6/8 2013: Bloom kicked out

Godfrey Bloom, who served as an Ukip MEP from 2004 to 2014, had the whip withdrawn in 2013 after sexist comments and an attack on a journalist. He sat as an independent MEP until 2014, when he ended his term in office. Picture: REUTERS/Luke MacGregor

7/8 2014: European election success

Ukip got a higher proportion of the vote than any other party in 2014's European elections, adding 11 new MEPs and taking its total to 24. REUTERS/Luke MacGregor

8/8 2014: Carswell defects

Douglas Carswell defected from Ukip at the end of August, and was followed by Mark Reckless at the end of September, who resigned from the Tories amid rumours of many more defections to come. Picture: REUTERS/Toby Melville
He went on to highlight the existence of an "LGBTQ in Ukip" Facebook page for gay Ukip supporters but did not mention his defence of Newark candidate Roger Helmer.
Mr Helmer provoked anger by saying people find homosexuality "distasteful if not viscerally repugnant" and claiming same-sex marriage paved the way to legalising incest.
"When Roger grew up and, indeed, when he was an adult, homosexuality was illegal in this country and he held that view for some period," Mr Farage said.
"Actually if we asked the 70s and over in this country how they felt about it, most of them still feel uncomfortable."
The Ukip leader has pointed to David Coburn, his party's openly gay MEP, as proof of its inclusivity.
"How many other parties have an MEP who describes himself as 'spectacularly homosexual' and a 'great big screaming poof'?" he wrote in an Independent column. "David Coburn MEP's words – not mine!"
Ukip has not yet responded to The Independent's request for a comment.
Reuse content