Charles Kennedy's 10-year-old son Donald watched from the viewing gallery with pride as MPs paid tribute to the former Liberal Democrat leader, who died aged 55 earlier this week.
The red-haired boy, who bears an uncanny resemblance to his father, grinned as David Cameron mentioned his name but appeared to fight back tears as MPs shared their memories of their ex-colleague.
The Prime Minister hailed Mr Kennedy for representing the "best that politics can be" and praised him for his principled stand against the Iraq War.
"Looking back it is easy to forget just what a stand that was, taking abuse from the major parties on both sides of the house and adopting a position that wasn't even supported by the previous leader of his own party."
Donald sat in the viewing gallery with his mother, Sarah Gurling, who was married to Mr Kennedy for seven years before the couple divorced in 2010.
Charles Kennedy - his political career in pictures
Charles Kennedy - his political career in pictures
1/18 1986

Charles Kennedy at the SDP conference in September 1986. He had become Britain's youngest MP three years earlier and the party later merged to become the Liberal Democrats.

Getty Images

2/18 1987

Charles Kennedy attends the Joint Liberal Assembly, October 1987.

Getty Images/Hulton Archive

3/18 1999

Charles Kennedy being congratulated by his girlfriend and future wife, Sarah Gurling, and mother Mary after being elected Lib Dem leader in 1999

PA

4/18 2001

Charles Kennedy greeting supporters at a rally before the 2001 general election, when he was the Lib Dem leader

Getty Images

5/18 2002

Mr Kennedy at his wedding to Sarah Gurling, outside the House of Commons in London. The couple divorced in 2010.

Getty Images

6/18 2003

Charles Kennedy speaks during a question and answer session at the Liberal Democrat Party annual conference in Brighton

Getty Images

7/18 2004

Charles Kennedy and his then wife arrive at the British Academy Television Awards in London

Getty Images

8/18 2005

Charles Kennedy unveiling a Lib Dem campaign poster ahead of the 2005 general election

Getty Images

9/18 2005

Charles Kennedy with his then wife Sarah and new born son Donald James on 12 April 2005. He returned to the election campaign trail days later

Getty Images

10/18 2005

Charles Kennedy celebrating the Lib Dems' gains after the 2005 general election, when the party won 62 seats

Getty Images

11/18 2006

Charles Kennedy admitted his drink problem and called a leadership election in January 2006

Getty Images

12/18 2006

Charles Kennedy is canvassing in Dunfermline for a by-election a month after his resignation as Lib Dem leader

Getty

13/18 2006

Sir Menzies Campbell, Lord Rennard and Simon Hughes give Charles Kennedy a standing ovation after his speech to the party conference in September 2006, his first since his resignation

Getty Images

14/18 2007

Charles Kennedy and his predecessor Paddy Ashdown congratulating Nick Clegg on his election as Lib Dem leader in December 2007

AFP/Getty Images

15/18 2010

Charles Kennedy with Nick Clegg on the campaign trail ahead of the 2010 general election

Getty Images

16/18 2011

Charles Kennedy launching the pro-AV campaign for the 2011 proportional representation referendum in Glasgow

Getty Images

17/18 2014

Charles Kennedy with Danny Alexander and fellow Lib Dems campaigning for a 'no' vote in the Scottish independence referendum in 2014

AFP/Getty Images

18/18 2015

Charles Kennedy campaigning with Jo Swinson in East Dunbartonshire in April ahead of the 2015 general election, where he lost his seat

Getty Images
Nick Clegg, who stood down as Lib Dem leader after last month's crushing election result, described Mr Kennedy as a "fully signed up member of the human race" in a touching tribute to his former colleague.
He added the former party leader was the "polar opposite of a cardboard cut-out, points-scoring party politician."
"Much though he was wedded to politics all his life, I think Charles would have wanted to be remembered as a kind and loving father, brother and son first; and an accomplished politician second," Mr Clegg said.
In a particularly emotional moment, Lib Dem leadership favourite Tim Farron looked up to Donald sitting in the gallery and said: "It's not what you have done, it is who you are. And Charles Kennedy was a very special man. Donald you should be really proud of your daddy, I am proud of your daddy, I loved him to bits. I am proud to call him my friend," he added, close to tears.
Labour MP Tom Watson also directed his tribute to Donald. "Your father was a very great man. He stood up for what he believed in," he said.
Angus Robertson, leader of the SNP's Westminster MPs, said that although he and his party was "delighted" to win Mr Kennedy's seat, they were also "genuinely saddened Charles Kennedy would no longer be in Parliament".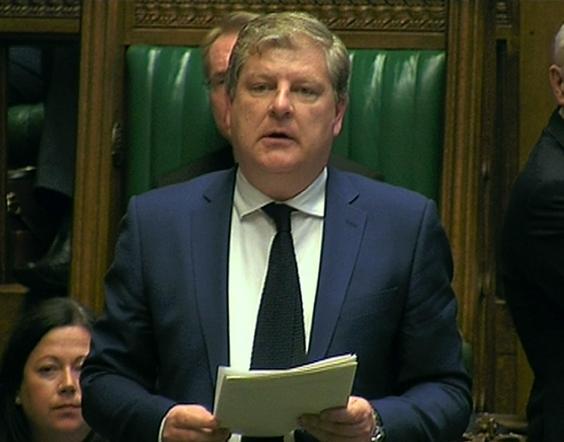 "People across politics will attest to the generosity of spirit that Charles Kennedy showed to people on all sides of the party divide."
"Charles Kennedy was a giant in Scottish and in UK politics," he added.
Speaker John Bercow paid tribute to his "rare ability to reach out to millions of people of all political persuasions".  He added: "In this seminal sense, therefore, Charles was the boy next door of British public life - we salute him.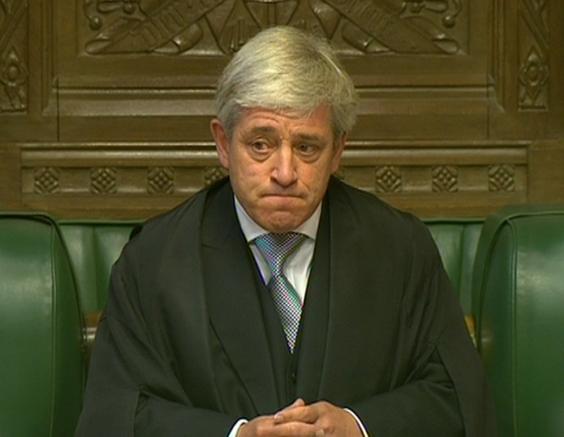 "He was a good talker but an even better listener," Mr Bercow said, blinking back a tear.
Reuse content