Alex Salmond has opened up a war of words with the BBC over its reporting on RBS's plans to move south of the border in the result of a 'Yes' vote. 
The First Minister demanded an official leak inquiry into whether the Treasury briefed the corporation about an RBS warning over Scottish independence.
The comments were made during a heated press conference after exchanged verbal blows with BBC News political editor Nick Robinson, who pressed him to answer a question about the tax consequences of the RBS move.
Salmond said Robinson had "heckled" him, and said he will be writing to the Cabinet Secretary, Sir Jeremy Heywood, to demand an investigation into the apparent leaking of "market-sensitive" information about RBS.
A statement from the bank, which has been based in Scotland since 1727, said that in the event of a 'Yes' vote, "it would be necessary to re-domicile the Bank's holding company and its primary rated operating entity to England."
Scottish Independence: For and against
Scottish Independence: For and against
1/23 Vivienne Westwood

YES: "I hate England. I like Scotland because somehow I think they are better than we are. They are more democratic."

Getty

2/23 Bob Geldof

NO: "This argument needs to be had among us all, you can't selfishly resolve it amongst yourselves by taking an easy opt-out clause."

Getty

3/23 Leonard Cohen

UNDECIDED: "People are trying to make their lives significant," he said. "[They] are engaged in a struggle for self-respect and significance."

Getty

4/23 James McAvoy

UNDECIDED: "If you vote for continued unification or independence there is no protest vote – that's it. And that could be it for decades, for centuries. There's no going back from it."

Getty

5/23 Bill Clinton

NO: "Unity with maximum self-determination sends a powerful message to a world torn by identity conflicts that it is possible to respect our differences while living and working together. This is the great challenge of our time. The Scots can show us how to meet it."

Getty

6/23 George Galloway

NO: "There will be havoc if you vote Yes in September. Havoc in Edinburgh and throughout the land and you will break the hearts of many others too… I know which side I'm on. I'm with JK Rowling. Just say No."

Getty

7/23 David Beckham

NO: "We want to let you know how very much we value our relationship and friendship. Of course regardless of your decision that will never change, however, my sincere hope is that you will vote to renew our historic bond which has been such a success over the centuries and the envy of the entire world. What unites us is much greater than what divides us. Let's stay together."

Getty

8/23 David Bowie

NO: "Scotland stay with us"

Rex Features

9/23 Eddie Izzard

NO: "You can be Scottish, you can be British and you can be European. We can have that. "I say have the parliament, have the more power, but be with us. Like David Bowie said, 'Stay with us Scotland' and I'm saying the same – don't go."

Getty

10/23 Frankie Boyle

YES: "It's an 'aye' (for Independence) from me, man."

Association of Online Publishers

11/23 Andy Murray

NO: "I started competing for Great Britain when I was 11. A lot of people forget that. I didn't like it when Salmond got the Scottish flag up at Wimbledon"

GETTY IMAGES

12/23 The Proclaimers

YES: 'Scotland has huge national resources, with its people, its wave power – all the possibilities that this country has...we need to take charge of our own affairs'

Gary Calton

13/23 Susan Boyle

NO: "I am a proud, patriotic Scot, passionate about my heritage and my country. But I am not a nationalist."

Rex Features

14/23 Chris Hoy

NO: "It will weaken the British team obviously if Scotland went separately, and it would be harder for the Scottish athletes, initially, to establish themselves in a new training environment, with new coaches, with a different environment altogether."

15/23 Alan Cumming

YES: "The evidence is clear - in the past 15 years we have become stronger economically, socially, culturally and globally. The world is waiting for us and I know Scotland is ready."

Kalpesh Lathigra

16/23 Emma Thompson

NO: "Why insist on building a new border between human beings in an ever-shrinking world where we are still struggling to live alongside each other?"

Carlo Allegri, Reuters

17/23 Billy Bragg

YES: Independence would "create a new settlement that puts people before profit. Those in England who believe that our own society needs to be rebalanced along similar lines should wake up and join the debate"

Getty Images

18/23 Marcus Brigstocke

NO: "If Scotland go their own way (based on fingers crossed, f**k the Tories, William Wallace bollocks it'll be a damn shame. Still wish 'em well"

19/23 Rod Stewart

NO: "I'd hate to see the union broken after all these years. It's always been a spiritual home - but as I don't live there I shouldn't comment on independence. If it's good for the Scots I'm happy."

PA

20/23 Sean Connery

YES: "As a Scot and as someone with a lifelong love for both Scotland and the arts, I believe the opportunity of independence is too good to miss"

Rex Features

21/23 Al Kennedy

NO: "Salmond has the warm potato head of a man who is Scottish and – we hope – no threat"

Rex Features

22/23 Annie Lennox

YES: "There is an opportunity for something innovative and visionary. Scotland could have some kind of new, ethical, visionary stance and it could take on some fresh ideas. That could be amazing, really amazing."

Getty Images

23/23 Morrissey

YES: "They must cut ties with the United King-dumb. I love Scotland, and I love the Scottish spirit and they do not need Westminster in the least."

Getty Images
It added that the decision would have no impact on everyday banking services, and intends to continue to employ a significant level of its operations and employment in Scotland.
Speaking at a press conference for international journalists in Edinburgh, Mr Salmond said: "A Treasury source told the BBC that it had discussed the plans with RBS.
"The Treasury, officials or ministers, are not allowed to brief market-sensitive information.
"Market-sensitive information, and it's a basic rule, cannot be released prior to the market announcement at 7am this morning.
"RBS share price changed overnight. This is a matter of extraordinary gravity.
"I've always respected, and I will continue to respect, the journalistic right to maintain and protect sources.
"But I know that the BBC will want to co-operate with the inevitable investigation by the Cabinet Secretary to the briefing of this information, given that the briefing of information - even if we weren't in a referendum campaign, even if there weren't purdah rules which are meant to apply to government - the briefing of market information is as serious a matter as you can possibly get."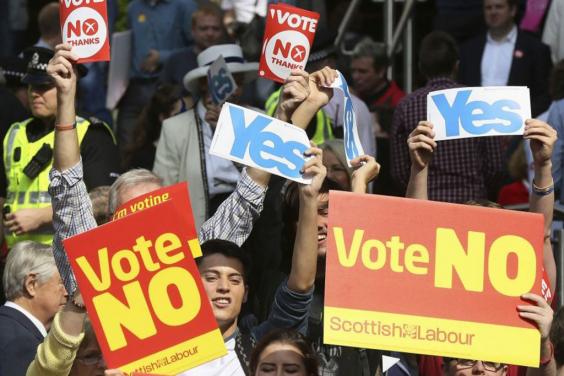 The developments followed comments earlier from the chief of John Lewis, who hinted that a "Yes vote" could lead to higher supermarket prices.
Sir Charlie Mayfield, chairman of the partnership that owns Waitrose, said that it costs more to deliver goods to parts of Scotland than it does further south, and if Scotland and England became separate countries, retailers would consider making their customers bear the extra costs.
"From a business perspective there will be economic consequences to a Yes vote," he told BBC Radio 4's Today programme. "For various reasons - regulation and transport costs etc - it does currently cost more money to serve parts of Scotland. Most retailers don't run different prices, they absorb that in the totality.
"If you go forward several years and you see a divergence of different things - particularly currency - that creates the likelihood, not the certainty, that costs would be higher.
His comments were dismissed by the Scottish finance secretary John Swinney: "Charlie Mayfield is entitled to his opinion. I think the argument is one that is firmly contested by other retailers who do not take the view that has been expressed this morning by Charlie Mayfield".
The announcement comes after a new opinion poll on Scottish Independence found that the no vote has regained momentum with 53 per cent of voters backing the Better Together campaign.
The Survation poll for the Daily Record gave the pro-UK campaign a six point gap over yes.
Earlier this week surveys suggested the race was neck and neck, but the latest figures suggest that the sudden surge in backing for independence has subsided.
Reuse content