The historic referendum vote was marred by isolated reports of intimidation, abuse and violence as nearly four million Scots cast their verdict on independence.
Police were posted outside polling stations in areas suspected of being flash-points between the two sides. One polling station was sprayed with graffiti, police made two arrests and there were instances of pro-Union billboards being vandalised.
In Dumbarton, where Gordon Brown and the local MSP Jackie Baillie spoke this week, a polling station was vandalised overnight with the graffiti: "Vote yes - or else". The same venue had another message on the wall reading: "No voters will be shot."
Pictures of the graffiti, at Jamestown Parish Church in west Dunbartonshire, were rapidly painted over. Ms Baillie said it was proof of "absolutely disgusting intimidation by Yes".
Shocking behaviour from yes campaigners. Should not be trying to threaten and intimidate #voteno #indyref pic.twitter.com/L7zhP5rDFc

— Jackie Baillie (@jackiebmsp) September 18, 2014
In Clydebank, one Yes supporter, aged 44, was arrested by police after allegedly assaulting a man he believed would be voting No. He is due to appear at Dumbarton Sheriff Court this morning.
In Hamilton, a councillor arguing for a No vote was abused by a passer-by and then chased through a shopping centre. Monica Lennon said: "It's really, really intimidating. For someone in politics, your tolerance level tends to be a bit higher than ordinary members of the public, but a line was crossed."
Marie Rimmer, the former leader of St Helens council in Merseyside, who was campaigning for a No vote, was arrested and charged with assault over an incident at a polling station in Shettleston, Glasgow. She is now the Labour candidate for the Parliamentary seat of St Helens South and Whiston.
Scottish independence: What will happen to key British institutions?
Scottish independence: What will happen to key British institutions?
1/7 The 2015 General Election

If it votes for independence, Scotland won't leave the union until 2016 meaning, under current arrangements, that if Scots decide to go it alone they will still vote in the 2015 general election. The possibility of Scotland swinging the vote in favour of the government with which it will negotiate their independence has led some to call for the elections to be delayed. Downing Street has said, however, that it has no plans to postpone the election despite claims a yes vote could lead to a constitutional crisis.

AFP

2/7 The NHS

Alex Salmond has said a Yes vote in the referendum is the only way to save Scotland's National Health Service. This claim was undermined, however, yesterday when research published by the Institute for Fiscal Studies determined that Scotland's devolved government spent less in real terms on its health service than England. Despite this, the splitting up of the NHS would be more straightforward than other institutions, as it is already managed from Holyrood.

Getty Images

3/7 The BBC

The Licence fee in Scotland currently raises around £230m which the Yes campaign says it would use, along with the assets of BBC Scotland, to create a Scottish Broadcasting Service or SBS. It says the SBS would continue to provide original content to the BBC and Scotland would receive access to all current programming, including BBC1, BBC2 and national radio stations. The government has said since February that an independent Scotland would lose any automatic rights to BBC programming.

4/7 The Pound

The No Campaign is hoping that doubts over whether or not Scotland will be able to keep the pound will sway the referendum in its favour. George Osborne has said that the UK will not let Scotland keep the pound if it votes to leave the union and the leader of the Better Together coalition, former Chancellor Alistair Darling, has called the Yes campaign's suggestion that it keep the currency "mad". Alex Salmond has claimed repeatedly that Scotland will be able to retain the pound and has said speculation to the contrary is little more than fear mongering.

Getty

5/7 The Army

Britain's involvement in the Iraq war and the stationing of the Trident Nuclear fleet north of the border are unpopular in Scotland. The Scottish Nationalists have railed against the war saying they would scrap Trident and create a new Scottish defence force based on existing Scottish regiments.

6/7 The Royal Family

Scotland would keep the Queen as a head of state under current plans proposed by the Yes campaign, as Elizabeth Queen of Scots.  It would also remain part of the Commonwealth. However a second referendum could be held to determine what form a new Scottish state would take.

Getty Images

7/7 Sport

Scotland's Rugby and Football teams would remain as they are if Scotland voted to leave the UK but the British and Irish Lions could be forced into a name change. What would happen to the British Olympic Association also remains up for debate. Scotland's most successful Olympian Sir Chris Hoy has said he is wary of independence because of the number of Scottish athletes living and training in England and what their status would be.

Getty Images
Mark Ferguson, the editor of LabourList, said he had been spat at while campaigning in Leith, north Edinburgh.
Mr Ferguson said: "This is indicative of the febrile mood here. My only "crime" was to be stood outside the Better Together office. I wasn't wearing a badge, holding a leaflet or even campaigning (not that any of these activities would have justified being spat at either). This is the kind of intimidation and vile aggression that's on show from some people today."
After announcing his backing for the Yes campaign, the Wimbledon champion Andy Murray was subjected to internet abuse. One troll said he wished the tennis star "had been killed at Dunblane". Police said it was monitoring threatening language on social media.
Police are also on stand-by for trouble tonight after the result is declared, particularly if the outcome is settled by a narrow margin.
Business leaders and organisations representing Scotland's commercial sector have also reported threats and intimidation in recent weeks after 133 business executives signed a pro-Union petition.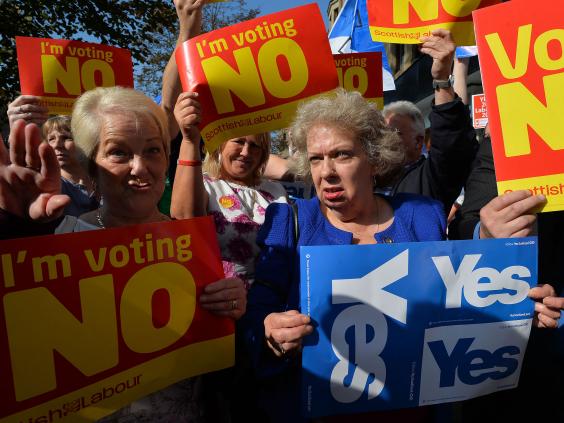 A prominent businessman, Charles Ritchie, the founder of the Score Group, said that his family and employees had suffered months of abuse and intimidation from Yes supporters.
"The sinister intimidation started on 24 June, which was when the first of a number of hoax bomb calls began and hoax letter bombs were delivered to me," he told the Scottish Research Society.
"These led to his obvious concern for family and employees, especially when my grandson and nephew were followed and threatened"
He said: There has been constant destruction and defacing of No campaign posters and signs by my offices in Peterhead and Fraserburgh, which I and my employees witnessed  being carried out by balaclava wearing activists."
A survey this week found almost half the people who planned to vote No said they had felt "personally threatened" by the Yes campaign. The online survey by YouGov for Buzzfeed found 46 per cent of No supporters felt personally threatened during the referendum, compared with 24 per cent of Yes supporters.