There can be fewer more potent symbols of Britain's imperial pomp than the troops of the Coldstream Guards in their scarlet tunics.
Cross the Tweed from Northumbria into Scotland and you will arrive at the home of the fabled regiment – part of the original New Model Army which went on to serve with distinction from Waterloo to Helmand Province.
Perhaps it is the military connection or maybe it is the practicalities of life on a historic and much fought-over frontier but support for independence appears decidedly lukewarm in this rich farmland with its patchwork of ploughed fields, mossy bridges and stone houses.
Proud To Be Scots Vote No says a giant banner next to the Old Marriage House which once hosted runaway couples from England seeking hasty nuptials.
There is much uncertainty here. "Is the border at Lamberton about to become an international frontier?" ponders the latest edition of the Berwickshire News.
Trevor Brunning, 50, a former mounted gunner in the Royal Horse Artillery who now runs the vintage military surplus shop Walk This Way Surplus, has lived in Scotland for the past 11 years.
Scottish independence: What will happen to key British institutions?
Scottish independence: What will happen to key British institutions?
1/7 The 2015 General Election

If it votes for independence, Scotland won't leave the union until 2016 meaning, under current arrangements, that if Scots decide to go it alone they will still vote in the 2015 general election. The possibility of Scotland swinging the vote in favour of the government with which it will negotiate their independence has led some to call for the elections to be delayed. Downing Street has said, however, that it has no plans to postpone the election despite claims a yes vote could lead to a constitutional crisis.

AFP

2/7 The NHS

Alex Salmond has said a Yes vote in the referendum is the only way to save Scotland's National Health Service. This claim was undermined, however, yesterday when research published by the Institute for Fiscal Studies determined that Scotland's devolved government spent less in real terms on its health service than England. Despite this, the splitting up of the NHS would be more straightforward than other institutions, as it is already managed from Holyrood.

Getty Images

3/7 The BBC

The Licence fee in Scotland currently raises around £230m which the Yes campaign says it would use, along with the assets of BBC Scotland, to create a Scottish Broadcasting Service or SBS. It says the SBS would continue to provide original content to the BBC and Scotland would receive access to all current programming, including BBC1, BBC2 and national radio stations. The government has said since February that an independent Scotland would lose any automatic rights to BBC programming.

4/7 The Pound

The No Campaign is hoping that doubts over whether or not Scotland will be able to keep the pound will sway the referendum in its favour. George Osborne has said that the UK will not let Scotland keep the pound if it votes to leave the union and the leader of the Better Together coalition, former Chancellor Alistair Darling, has called the Yes campaign's suggestion that it keep the currency "mad". Alex Salmond has claimed repeatedly that Scotland will be able to retain the pound and has said speculation to the contrary is little more than fear mongering.

Getty

5/7 The Army

Britain's involvement in the Iraq war and the stationing of the Trident Nuclear fleet north of the border are unpopular in Scotland. The Scottish Nationalists have railed against the war saying they would scrap Trident and create a new Scottish defence force based on existing Scottish regiments.

6/7 The Royal Family

Scotland would keep the Queen as a head of state under current plans proposed by the Yes campaign, as Elizabeth Queen of Scots.  It would also remain part of the Commonwealth. However a second referendum could be held to determine what form a new Scottish state would take.

Getty Images

7/7 Sport

Scotland's Rugby and Football teams would remain as they are if Scotland voted to leave the UK but the British and Irish Lions could be forced into a name change. What would happen to the British Olympic Association also remains up for debate. Scotland's most successful Olympian Sir Chris Hoy has said he is wary of independence because of the number of Scottish athletes living and training in England and what their status would be.

Getty Images
"Most small businesses don't want to go into something without knowing what's going to happen. I was willing to listen to what was being said but whenever Alex Salmond was questioned by people who move in larger circles than me the answers were not forthcoming.
"It is a big gamble and regardless of politics it is a great shame to split up the union after 300 years. Military men have walked out under the same flag for centuries. We need more unity. This country is famous for what we achieved together not apart," he added.
Local Conservative John Lamont MSP is unloading his shopping from his car emblazoned with No stickers. His constituency stretches from Eyemouth on the North Sea coast to Newcastleton near Carlisle.
"The border is a very artificial concept for us here. Our community straddles both sides but a Yes vote could make that a real and very tangible barrier," he said.
"From a practical perspective businesses which operate across borders do not want to contend with two different tax regimes, two different health and safety systems or two different payrolls," he added.

Mr Lamont said he had canvassed 2,000-3,000 doors in recent weeks and there appeared to be strong support for the union – although they all needed to make their opinion heard to ensure victory despite a recent poll by ITV Border which put the No campaign at 68 per cent.
People were concerned about the impact independence would have on cross-border health arrangements with many Scots currently nipping into England for treatment.
"The interesting thing with the polls getting closer is that it has become very clear that if you want a No vote you will have to vote No. You can't afford the luxury of not voting or voting Yes as a protest against politicians. But despite my concerns about the outcome the really positive thing has been the extraordinary level of engagement so far," he said.
Many people split their lives between the two countries. Lee Borthwick, 33, a mobile tattooist from Kelso, was returning from Alnwick where he had been visiting his son. "If they do win and get independence I think you will give them a year or two then they will want to come back and join the union," he said.
In Berwick on the English side of the border there is also concern. Stephen Hope, 33, runs the The Sporran gift shop. Born in Edinburgh, he was brought up in England, although he still supports his birth country when they play his adopted home at football.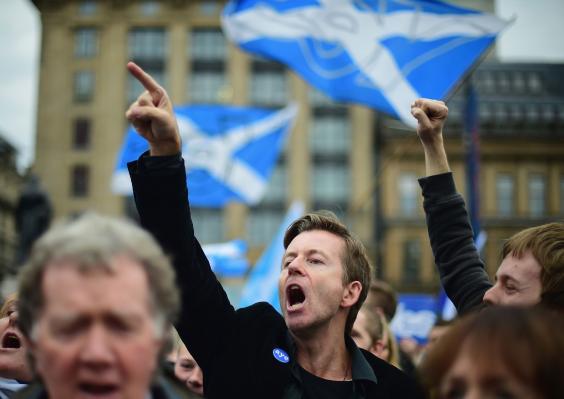 "Maybe there is a bit of resentment over the years," he said. "But if I was getting a vote it would be No but that is because I grew up over the Border. Independence could hurt. There are a lot of people who come down on holiday. If a border went up that could really affect the tourist trade," he said.
Cathie Tinn, 52, was out shopping in Berwick. She is English but lives three miles across the border in Scotland. "I just don't believe Scotland has enough money to do things like the health service, the police or its own armed forces. He hasn't even thought about the currency. I think in the Borders there are a lot more people worried about what is going to happen," she said.
John Marshall, 68, known as the Flowerman for his trademark floral dress, has been selling "anything that is legal" at Berwick market for nearly six decades including half price Jimmy Wigs. He said many were confused over whether they might one day need a passport to cross between Scotland and England.
"I have listened to the debates. There is a minority of people pushing for power and money. Their politicians are as cynical as ours – especially when they stoop to giving 16-year-olds the vote. They are clearly up to something," he said
"We say here that he is called Salmond and she is called Sturgeon – there has got to be something fishy going on."