Nicola Sturgeon has made little secret of her desire to be Scotland's first female leader. Now she has her chance.
As it emerged in the early hours of Friday that her political backyard of Glasgow was one of the few regions to vote Yes, her smiling demeanour stood in stark contrast to the gloomy countenance of her boss Alex Salmond, who saw his seat of Aberdeenshire vote in favour of the Union.
Now Mr Salmond has fallen on his sword, his deputy is the clear frontrunner to replace him both as SNP leader and First Minister.
The Borgen-loving former Health Secretary has provided a potent antidote to her long-time boss' toxicity among female voters, helping champion issues such as childcare and softening the edges of the Braveheart rhetoric emanating from some elements of the independence camp.
She has also been extraordinarily loyal to Salmond over the years.
Having stood aside in 2004 to allow him to win the nationalist helm, he appointed his long-standing deputy to the crucial role of masterminding the SNP's Yes campaign, which she combined with the high-profile government brief on infrastructure and development.
In pictures: Alex Salmond's campaign for Scottish independence
In pictures: Alex Salmond's campaign for Scottish independence
1/9 The campaign for independence

Alex Salmond stepped down as Scotland's First Minister and the leader of the SNP after the country voted no to independence

Getty Images

2/9 The campaign for independence

Alex Salmond said he accepted 'the democratic verdict of the people'

PA

3/9 The campaign for independence

First Minister of Scotland Alex Salmond chats to school children at Strichen Primary School in Strichen

PA

4/9 The campaign for independence

Scotland's First Minister Alex Salmond delivers his final independence speech to supporters in Perth

EPA

5/9 The campaign for independence

On the last day of campaigning before the polling booths open, the SNP leader has written to voters in a final attempt to convince them to vote for independence

Getty

6/9 The campaign for independence

It was decided to give Alex Salmond, free of charge and for nothing, an extra year in government

AFP

7/9 The campaign for independence

Alex Salmond and Alistair Darling taking part in a live television debate in Glasgow on 25 August

Getty Images

8/9 The campaign for independence

Alex Salmond during the live television debate with Alistair Darling at the Royal Conservatoire of Scotland on 5 August in Glasgow

Getty

9/9 The campaign for independence

Scottish First Minister Alex Salmond presents the White Paper for Scottish independence

Getty Images
Her performance over recent months – notwithstanding a bad-tempered TV spat with Labour leader Johann Lamont – will have done little to harm her long-term prospects of leading the party she joined aged 16.
It will also guarantee her a seat at the top table in what are likely to be hard-fought devolution negotiations with Westminster.
A fierce opponent of nuclear weapons, Sturgeon, 44, whose grandmother was English, was inspired into politics after witnessing at first hand the deindustrialisation of the Scottish heartlands during the Thatcher years.
Irvine, the North Ayrshire town where she grew up in a terraced house, is one of the unemployment black spots immortalised in The Proclaimers' 1987 left-wing anthem "Letter From America", one of Sturgeon's favourite songs.
In the election of that year, the first in which she campaigned, the Tories were reduced to just 10 out of 72 Scottish seats. It engendered a sense of disempowerment which continues to inform her passionate support for independence.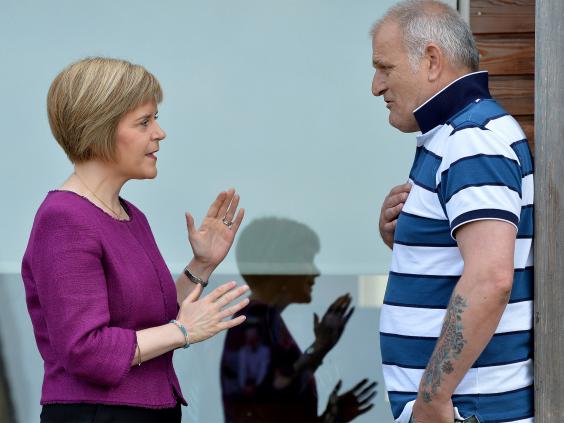 Sturgeon went on to study law at Glasgow University, working as a solicitor in the city before embarking on the political career. She was eventually elected to the Scottish Parliament in 1999.
In 2004 she announced her intention to stand for the party leadership but facing possible defeat withdrew from the race, instead running on a joint ticket with Salmond who was then a Westminster MP.
In his absence, she led the party in the Scottish Parliament proving a vociferous opponent of Labour leader Jack McConnell but again made way for her boss on his return at the 2007 Holyrood election in which the SNP secured minority control.
"I don't like politicians saying they have no ambition to be leader when you know they're fibbing through their teeth," she has said.