Chorlton in Manchester is the most robbed area in the UK, while over half of the top 20 burglary hotspots are in London, new research has revealed.
Based on insurance claim figures, houses in the suburban M21 postcode are most likely to have been hit with 45.2 claims made for burglary per 1000 people.
SE24, which covers Herne Hill and Tulse Hill in south London came in a close second place with 41.8, with upmarket Muswell Hill, in the north of the capital, taking third with 40.9 per 1000.
The figures came from analysis of 3.1 million home insurance quote requests submitted to website MoneySupermarket over the course of the last year. Those looking for home insurance are required to say if they have previously made a claim for burglary. 
As well as Manchester and London, areas of Liverpool and Birmingham feature prominently on the list.
Britain's top 10 burglary hotspots
Britain's top 10 burglary hotspots
1/10 1. M21 - Chorlton-cum-Hardy; Barlow Moor, Manchester, 45.2

An image of Chorlton, this Manchester suburb topped the list of the most burgled places in the UK, beating off parts of London including Herne Hill and Muswell Hill.

2/10 2. SE24 - Herne Hill; Tulse Hill (part), London, 41.8

Herne Hill after it was flooded last year. Coming in second place, this South London postcode is located near Brixton, Camberwell and Dulwich. It is home to the Herne Hill Velodrome, one of the oldest cycling tracks in the world.

Getty Images

3/10 3. N10 - Muswell Hill, London, 40.9

A picturesque shot of Muswell Hill, however, the area was in the top 3 most burgled places in the UK. This London suburb is in the borough of Haringey with Alexandra Palace nearby.

4/10 4. RM8 - Dagenham; Becontree; Becontree Heath, London, 35.9

A shot from the streets of Becontree and was built during the interwar period. It has one of the largest council estates in the world.

5/10 5. N2 - East Finchley; Fortis Green; Hampstead Garden Suburb (part), London, 34.5

A street in East Finchley. The area varies from multi-million pound houses to tower blocks.

6/10 6. L18 - Allerton; Mossley Hill, Liverpool, 33.3

A suburban street in Mossley Hill in Liverpool. The area's claim to fame is the Beatles' hit song 'Penny Lane'.

7/10 7. L22 - Waterloo, Liverpool, 32.6

The Waterloo Warehouse and City Lofts in Liverpool, alongside East Waterloo Dock. It is best known for its station, while its residential district is made of of Edwardian and Victorian villas and terraces.

8/10 8. N18 - Upper Edmonton; Edmonton (part), London, 32.3

Angel Road in Edmonton at dusk with Edmonton gasworks on the horizon. Sitting in the borough of Enfield with a diverse population.

9/10 9. UB6 - Greenford; Perivale, London, 30.9

Western Avenue houses, near South Greenford Station. One of the most famous landmarks in this West London suburb is the A40.

10/10 10. SE27 - West Norwood; Gipsy Hill (part), London, 30.5

The Gipsy Queen Public House in West Norwood. This postcode is near Crystal Palace and Dulwich and is mainly a residential district.
The Leeds postcode of LS13, which topped last year's list with 34.8 claims every 1,000 enquiries dropped off the list this year. LS16 did however make the list with 27.6.
Kevin Pratt from MoneySupermarket said: "Just because somewhere is named a claim hotspot, it doesn't actually mean the area in question is not a nice place to live.
"Thieves often target areas with wealthy residents and desirable properties where the rewards are potentially greater or quieter areas where they think there is less risk of being caught red-handed."
Jim Maddan, Chairman for the Neighbourhood and Home Watch Network for England and Wales, said: "The majority of burglaries are opportunistic and criminals will often simply choose the easiest-looking target.
"Something as simple as being on speaking terms with your neighbours and passing the time of day could mean that they notice when something is wrong – or it might be you who notices something is amiss and saves your neighbour from misfortune."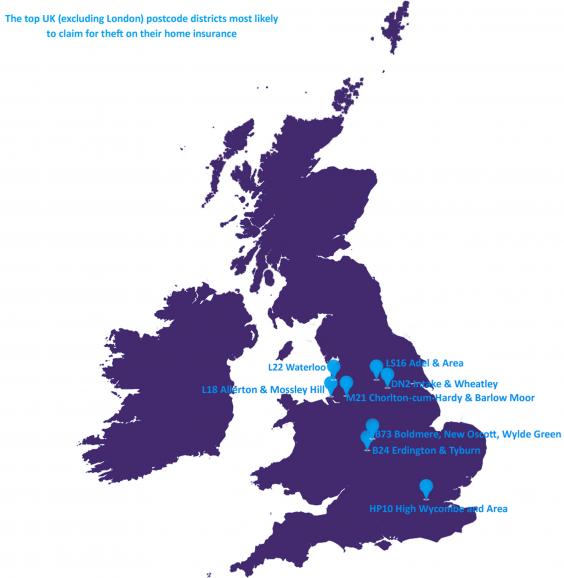 Here's the full list of the top 20 burglary hotspots by postcode in the UK, according to the number of previous claims made per thousand people:
1. M21 - Chorlton-cum-Hardy; Barlow Moor, Manchester, 45.2
2. SE24 - Herne Hill; Tulse Hill (part), London, 41.8
3. N10 - Muswell Hill, London, 40.9
4. RM8 - Dagenham; Becontree; Becontree Heath, London, 35.9
5. N2 - East Finchley; Fortis Green; Hampstead Garden Suburb (part), London, 34.5
6. L18 - Allerton; Mossley Hill, Liverpool, 33.3
7. L22 - Waterloo, Liverpool, 32.6
8. N18 - Upper Edmonton; Edmonton (part), London, 32.3
9. UB6 - Greenford; Perivale, London, 30.9
10. SE27 - West Norwood; Gipsy Hill (part), London, 30.5
11. B73 - Boldmere; New Oscott; Wylde Green, Birmingham, 29.5
12. E8 - Hackney Central; Dalston; London Fields, London, 29.4
13. DN2 - Intake; Wheatley; Wheatley Hills, Doncaster, 28.7
14. N20 - Whetstone; Totteridge; Oakleigh Park, London, 28.0
15. E9 - Homerton; Hackney Wick; South Hackney; Hackney Marshes; Victoria Park, London, 27.8
16. N11 - New Southgate; Friern Barnet; Bounds Green; Arnos Grove (part), London, 27.7
17. N16 - Stoke Newington; Stamford Hill (part); Shacklewell; Dalston (part); Newington Green (part), London, 27.7
18. LS16 - Adel, Bramhope; Cookridge; Eccup; Far Headingley; Holt Park; Ireland Wood; Lawnswood; Moor Grange; Tinshill; Weetwood; West Park, Leeds, 27.6
19. B24 - Erdington; Tyburn, Birmingham, 27.6
20. HP10 - High Wycombe; Flackwell Heath; Handy Cross; Hedsor; Loudwater; Penn; Tylers Green; Wooburn; Wooburn Green; Wooburn Moor, Buckinghamshire, 27.3
Reuse content