A man has died in Devon after his car collided with an overturned lorry which was affected by severe winter weather conditions.
The accident took place on the A39 near Bideford, Devon, shortly before 7am this morning.
Police reported that the red Volvo lorry had overturned, shedding its load of logs across the carriageway, and paramedics treated the driver at the scene, before taking him to hospital with life threatening injuries.
The 57-year-old died later in hospital.
Severe weather warnings were in place for parts of the UK today, with  snow and gales forecast to sweep across the country.
Cumbria Police said it had received up to 40 reports of road collisions across the county in the past 24 hours, with a danger of continuing "icy conditions", and even Cheltenham Race Course was affected by snow.
In Northern Scotland and the Western Isles more than 70 Red Cross volunteers were called out to help come to the aid of those hit by storm power cuts, The Daily Mirror reported.
The volunteers have been carrying out welfare checks on those identified as 'vulnerable' by energy providers, and have been distributing hot food and drinks, bottles of water and gas heaters. They have also been helping to run reception and drop-in centres on Skye and the Black Isle and in Thurso and Dornoch.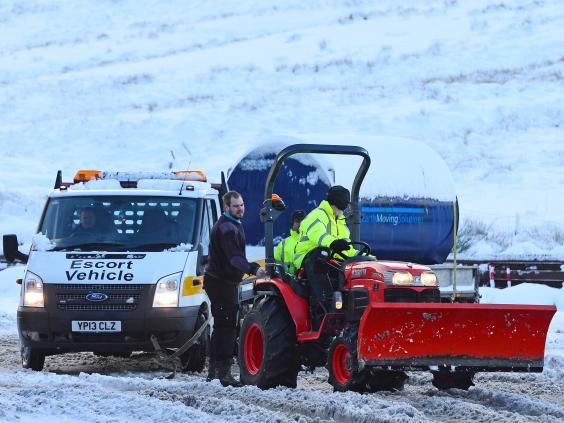 Anne Eadie, co-ordinating the Red Cross emergency response, said that the organisation's biggest concern was in making sure that those identified as vulnerable due to age, infirmity or disability were "able to withstand this crisis safely", after the bad weather brought down power lines and cut off water supplies.
It came as forecasters warned that a deep Atlantic cyclone is heading towards Britain and is expected to pass to the north of the Outer Hebrides early tomorrow morning, en route towards the North Sea.
Up to 40mm of rain could fall in Wales, parts of Cumbria and Scotland, with gales in the west and heavy rain sweeping towards the east, according to latest reports.
"We are looking at gusts of 50 to 65mph through most of the day - perhaps up to 70mph on exposed coasts and hills particularly in the south and west," Met Office spokesman Dan Williams said.
"A weather warning is in force until midnight for the whole of England and Wales and and there could be disruption to power supplies and transport in general."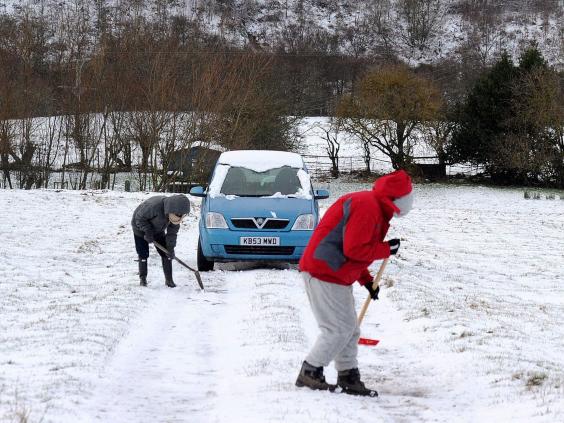 The Met Office had issued an amber warning – meaning "be prepared" – for central and southern Scotland until 10am this morning, before downgrading it to yellow to join the rest of the country in being told to "be aware" of adverse weather conditions from today until midnight tomorrow.  
The most severe warnings covered Strathclyde, Central, Tayside, Fife, South West Scotland, Lothian and Borders, with forecasters warning of "disruptive snowfall" that could affect the whole of Scotland.
The Met Office said that two persistent spells of snow could affect "busy travel periods", and warned of severe gales of up to 75mph across the UK on Wednesday afternoon and Thursday from "Storm Rachel", which has been increasing in intensity while sweeping in from the US.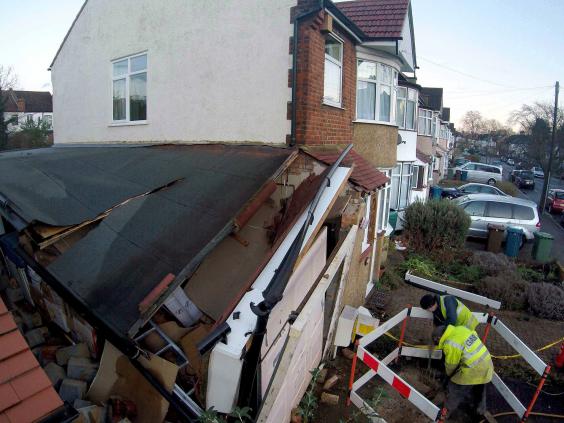 Heavy snow was reported in Birmingham, and a mini tornado damaged 24 homes in Pembrokeshire at around 7pm last night, causing sections of roof to be ripped off. Two people were taken to hospital with shock.
Two homes were also damaged in Wales by lightning in the early hours of this morning. The strike left a hole in the roof of the homes in the Vale of Glamorgan, the BBC reported, and a man had to be given oxygen after his home filled with smoke.
And in Wattstown, Rhondda, a bus-load of schoolchildren had a lucky escape when their vehicle skidded on an icy hill and came to rest on the pavement.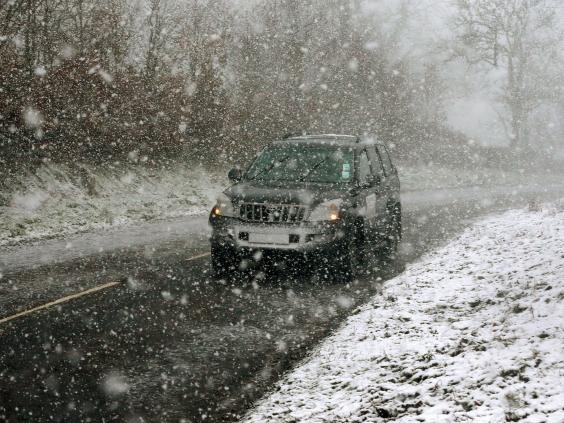 "The public should be prepared for the risk of disruption and difficult driving conditions," the Met Office said, as several roads in northern Scotland were closed, while a lorry jackknifed on the A9 south of Newtonmore.
Parts of London and the South East, north-east England, north-west England, Northern Ireland, and the West Midlands have been alerted to the possibility of snow, rain and ice, with the high ground of Wales, the moors of south-west England, the Mendips and Cotswolds "at greatest risk" of snow.
Forecasters say snowfall of up to three inches could blanket higher towns and cities over 100 metres above sea level.
UK weather warnings
UK weather warnings
1/7 Winter weather

Two seafront walkers dodge an icy wave at Saltcoats Harbour in Saltcoats, Scotland on December 27, 2013. A yellow 'be aware' warning has been issued for many parts of Scotland as the country is affected by gale force winds and heavy rain

Jeff J Mitchell/Getty Images

2/7 Winter weather

A woman wraps up warm to fight the cold in London in 2013. A mixture of hail, snow, sleet and heavy showers is expected in Scotland and northwest England, the West Midlands and Northern Ireland

Getty

3/7 Winter weather

A motorcyclist tries to right his bike on the slippery road surface in London in 2004. The emergency services are advising motorists to be vigilant

Getty

4/7 Winter weather

A man is bombarded by sleet and hail on the Brighton seafront in 2013. The south of England is however expected to escape the brunt of the incoming bad weather

Getty

5/7 Winter weather

A woman wraps up against the wind and a blizzard of sea foam whipped up by the wind near Trearddur Bay in Anglesey, 2013. This year it is to be areas in south west of Wales that will see more "wintry" weather

Getty Images

6/7 Winter weather

Snow covers trees in the Parade Gardens in Bath last year. Heavy snow may bring widespread disruption to many parts of the UK

7/7 Winter weather

Snow and ice make getting around by vehicle difficult in the Yorkshire Dales in 2012. The tops of the moors will see more "wintry" weather on Monday night

John Giles/PA Wire
"A lower risk exists across south-east England early on Wednesday morning," the Met Office added. "Icy stretches will also form on untreated surfaces."
Gale force 10 winds will affect many places from mid afternoon, and up to 1.5 inches of rain is predicted. Forecasters have also warned that up to 2.3 inches of rain could cause floods on higher ground in the West.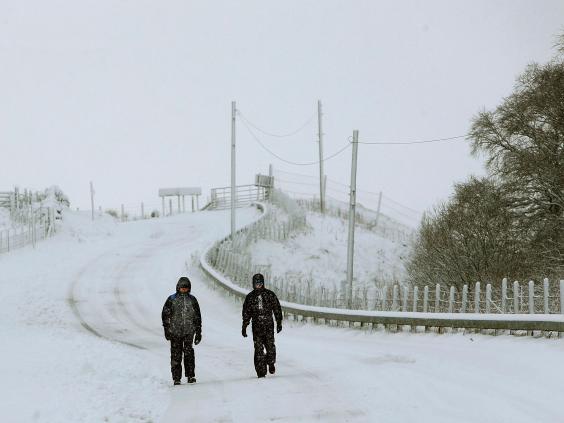 More than 40 schools have been closed in the Highlands and Moray, more than 20 closed in Northern Ireland and 16 in mid-Wales.
On Tuesday, blizzards also caused a number of school closures in the Highlands, and more than 140,000 homes were left without power in north Scotland following storms over the weekend.
SSE's Scottish Hydro Electric Power Distribution said it was on "high alert" in anticipation of further power outages, and BT reported that repair efforts to restore telephone lines were being hampered by fallen trees, ferry cancellations and traffic restrictions.
In Dundee, a six-vehicle crash saw a car slide off the road and crash through railings into the wall of a property, and a lorry jackknifed near Carrbridge on the A9.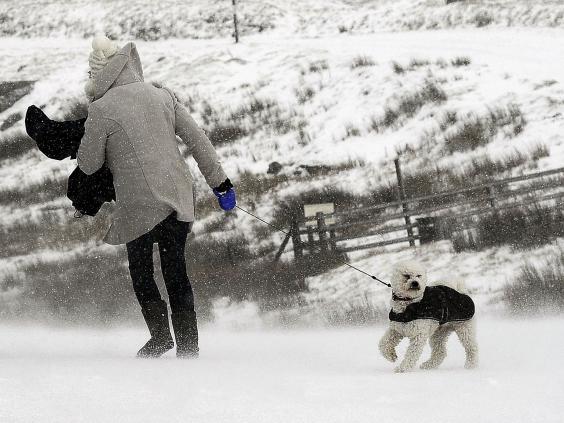 The weather has also caused widespread travel disruption, with a number of rail services suspended.
ScotRail reported a loss of services on some West Coast routes from 12pm on Wednesday until 6pm on Thursday, and no trains will run from Dumbarton Central to Helensburgh Central, Glasgow to Oban, Kyle to Dingwall, or Kilwinning to Ardrossan lines over the same period.
David Dickson, Network Rail route managing director for Scotland, said that safety had to be the "first consideration".
"Where conditions are predicted to be most severe, we have agreed to withdraw a limited number of services until the worst of the storms have passed," he said.
The AA said its crews were ready for a busy 48 hours on the roads. Drivers have been urged to take extra care, with gritters out on many roads, and commuters have been told to expect some delays and cancellations.
We've had a bit of snow fall around our base in Perry Barr please drive carefully to the conditions!!! pic.twitter.com/xHB87wiImM

; CMPG (@CMPG) January 13, 2015
Darron Burness from the AA's severe weather team said it was a case of "expect the unexpected" and drive accordingly.
"Untreated roads could be slippery, so keep your distance and watch your speed, as things can go wrong very quickly on snow and ice," he added.
Police Scotland said that drivers should ask whether their journey is "really necessary" before getting behind the wheel.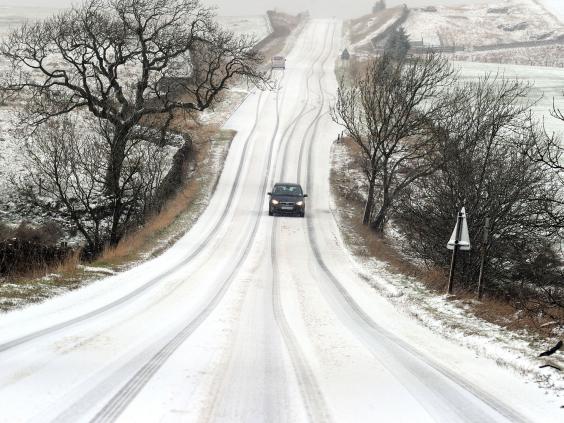 Police and ambulance services elsewhere have reported issues on the roads, with West Midlands Ambulance Service saying on Twitter: "Our crews are reporting snow in West Mercia, Birmingham, the Black Country and parts of Staffs and Warwickshire. A few reports of cars slipping and at least one jack knifed lorry. No injuries so far thankfully."
Morning! It's cold, frosty and, in parts of the West Mids, it's snowy this morning so take time to prepare the car properly before you leave

; West Midlands Police (@WMPolice) January 14, 2015
A spokesman for MeteoGroup confirmed snow had fallen in a "heavy snow shower" over Stafforshire and West Mercia early this morning, and there were also snow showers reported in the South West.
Reuse content