Police have released video of the moment a man on a motorbike attempted a wheelie at over 70mph, with the motorcyclist losing control and being thrown into the path of a passing van.
Sussex Police published the video - shot by the motorcyclist, Lee Oliver - as well as footage taken from the dashcam of the van that almost hit him. Fortunately for Oliver, the van driver was not speeding and was not driving recklessly.
Oliver and another motorcyclist, Lee Cunningham, had fitted cameras to their bikes as well as speedometers. Police monitored the device and found that Oliver had reached a speed of 130mph shortly before the crash while Cunningham had driven even faster at 137mph. The speed limit on most of the roads they were travelling was 30mph.
The crash, which occurred on the morning of 18 May last year, shows Oliver attempting a wheelie, losing control and bouncing along the road until he strikes the braking van on the other side of the road.
After knocking the van (which was also hit by car from behind after braking abruptly) Oliver continued to slide along the road for another 15 metres, such was the speed at which he had been travelling when he attempted the wheelie.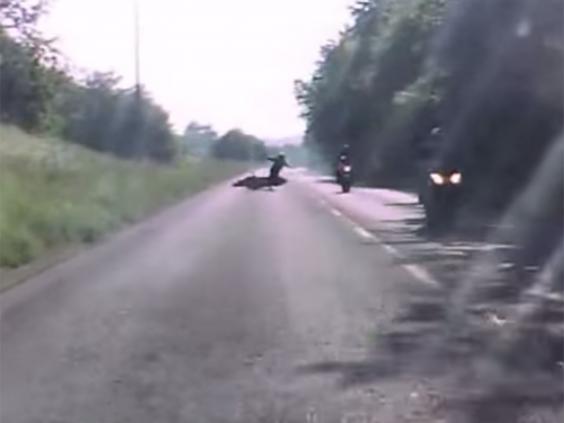 Cunningham, 39, and Oliver, 38, both of Horsham, pleaded guilty to dangerous driving at Lewes Crown Court in February. Bother were given an 18-month suspended prison sentence, banned from driving for four years and told to do 200 hours of community service. They were each also ordered to pay a £1,000 fine and £700 costs.

Sergeant Huw Watts said: "It seems amazing that Oliver escaped with just minor injuries and concussion. If he had come off his bike just seconds later he could have gone under the wheels of the van and been seriously injured or even killed.

"Every road user needs to think whether they are putting themselves in unnecessary danger and what they can do to avoid a trip to hospital.

"The roads are no place for stunts or speeding."
Video courtesy of Sussex Police.
Reuse content