As good Samaritan stories go this one isn't so much heart-warming as just plain brash.
According to a widely-shared post on Facebook, a Detroit Lions fan spotted a woman sitting in front of him texting a man named Jason to tell him that she'd been wishing she "was with [him] all day", while at the game with her husband.
Clearly one to pry into matters that don't concern him with a complete lack of verification over the texts, the voyeur wrote on Facebook:
"I was at the Detroit Lions game today when I noticed this woman who looked 8 months pregnant in a seat in front of me texting a man messages like "I wish I was with you all day" and "I will see you as soon as I'm done with him." She kept hiding her phone every time her partner put his arm around her or reached in to talk to her. So being the man that I am I couldn't help it…I had to write him a little note and on his way out after the game was done, I simply waited for him to exit and stopped in front of his woman and handed him a piece of paper and said "I don't know you and you don't know me, read this when you get home, trust me."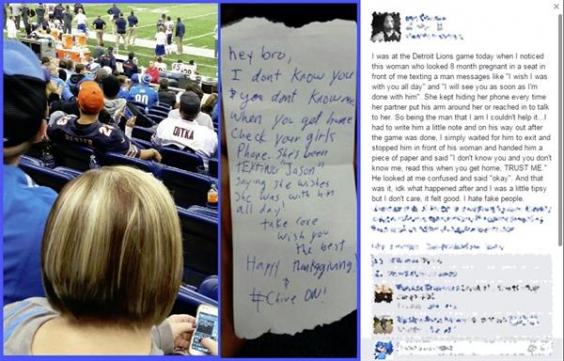 He calmly informed the man about the suspicious texts in the note, adding that he "wishes [him] the best.
The note read:
'Hey bro,
I don't know you & you don't know me. When you get here check your girl's phone. She's been texting "Jason" saying she wishes she was with him all day!
Take care, wish you the best,
Happy Thanksgiving & #Chive ON!'
The curious hashtag at the end could be a reference to the website The Chive and signal that it's a hoax, though it hasn't stopped both praise and criticism flooding in for the man's intervention.
Reuse content