Despite being an enduring idiom for healthy consumer demand, it seems hot cakes aren't the must-have dessert they once were.
According to the American Heritage Dictionary of Idioms, a Wikipedia redirect and this archived New York Times recipe, a hot cake is essentially just a pancake.
The phrase originated in the 1800s when simple cornmeal versions were sold at church bake sales and snapped up by the congregation before they went cold.
But in a modern market saturated by brownies, cronuts and other baked goods, the humble pancake is on the wane.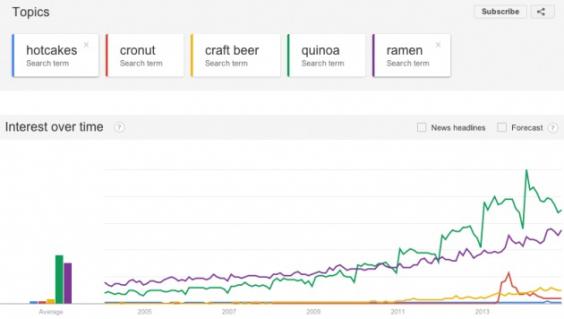 Bloomberg discovered that sales of pancake mix in the US have declined 1.5 percent in the last five years, and in the UK they remain exiled to Shrove Tuesday and underrepresented at street food events.
Hot cakes ain't so hot whatever way you slice it (I'm sorry), with Google Trends indicating that mentions of them online are also down, "selling like ramen" or "selling like quinoa" being a more accurate idiom.
So bear that in mind next time the phrase enters your mind. Robin Thicke albums are selling like hot cakes. Tickets to Fat Joe's marketing conference are selling like hot cakes.
Reuse content