It has never been more popular in Britain but only now has the nation played host to the World Sudoku Championships.
Standard sudoku with its 9x9 grid was just one of a staggering 70 variations that the 176 competitors from 34 countries tackled in Selsdon Park Hotel in Surrey today, as the tournament climaxed. Even that is just a fraction of the roughly 500 types of sudoku that have been created since the puzzle's birth in Japan in the 1980s.
"The variations we tackle would certainly be very scary to the general public who are used to seeing the standard sudoku in their newspaper," says David McNeil, one of the Team GB quartet.
Now in its ninth year, the WSC is a serious business and The Independent is given a ticking off for wandering unaccompanied into the upstairs marking room. Prestige rather than prize money is all that is on offer as China's Jin Ce fought to retain his 2013 title won on home soil but standards are frighteningly high.
Sudoku - meaning "single number" in Japanese - has captivated the UK over the last decade but unsurprisingly it was the founding nation that led at the half way stage in both the team and individual events. Kota Morinishi had an almost 200-point lead over second place with the top 10 going through to the playoffs. Could he hold on to become Japan's first world champion?
It was not just the competitors wary of making mistakes. The discovery of a "broken" puzzle - a sudoku with more than one solution - has caused chaos in previous years involving disputes, challenges and appeals but thankfully all went smoothly in Surrey.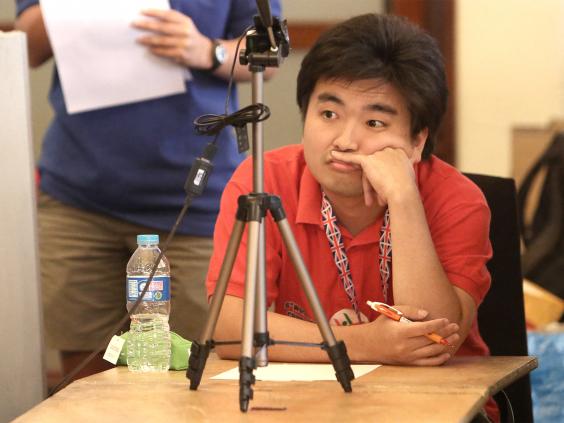 Gareth Moore, from WSC organisers the UK Puzzle Association, whose day job is writing puzzle books, said standards have been rising every year.
"The very best manage to complete each booklet of around 10 puzzles per round two minutes per puzzle on average, which is astonishing. That's probably quicker than copying the answers if someone gave them to you."
Although there is a younger crowd at the WSC than in crossword tournaments - some countries are fielding teenagers - any notion that sudoku is an easy challenge is one swatted away by seven-time Times crossword champion Mark Goodliffe, making his second appearance for Team GB.
"Sudoku is very different to cracking crosswords," he said, "although you are in a kind of exam room in silence. You need much more experience in crosswords to have the right vocabulary. Here in sudoku it's pure logic - and it helps to get a lot of practice."
Former Blockbuster winner Neil Zussman and Matthew Collins completed Team GB with McNeil, a lecturer in electronics and electrical engineering at Queen's University Belfast, the highest home finisher just outside the top 30.
In the playoffs, Jin Ce was the first to be knocked out. Estonia's Tiit Vunk went into the final in first place, having pipped Morinishi to the top of the leaderboard by just 15 points. It was the slimmest of margins, giving Vunk a tiny head start, and after completing the final five puzzles including diagonal and irregular sudoku, it took less than 18 minutes for Morinishi to win the thumbs-up from his marker.
He smiled, stood up and bowed. Japan's wait for a sudoku world champion was over.
Reuse content