Today is the second annual World Toilet Day an event raising awareness of the 2.5 billion people do not have access to adequate sanitation - and the problems that brings.
Started by the World Toilet Organisation to celebrate its founding date of 19 November, the day only received official backing last year when the United Nations voiced its support for the work it carries out.
This years' theme is equality and dignity with the organisation, in co-ordination with UN-Water, campaigning to end open defecation, a previously unmentionable topic, faced by one billion people daily.
In India around 818 million people defecate in public. In the Congo around 72 per cent of the population do not have access to an indoor toilet, while 80 per cent of Ethiopians, roughly 71 million people, also defecate outside.
In pictures: World Toilet Day
In pictures: World Toilet Day
1/20 Bangladesh

Rubina, 38, has lived in Mollar Bosti slum in Dhaka for 3 years. She moved from the countryside when her husband got a job in Dhaka. The toilet she uses is known as a shared hanging toilet and is situated 20 metres from her house. She says that once, in middle of the night, she went to the toilet and someone knocked the toilet door so hard she thought they were going to break the door down. She got very scared and since then, she has been too scared to use the toilet after 9pm

2/20 Haiti

Martine is 27 years old. She lives near a river in Cayimithe. "I don't have an enclosed toilet. My toilet is a hole in the ground by my house, which is now full and has become really dangerous. I only use it at night when I can have some privacy. In the day time, I use a community toilet which is about 15 minutes away from my house"

3/20 Belgium

Rosalie, 9, goes to school in Brussels. "At my school we have separate toilets for girls and boys on every floor. My classroom is on the 3rd floor. We have 22 toilets, which are shared between 230 pupils and 20 adults. The teachers at school let us go to the toilet whenever we need to"

4/20 India

Saritadevi lives in Ittava village in Uttar Pradesh. She has no access to a toilet in her house and so uses a local field. She suffers from a lack of dignity and privacy when she visits the toilet. She says she is humiliated by men, enduring people throwing stones at her, shouting abuse, making vulgar gestures, and playing offensive songs

5/20 Australia

Renee is an artist who left her former home in the densely populated suburbs of Sydney to live a quieter life in bush surrounds, a one-hour drive north of the city. She has built a shed on ten acres of land and has included an outside toilet and bathroom. Ironically, Renee is able to enjoy total privacy out in the open as she is surrounded by wild bush and forest, far from other houses

6/20 Ghana

Ima, 47, is a public toilet attendant in Kumasi, Ghana's second largest city. She lives in a rented room with her husband and four children aged 14-22. She is a very dedicated worker and relies on the income from her job to fund her children's education. She does not have a toilet at home. During the day, she uses the public toilet where she works, but at night she is forced to use plastic bags as it is not safe to walk long distances in the dark

7/20 UK

June is the Allotment Secretary at Gordon Road Allotments in Finchley, North London. "We used to have a portable toilet, which had to be emptied every so often. It was very smelly and not very nice. Now we have a waterless compost loo, which enables women to stay down at the allotment all day if they wish. It also makes a big difference when we have Open Days. This year, for the first time, we were in the National Gardens Scheme book and had an open day with 170 visitors. We wouldn't have been allowed to host this event without the compost loo"

8/20 Thailand

Sineha, 71, uses a public toilet which is inside the temple she visits. "They are convenient and cleaned daily by the maid. It is a safe place because we have security guards here 24 hours a day and separate toilets for men and women"

9/20 Mozambique

Assucena, 14, is a Grade 8 student who loves to study and play football. She lives with her mother, grandmother, sister and two cousins. Her grandmother sells beer to provide for her extended family. Assucena shares a toilet with more than 30 other people from different families. "When it rains, the toilet floods. It really smells bad"

10/20 Ecuador

Fabiola, 69, lives in Cumbayá, a valley near Quito. Between the ages of seven and 21, she shared a toilet with 20 other people, who lived in her condominium. Now she lives in a large apartment, which has five bathrooms. Her bathroom is the biggest one and she is very proud of it as her current situation contrasts vividly with her childhood

11/20 Brazil

Lorena, 16, is a student. She has just moved into one of Rio de Janeiro's favelas. "I don't have a toilet but I am working hard to try and build one. In the meantime, I have to use my mother's. We only get water on Thursdays and Sundays, when the taps are opened. One day I would like to have a bathroom with running water. I am very vain, I like to have my hair and nails done and use perfume. Some people around here have been in poor health, partly due to the poor sanitation situation in the area"

12/20 USA

Mary is a writer who lives in New York City. "Living with two housemates, it is important to schedule our bathroom time and take turns cleaning it. I used to live in Beijing, where I had to use a public bathroom as my apartment didn't have a private toilet. While it was safe and relatively clean, I used to hate putting my coat on just to go to bathroom in the middle of night during winter. That experience made me really appreciate the privacy and comfort of having a clean toilet at home"

13/20 Ethiopia

Meseret, a restaurant manager in Addis Ababa, shares a one bedroom government house with her two children, two sisters and mother. She was widowed nine years ago when her husband was shot during the aftermath of the 2005 elections. Her shared toilet is a long way away so at night, for safety, the family use the side yard next to their house

14/20 Japan

Eiko, 61, lives in Tokyo. "Since this department store is close to my home, I often come here for shopping. When I was a child, the public toilets were not clean and smelled bad, but every time I use the bathroom here, I feel so relaxed. I could spend many hours here!" The department store's toilet, called the "switch room", is a special place where people can switch their mood and feel relaxed. The toilets are an extreme example of good sanitation and have features like surround sound music and heated seats. In the 'powder room' next to the toilets, Eiko can charge her mobile phone, watch TV and have a foot massage, turning a basic daily function that we all have to do into a pleasurable and multisensory experience

15/20 South Africa

Nombini has two Porta Potties, which are used by the 12 people who live in her home. When she first moved to Khayelitsha in 2005, she did not have a toilet so she had to go in the bush, across a main road. "It was terrible in the bush, the cars hit you. When we were given a Porta Potty in 2009, it was much better than going in the bush. Flush toilets are first class compared to the Porta Potty though. My dream is to have a flush toilet"

16/20 Zambia

Susan, 46, is the founder of a community school for children with physical and mental disabilities. "It makes me proud and happy to teach disabled children so that in the future they can have a better life and not just stay at home. I was attacked by Polio at the age of two. It's not easy being disabled in Lusaka. Using the toilet is a challenge, especially in the rainy season, as I have to crawl to the toilets on my hands"

17/20 Kenya

Eunice is the Co-Founder of Kasarani Academy in Naivasha. Previously, the school only had two toilets which were used by 250 pupils. Tenants living nearby used the toilets as well and left them in a poor condition. Because of this, Eunice found that the children preferred to practice open defecation in the grounds around the school, which quickly became a public health issue. Eunice and her husband Paul have now invested in child-friendly toilets. These tiny toilets have prevented adults using them as they cannot fit through the doors. "Parents will enrol their children here because of our child friendly toilets"

18/20 Romania

Ghita, 48, from Buzescu village, says she is the proud owner of one of the biggest bathrooms in the village. It is 20 square meters. 35% of the population of Buzescu village are Romas who are prosperous and proud to show it off. However, there is no running water or sewerage in the village so toilets are on-site

19/20 Madagascar

Vanessa, 17, is a student who lives in Antananarivo. She says she worries when she is on her period at school. "At home, I have a shower outside my house and I can keep clean but when I'm at school, I feel embarrassed during my periods as there is no space to change or wash. I worry that my sanitary napkin will leak if I keep it on for too long while I'm waiting to come back home to change it"

20/20 Cambodia

Ms Moeun Sothy is a secondary school student, who lives with her grandmother and her aunty. At home she is responsible for collecting water for the household from the local water source. At her school she is on the children's rota for cleaning the school toilets once a week. She believes that handwashing with soap is really important, especially after using the toilet
Globally, 526 million women are forced to go to the toilet in the open – often facing physical threats and violence as they are forced to wait until after dark before leaving their houses.
This was starkly illustrated in May when two low-caste Indian girls were brutally raped and hanged after leaving their homes for nearby fields to use the toilet.
A spokesperson for Water and Sanitation for the Urban Poor, which is presently running an exhibition called MyToilet, gathering women and girls' stories sanitation and hygiene together, said: "Women and children are often disproportionately affected by a lack of access to water, sanitation and hygiene."
Alongside the threats many women face each time they go to the toilet, a lack of basic sanitation means that easily preventable illnesses run rampant and can kill.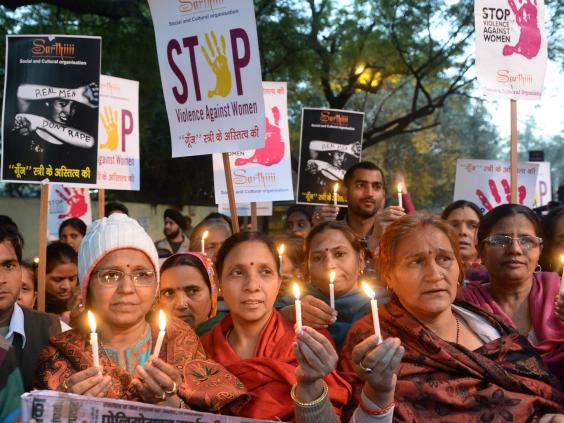 The US Centre for Diseases estimates nearly 2,200 children die every day from diarrhoea. That's more than AIDs, malaria and measles combined.
Nearly 90 per cent of diarrhoea-related deaths are caused by unsafe water, insufficient hygiene and inadequate hygiene.
Where toilet facilities do exist – for example in schools – they are sometimes so inadequate in numbers as to be almost useless.
The knock on effect is such that in Kenya, for example, girls who have reached puberty miss an average of six learning weeks. A lack of toilets means they are unable to attend school during their periods.
World Toilet Day was created by the World Toilet Organisation. It was founded in 2001 with 15 members and now has 151 member organisations in 53 countries working towards eliminating taboos surrounding toilets and delivering sustainable sanitation.
WSUP's MyToilet exhibition is free to view in London. They are currently running a Twitter campaign with the hashtag, #ToiletEquals, asking people to use this hashtag to share what their toilet means to them, tweeting @WSUPUK
Reuse content