The attack in the village of Dalori began when three female suicide bombers detonated their explosive belts in the name of Boko Haram.
Four hours later, after the jihadists had firebombed houses with local people locked inside, 86 men, women and children were dead. 
"They came in through the bush, some of them riding on motorcycles and some in cars," a resident of Dalori, in Nigeria's violent north east, told Channels Television. 
"People ran helter skelter for safety. Some crossed the river behind our village and we made distress calls to the soldiers but no help came. They started shooting and burnt the town. They even beheaded some of us and set the elderly, who could not escape, on fire," 
Boko Haram, the band of Islamists that has sworn loyalty to Isis and which wants to extend its writ across West Africa, is a group that President Muhammadu Buhari has previously said he has beaten. Its continued presence is an embarrassment for the retired army general. To make matters worse, as news of the attack filtered through, his government had been forced to go cap in hand to the World Bank and African Development Bank, asking for $3.5bn in loans as the fall in the price of oil has caused the Nigerian economy to falter. Last weekend was probably Mr Buhari's worst since winning the election 11 months ago – and it capped an uncomfortable time in office.
The rise of Boko Haram
The rise of Boko Haram
1/19 Boko Haram

The leader of the Islamist extremist group Boko Haram Abubakar Shekau delivers a message. Boko Haram has claimed responsibility for the mass killings in the north-east Nigerian town of Baga in a video where he warned the massacre "was just the tip of the iceberg". As many as 2,000 civilians were killed and 3,700 homes and business were destroyed in the 3 January 2015 attack on the town near Nigeria's border with Cameroon

AFP

2/19 Boko Haram

People displaced as a result of Boko Haram attacks in the northeast region of Nigeria, are seen near their tents at a faith-based camp for internally displaced people (IDP) in Yola, Adamawa State. Boko Haram says it is building an Islamic state that will revive the glory days of northern Nigeria's medieval Muslim empires, but for those in its territory life is a litany of killings, kidnappings, hunger and economic collapse

3/19 Boko Haram

Nitsch Eberhard Robert, a German citizen abducted and held hostage by suspected Boko Haram militants, is seen as he arrives at the Yaounde Nsimalen International airport after his release in Yaounde, Cameroon on 21 January 2015

4/19 Boko Haram

Officials of the Nigerian National Emergency Management Agency (NEMA) visit victims of a bomb blast in Gombe at the Specialist Hospital in Gombe. According to local reports at least six people were killed and 11 wounded after a bomb blast in a marketplace in Nigeria's northeastern state of Gombe on 16 January 2015. Islamist militant group Boko Haram has been blamed for a string of recent attacks in the North East of Nigeria

5/19 Boko Haram

People gather at the site of a bomb explosion in a area know to be targeted by the militant group Boko Haram in Kano on 28 November 2014

6/19 Boko Haram

People gather to look at a burnt vehicle following a bomb explosion that rocked the busiest roundabout near the crowded Market in Maiduguri, Borno State on 1 July 2014. A truck exploded in a huge fireball killing at least 15 people in the northeast Nigerian city of Maiduguri, the city repeatedly hit by Boko Haram Islamists

7/19 Boko Haram

President Goodluck Jonathan visits Nigerian Army soldiers fighting Boko Haram

Getty Images

8/19 Boko Haram

Displaced people from Baga listen to Goodluck Jonathan after the Boko Haram killings

AFP/Getty

9/19 Boko Haram

Nigeria's President Goodluck Jonathan speaking to troops during a visit to Maiduguri, the capital of Borno State; most of the region has been overrun by Boko Haram

AFP/Getty

10/19 Boko Haram

Members of the Nigerian military patrolling in Maiduguri, North East Nigeria, close to the scene of attacks by Boko Haram

EPA

11/19 Boko Haram

Boko Haram's leader, Abubakar Shekau, appears in a video in which he warns Cameroon it faces the same fate as Nigeria

AFP

12/19 Boko Haram

South Africans protest in solidarity against the abduction of hundreds of schoolgirls in Nigeria by the Muslim extremist group Boko Haram and what protesters said was the failure of the Nigerian government and international community to rescue them, during a march to the Nigerian Consulate in Johannesburg

13/19 Boko Haram

Boko Haram militants have seized the town in north-eastern Nigeria that nearly 300 schoolgirls were kidnapped from in April 2014

AFP

14/19 Boko Haram

A soldier stands guard in front of burnt buses after an attack in Abuja. Twin blasts at a bus station packed with morning commuters on the outskirts of Nigeria's capital killed dozens of people, in what appeared to be the latest attack by Boko Haram Islamists, April 2014

15/19 Boko Haram

The aftermath of the attack, when Boko Haram fighters in trucks painted in military colours killed 51 people in Konduga in February 2014

AFP/Getty Images

16/19 Boko Haram

The leader of Boko Haram, Abubakar Shekau (with papers) in a video grab taken in July 2014

AFP/Getty

17/19 Boko Haram

Ruins of burnt out houses in the north-eastern settlement of Baga, pictured after Boko Haram attacks in 2013

AP

18/19 Boko Haram

A Boko Haram attack in Nigeria, 2013

AFP/Getty Images

19/19 Boko Haram

Abubakar Shekau, Boko Haram's leader

AP
He came to power on a promise of ending the endemic corruption that had become rife under his predecessor, Goodluck Jonathan, and offering his own guarantee as a military man that Boko Haram's days were numbered. 
He has largely over-promised and under-delivered. 
"There is a difference between what he would like to do and what he is able to do," said Richard Dowden, director of the Royal African Society.
"He made a promise to tackle corruption, in a country where the only way to get something done is to bribe somebody. Nigeria is almost ungovernable, but he has also been slow to make reforms."
If Mr Buhari, "a straight talking military man" according to Mr Dowden, has had little time to cement changes in Nigerian society, he has been quick to laud apparent successes against Boko Haram.
In an interview at the end of last year, he said that the Nigerian army, criticised in some quarters for its ineffective performance against the insurgents, had "technically defeated" Boko Haram. 
It is true that the military has enjoyed a number of successes, and Nigeria's regional standing has gained currency – there is now more cooperation between Nigeria and its neighbours. But, as the attack in Dalori shows, the fight is far from at an end.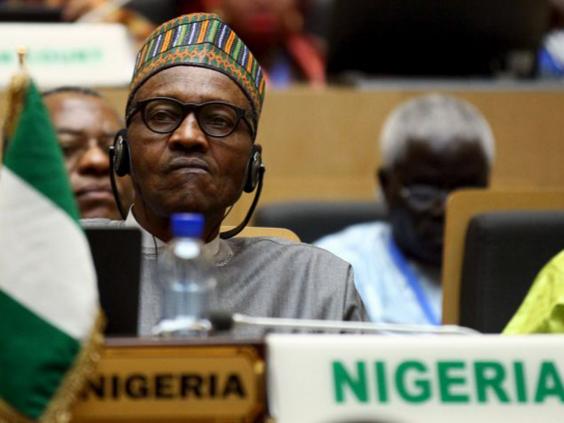 The war between jihadists and the Nigerian government has killed 20,000 people in the last six years and driven nearly 2.5 million from their homes. 
Mr Buhari has promised "normalcy" for the people in the North-east areas around the town of Maiduguri, the worst affected area, but it appears that the normality is Boko Haram's ability to act with impunity.
If the Nigerian president has been too quick to declare his successes against Boko Haram, he has had little chance to solve the other problem in his in-tray. Nigeria's economy relies heavily on oil – about 70 per cent of national income comes from sales of crude – but the recent collapse in its price has caused the country's deficit to grow. Just a third of Nigeria's income is expected to come from oil revenues this year.
Gene Leon, the International Monetary Fund's representative in Nigeria, told the Financial Times that Nigeria faced "significant external and fiscal account challenges".
Africa's biggest oil producer is looking to borrow up to $5bn to shore up its economy. Up to $3.5bn will be sought from the World Bank and African Development Bank, with the rest borrowed from the capital markets.
"We have held exploratory talks with the World Bank. We have not applied for emergency loans," said the finance minister, Kemi Adeosun. 
Some of this, at least, has been sheer bad luck for Mr Buhari. The price of a barrel of oil has halved since he was sworn in last May. 
According to the IMF, Nigeria is expected to report growth of about three per cent for 2015. If accurate, it would be the lowest growth rate for more than a decade.