At least 21 people have died in an explosion in a shopping area in Abuja, the capital of Nigeria.
Police said 17 more were wounded  when the blast ripped through Emab Plaza on Wednesday.
Billows of black smoke could be seen from a mile away and 17 vehicles were gutted by fire.
Soldiers shot one suspect dead as he tried to escape on a bike and police detained a second suspect, government spokesman Mike Omeri, said.
Witness reports that the bomb was dropped at the entrance to the mall by a motorcyclist have not been confirmed.
Islamist militant group Boko Haram are suspected of orchestrating what would be the latest in a long line of bloody attacks on civilians.
Witnesses said body parts were scattered around the shopping area, in the Wuse 11 suburb of the city.
"I heard the explosion and (felt) the building shaking," said Shuaibu Baba, who had a narrow escape.
He said he rushed downstairs to find that the driver who had dropped him off a few minutes earlier was dead.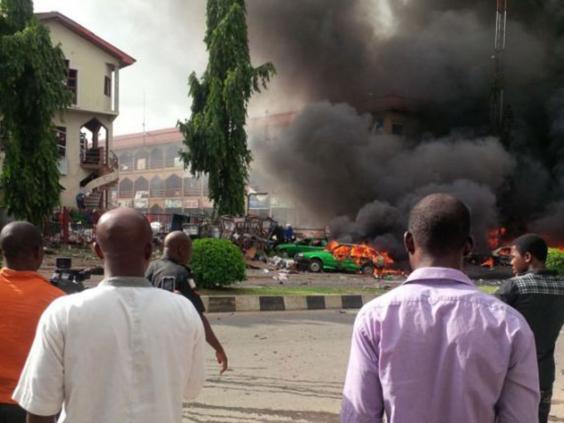 Police Superintendent Frank Mba said 17 people were wounded and 21 bodies were recovered. One suspect has been arrested and investigations had already started. 

The blast came as Nigerians were preparing to watch their country's football team play Argentina in the World Cup in Brazil.
Many shops at the mall had television screens but it was unclear if the explosion was timed to coincide with the match, which started an hour later.
Just two days before, eight more people were killed by a bomb at a medical college in northern Kano.
Two separate explosions in April killed 120 people in Abuja and Boko Haram extremists claimed responsibility while threatening further attacks.
The terrorist group attracted international condemnation for abducting more than 200 schoolgirls in April and is blamed for this week's abductions of another 90 people - mostly women and girls and children as young as three.
Boko Haram militants have made their strongholds in impoverished north-eastern Nigeria and the government and security forces have been incapable of responding to their violent campaign.
In pictures: Massive explosion kills more than 70 people in Nigerian capital
In pictures: Massive explosion kills more than 70 people in Nigerian capital
1/10 Nigeria

A soldier stands guard in front of burnt buses after an attack in Abuja. Twin blasts at a bus station packed with morning commuters on the outskirts of Nigeria's capital killed dozens of people, in what appeared to be the latest attack by Boko Haram Islamists

2/10 Nigeria

Vehicles burn after an attack in Abuja

3/10 Nigeria

The explosions rocked the Nyanya station roughly five kilometres south of Abuja at 6:45 am (0545 GMT) and destroyed some 30 vehicles, mostly large passenger buses

4/10 Nigeria

Rescue workers work to recover victims at the site of a blast at the Nyanya Motor Park

5/10 Nigeria

Injured victims of a bomb attack wait at the back of a pickup truck at the Asokoro General Hospital in Abuja

6/10 Nigeria

Bystanders react as victims of a bomb blast arrive at the Asokoro General Hospital in Abuja

7/10 Nigeria

A wounded man is surrounded by medical staff as he arrives for treatment at the Nyanya general hospital following a blast at a bus park in Abuja

8/10 Nigeria

Crowd gather at the scene of a bomb blast at a bus terminal in Nyayan, Abuja. A morning rush hour bomb killed at least 71 people at a Nigerian bus station on the outskirts of the capital, raising concerns about the spread of an Islamist insurgency after the deadliest ever attack on Abuja

9/10 Nigeria

A bystander reacts as she sees victims of a bomb blast arriving at the Asokoro General Hospital in Abuja

10/10 Nigeria

Nigerian President Goodluck Jonathan (C) and Nigerian Senate President David Mark (C left) look at the spot a bomb attack in Abuja
The group has been fighting for five years to install an Islamic state in the country, which has a high proportion of Muslims in the north, compared to the Christian-dominated south.
Abuja, in the centre of Nigeria, has been the target of several recent attacks but they have become almost daily in other parts.
Last week, at least 14 died in a bomb blast while watching the World Cup in Damaturu and in May, twin car bombs in the central city of Jos left more than 130 people dead.
Abuja residents were urged "to remain calm and go about their normal business" after Wednesday's bombing by government spokesman Mike Omeri, who issued a statement saying that security agencies are "handling the situation".
He added that "every step is being taken by the government to check the activities of insurgents in the country and advised Nigerians to remain vigilant and conscious of movement of unidentified people".
Nigeria's government claims to be winning the war against the five-year insurgency but the frequency and deadliness of attacks has increased this year, killing more than 2,000 people so far in 2014, compared to an estimated 3,600 over the past four years.
Additional reporting by AP
Reuse content