Six cases of mutilation and murder of children as "good luck" sacrifices have been reported during the recent Ugandan elections, a children's charity has said. 
Shelin Kasozi of Kyampisi Childcare Ministries (KCM), a charity which cares for survivors of attempted child sacrifice, said these sorts of cases were common at election time as "some people believe blood sacrifices will bring wealth and power". 
She told the Thomson Reuters Foundation that the cases had been reported from October to February in the Ssembabule, Mukono, Buikwe and Mubende districts in central Uganda. 
Suspects have been arrested but their cases are yet to go to court. 
President Yoweri Museveni won a fifth term in power at the election on 18 February in a vote widely criticised by the EU and the US but ordinary Ugandans also voted in municipal and parliamentary elections.   
Moses Binoga, the co-ordinator of the anti-trafficking task force at the interior ministry, said several children had been reported missing during the election period but did not confirm the KCM's report.
He said the investigation was ongoing.
World news in pictures
World news in pictures
1/30 17 August 2016

Indonesian students play traditional drums called "Dol" from Bengkulu province as they participate in the Indonesian Independence day ceremony in Jakarta

AFP/Getty Images

2/30 17 August 2016

A woman attempts to cover a tear gas canister fired by police at a crowd in Srinagar protesting against the recent killings in Kashmir

REUTERS

3/30 17 August 2016

Participants struggle to reach the prizes on the top of greasy slippery poles in Jakarta, as part of Indonesia's celebrations to mark its 71st independent day anniversary

AFP/Getty Images

4/30 16 August 2016

An air tanker drops fire retardant on the Blue Cut wildfire in Lytle Creek, California. The fire is currently 9,000 plus acres, with 700 personnel on scene. Fifty-seven engines, 8 crews, 8 air tankers, 2 Very Large Air Tankers (VLATS), with additional firefighters and equipment on order

AFP/Getty Images

5/30 16 August 2016

Free Syrian army fighters stand atop of a hill as the moon is seen in the background in the south of Nawa city, in Deraa Governorate, Syria

REUTERS

6/30 16 August 2016

A Palestinian youth is being evacuated after he was wounded during clashes with Israeli soldiers conducting searches in the Palestinian al-Fawwar refugee camp, south of the West Bank city of Hebron

AFP/Getty Images

7/30 16 August 2016

AFP/Getty Images

8/30 16 August 2016

Mine workers sing as they wait for the commemoration to get under way near Marikana in Rustenburg, South Africa. On 16 August 2012 police shot and killed 34 Lonmin striking miners, apparently while trying to disperse them and end their strike. Ten people, including two police officers and two Lonmin security guards, were killed in the preceding week

AP

9/30 16 August 2016

People look at a crater caused by a Saudi-led coalition air strike at the yard of a hospital operated by Medecins Sans Frontieres in the Abs district of Hajja province, Yemen

REUTERS

10/30 15 August 2016

People cool off at a swimming pool in Daying county, China

REUTERS

11/30 15 August 2016

Turkish soldiers from a military guard of honor carry coffins during a mass burial ceremony for Turkish Cypriots who went missing in 1974 and whose remains have been found by the Committee on missing people in Cyprus (CMP), at a cemetery in the village of Tashkent (Vouno) in the self-declared Turkish Republic of Northern Cyprus. More than 30 Turkish Cypriots, who had disappeared in Tochni near the coastal southern city of Limassol in August 1974 and were found in 2014 in a mass grave in the village, were buried during the ceremony

AFP/Getty Images

12/30 15 August 2016

Indian paramilitary soldiers hug each other as they react to the news of killing of two suspected rebels in a gun-battle in the Nowhatta neighborhood of Srinagar, Indian controlled Kashmir. Suspected separatist rebels and government troops were engaged in two gun battles in Indian-controlled Kashmir despite a complete security lockdown in the disputed region as India celebrated its independence from British rule

AP

13/30 14 August 2016

A spectator poses ahead of the Women's Marathon during the athletics event at the Rio 2016 Olympic Games at Sambodromo in Rio de Janeiro

AFP/Getty Images

14/30 14 August 2016

Family members of Sylville Smith gather where he was shot and killed by police in Milwaukee. Police say a black man whose killing touched off arson and rock-throwing, was shot by a black officer after turning toward him with a gun in his hand

AP

15/30 14 August 2016

Men carry a dog, wearing a costume and seated on a stool, as a form of respect as they believe that dogs found water for their ancestors, during a local festival for the Miao ethnic minority in Jianhe county, Guizhou Province, China

REUTERS

16/30 14 August 2016

A truck burns in the town of Lower Lake, California. A wildfire destroyed at least four homes and forced thousands of people in two Northern California towns to flee as flames jumped a road and moved into populated areas

AP

17/30 14 August 2016

Kurdish Peshmerga forces fire a rocket toward Islamic State militants on the southeast of Mosul , Iraq

REUTERS

18/30 14 August 2016

An armed boy walks as he attends a gathering held by tribesmen loyal to the Houthi movement to show support to a political council formed by the movement and the General People's Congress party to unilaterally rule Yemen by both groups in Sanaa

REUTERS

19/30 13 August 2016

A jockey takes part in a traditional cattle race or "Pacu Jawi", to mark the end of the rice harvest in Tanah Datar, West Sumatra, Indonesia

REUTERS

20/30 13 August 2016

Rescue workers carry a survivor on a stretcher, after he was extracted from a collapsed wall in an informal settler house, just beside the city jail building in Manila

AFP/Getty Images

21/30 13 August 2016

Revellers take part in the Monsoon Holi Madrid festival in Madrid, Spain

REUTERS

22/30 13 August 2016

Revellers chat on Havana's Malecon seafront before performing at a carnival parade, Cuba

REUTERS

23/30 13 August 2016

A man fights against the active front of a forest fire near Arouca, Portugal

REUTERS

24/30 12 August 2016

A meteor streaks past stars in the night sky above medieval tombstones in Radmilje near Stolac, south of Sarajevo, Bosnia and Herzegovina

REUTERS

25/30 12 August 2016

An injured man receives first aid after two bombs exploded in the Thai seaside resort of Hua Hin

Reuters

26/30 12 August 2016

Children try to push an injured and weak dolphin back into the water after it washed ashore during bad weather and high tide on a beach in Cilacap, Central Java, Indonesia

REUTERS

27/30 12 August 2016

A man collects coconuts and other items thrown as offerings by worshippers in the Sabarmati river, a day after the "Dashama" festival in Ahmedabad, India

REUTERS

28/30 11 August 2016

An injured riot policeman is helped by comrades during clashes with independent miners against Bolivia's President Evo Morales' government policies, in Mantecani near La Paz, Bolivia

REUTERS

29/30 11 August 2016

A team equipped with anti mosquito spray packs walks through the Koumassi district of Abidjan during an operation aimed at preventing the spread of the zika virus in Côte d'Ivoire

AFP/Getty Images

30/30 11 August 2016

An Indian policeman uses a slingshot during clashes with demonstrators following a protest in Srinagar against the recent killings in Kashmir

REUTERS
Mr Binoga confirmed there had been seven child and six adult sacrifice cases recorded in the country in 2015 compared to nine child and four adult sacrifice cases reported in 2014. 
He said their mutilated bodies had been found - some with hearts or livers ripped out and in two cases the victims' heads were missing. 
A 2014 report by the UNHRC found that although many condemned the practice there were still some who believed that the ritual spilling of blood was necessary to celebrate success, chase away evil spirits or protect someone from bad luck. 
Throughout Uganda's history these sacrifices have traditionally been of livestock such as goats, chickens or cows - but a number of "socio-economic and cultural factors" such as poverty, lack of education and inequality has led to a worrying rise of children being targeted.
The practice has been able to take root because of "inadequacies in the investigations processes conducted by security agencies...due to lack of forensic evidence facilities...and the absence of a specific law governing traditional healers". 
 Corrupt "witchdoctors" have also allegedly been exploiting traditional beliefs to sell body parts.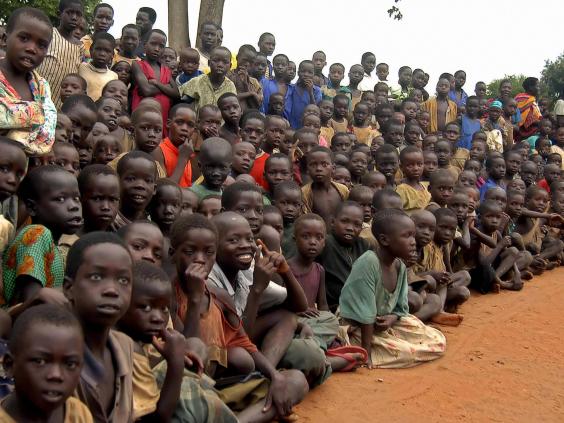 It highlighted the case of a man who severed the heads of his three-year-old twins to sell them to a businessman for 12,000,000 Ugandan shillings (£2587) in 2008. 
Of the three groups believed to be vulnerable to sacrifice - children, women and the elderly - children are the most likely to be targeted as they believed to be more "pure" and "spiritually clean".
It comes as a separate UN report said last year that attacks on albino people in Africa were on the rise and were linked to the growing demand from political candidates for body parts used in black magic in several African countries.
Reuse content