Residents of the world's largest refugee camp fear they will face sexual violence and forced recruitment into armed conflict if the settlement is broken up as planned at the end of next month, according to a major new report.
The Kenyan government has vowed to shut down the Dadaab camp and push its 261,000 inhabitants back across the border into Somalia.
The international aid group Médecins Sans Frontières (MSF) surveyed heads of households representing some 5,500 people, and the overwhelming majority said they did not want to return to Somalia.
In Dadaab, Somali refugees are not allowed to leave the camp to travel or work. They live in overcrowded conditions with long queues for water and provisions, and face sporadic outbreaks of cholera and measles.
International aid to the camp has dwindled since a series of security incidents from 2011 onwards, and tight restrictions on entry and exit to the camp mean increasingly its inhabitants' voices are not heard.
Yet in a report offering rare insight into the lives of this huge refugee population, MSF found that 86 per cent of those surveyed would rather stay than return to Somalia - despite everything.
"The living condition in the camps is not rosy, but still it is heaven for us in comparison to going back to Somalia," one refugee said.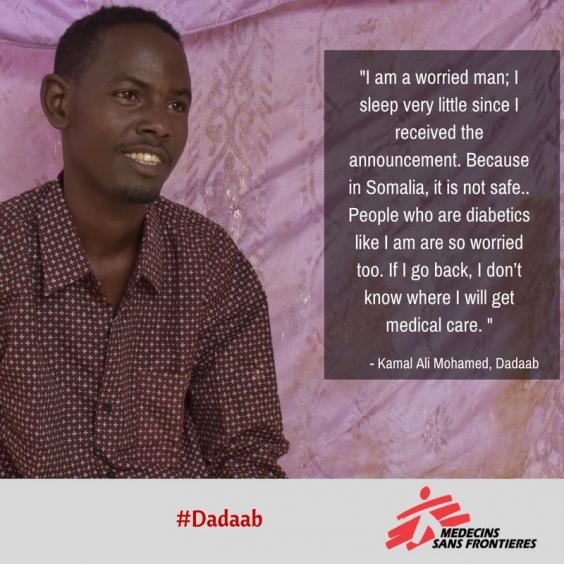 The primary concern for these refugees is security. Almost all (97.5 per cent) rated the risk of forced recruitment into armed groups in Somalia as high, and a similar number (97 per cent) - both men and women - voiced fears about the risk of sexual violence.
Though a large number of Dadaab's residents were born there, more than four in five respondents said they believed Somalia to be a "very unsafe" place, compared to 96 per cent rating their camp as "very safe", despite its shortcomings.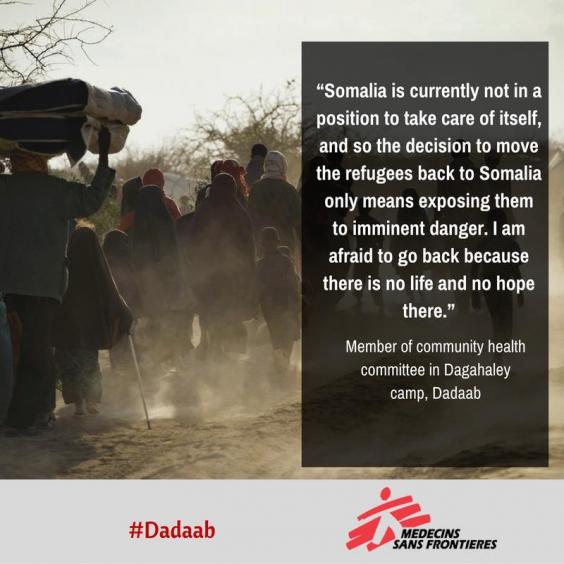 "Somalia is currently not in a position to take care of itself, and so the decision to move the refugees back to Somalia only means exposing them to imminent danger," one community leader said. "I am afraid to go back because there is no life and no hope there."
The Kenyan government delayed the closure of Dadaab amid opposition from the UN refugee agency from August, finally settling on a date of 30 November.
MSF said it was "strongly opposed" to the move, which Kenya says must happen on security grounds, and in its report stated "hundreds of thousands of lives will be put at risk".
"What is clear is that returning to Somalia now will have disastrous consequences on people's health," said Liesbeth Aelbrecht, Head of Mission for MSF in Kenya. "It will escalate their vulnerability to malnutrition, weakening their immune systems and making them vulnerable to infectious diseases."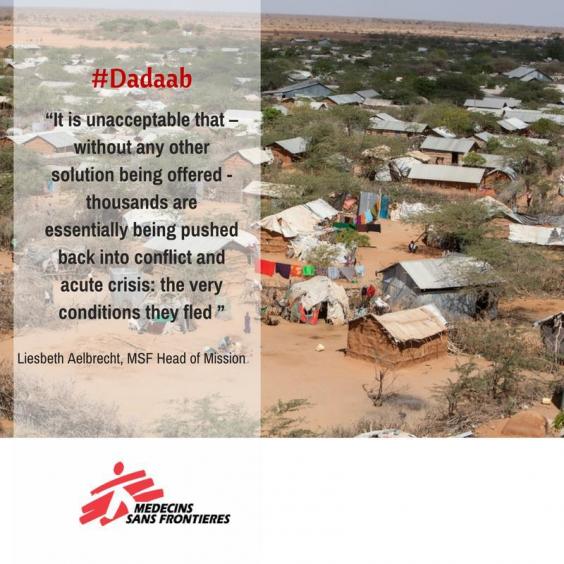 Founded in 1991 as a temporary shelter for just 90,000 people, Dadaab ballooned until it became a network of integrated camps housing almost half a million people at the start of this decade.
Some have subsequently returned to Somalia voluntarily, but what is left is a solid city, albeit one built of mudbricks and sheet metal.
Refugees welcome here: Protesters demand UK resettle more migrants in response to refugee crisis
Refugees welcome here: Protesters demand UK resettle more migrants in response to refugee crisis
1/7

The Solidarity With Refugees group said Saturday's protest aimed to "show our Government and the world that Britain is ready to welcome more refugees".

Rex Features

2/7

People march through central London as they take part in a protest rally organised by Solidarity with Refugees in a bid to urge the Government to take more action on the migrant crisis

Press Association

3/7

The protest comes days before world leaders meet to discuss crisis at UN General Assembly

Press Association

4/7

Demonstrators made their way from Park Lane to Parliament Square in London on Saturday afternoon

Press Association

5/7

Marchers chanted "refugees are welcome here" and waved banners reading "no-one is illegal" and "let's help people"

Press Association

6/7

The march was supported by charities and groups including the Red Cross, Asylum Aid, Save the Children, Hope Not Hate, Oxfam and the UN Refugee Agency

Rex Features

7/7

In the wake of Alan's death, David Cameron pledged to resettle 20,000 Syrian refugees in the UK over the coming five years but there have been additional calls to re-home those who have already reached Europe, as well as asylum seekers coming from other conflict zones such as Iraq and Afghanistan

Rex Features
MSF operates services for the 67,000 residents of the Dagahaley camp, one of five making up Dadaab as a whole, and it says there is nothing close to a comparable level of healthcare provision for people to return to in Somalia. 
Its report calls on the Kenyan government to change its mind on closing Dadaab entirely, and instead work with the UN to find voluntary, long-term solutions such as rehoming refugees to key donor countries.
Reuse content